Chicago, Illinois band SOiL are one of those bands that us 90's grungers grew up listening to throughout our teens and early 20's, rock clubs across the country still play 'Halo'  their first single off their second studio album 'Scars' which was out in 2001. Which is quite impressive, considering the amount of singles that get release in the world of Rock and Metal and the ones that actually manage to stay on them playlists as a classic.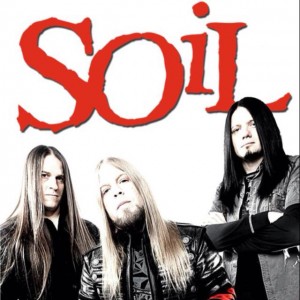 We were pretty sad in 2004 when frontman Ryan McCombs announced that he had left the group. We do like AJ Cavalier, it just wasn't the same! We did however turn our ears to Drowning Pool, where Ryan was on vocals for a bit, and if we look back to 200o-2001, at that time we were still listening to Drowning Pool and also Disturbed. Both these bands also have classic tracks that made it onto that classics playlist. 'Bodies' by Drowning Pool (2001), and 'Down With The Sickness' by Disturbed (2000). Three classic tracks that seem timeless, all out around the same sort of time, and tracks that I always associate with SOiL 'Halo'.
So, skip forward a bit to 2011, and Ryan McCombs announced that he was to come back to SOiL, and we all said "Hurray, we can't wait to here the classics again". 2013 album 'Whole' is aggressive, fun, pure Hard Rock! Produced by Ulrich Wild (Pantera) and is said to be one of their "most comfortable and natural recording processes since day one".
SOiL talk about 'Whole' saying: "The new album saw Soil returning to its classic sound – it's an album that could have followed on directly from 'Scars' – and we're once again bringing to the live arena songs such as 'The Hate Song', 'Loaded Gun' and the first single 'Shine On', which was dedicated to our audience, who have supported this band and stood by us throughout the years. We're really looking forward to bringing these songs to the UK again, because, when this band needed support, the UK was always one of the places that really stood up for us."

The effect of the return of Ryan cannot be understated in relation to both the recording processes of SOiL, and also the band's live output, but with the new songs, the singer feels that this band has really moved forward….

"I think, lyrically speaking, those that are familiar with the work we've done are now getting the next chapter they would expect. 'Whole' did that, and live it's definitely the case also. We want to come back again and again…. One of the greatest things I experience as a vocalist, is when people come up and share with me how a song got them through hard times, or touched them in some way; and there's no better way to experience that than in front of a live audience! See you all very soon!"
SOiL have already made their mark on music history, successfully having classics in existence, and let's hope they have more classics to come. [Editor: We may have overdone it on the word 'Classic' in this article, but let's hope you get my point].
SOiL played a sold out UK run last March and are back again this October with American Head Charge and (hed) P.E. You can catch them at one of the following dates:
19th Oct. 1865, Southampton
21st Oct. Electric Ballroom, London
22nd Oct. Fibbers, York
23rd Oct. The Garage, Glasgow
24th Oct. Corporation, Sheffield
25th Oct. Club Academy, Manchester
26th Oct. Live Room, Chester
28th Oct. Pavilion, Weymouth
29th Oct. The Bierkeller, Bristol
30th Oct. Slade Rooms,
Wolverhampton
31st Oct. Sub 89, Reading
1st Nov. Rock City, Nottingham