It was back in November 2012, that a team set out with 3D cameras, to film the multi-platinum selling rock band Guns N' Roses. They filmed at The Joint in the Hard Rock Casino in Las Vegas. Clocking in at just under three hours, the band's explosive set includes all of their biggest hits!
The DVD already releases in the US, debuted No. 1 on Billboard's Music DVD chart where it stayed for the first two weeks. Since its release, it has remained in the Top 5 for a total of eight weeks straight and continues to stay in the Top 10.
Universal Music Catalogue will release the live Guns N' Roses concert film 'Appetite For Democracy 3D: Live at the Hard Rock Casino – Las Vegas', on November 3, 2014, which will be available on Blu-ray™, featuring the complete concert film in both 3D and 2D plus an interactive 3D photo gallery, standard DVD featuring the 2D version of the film, and both Deluxe 2CD+Blu-ray and Deluxe 2CD+DVD sets. Both the Blu-ray and DVD releases are mixed in 5.1 Surround Sound and feature bonus interviews with the band. The GN'R 'Appetite For Democracy' Official App (iOS/Android), which can be downloaded at Fantracks.com, brings the concert experience to a new level by connecting GN'R directly with their fans, allowing fans to connect with each other via social media, buy exclusive merchandise, check tour/cinema dates for the movie, preview digital tracks of the film; and purchase or stream via VOD the digital long form concert.
'Appetite For Democracy 3D' is the first official Guns N' Roses live concert film since 1992's 'Use Your Illusion' concert video and features brand new live performances of classic GN'R tracks including 'Welcome To The Jungle', 'Sweet Child O' Mine', 'Mr. Brownstone', 'Paradise City', 'Nightrain', 'It's So Easy' and 'Rocket Queen', from their pivotal, 1987 No. 1 debut album 'Appetite For Destruction'; 'Patience' and 'Used To Love Her' from 1988's No. 2 charting album 'Lies'; 'November Rain', 'Don't Cry', 'Civil War' and 'Estranged' from their 1991 releases 'Use Your Illusion I and Use Your Illusion II', the latter shooting to No. 1 on The Billboard 200; and current favorites off their 2008 No. 3 album 'Chinese Democracy' including 'Better', 'Catcher In The Rye', 'This I Love', 'Street of Dreams' and the album's title track. 'Appetite For Democracy 3D' also features the band's signature versions of Paul McCartney's 'Live and Let Die' and Bob Dylan's 'Knockin' On Heaven's Door', powerful renditions of The Who's 'The Seeker' and Pink Floyd's 'Another Brick In The Wall Pt. 2', plus performances of Bumblefoot's 'Objectify' featuring Guns N' Roses guitarist Ron "Bumblefoot" Thal on vocals and Tommy Stinson's 'Motivation' with Stinson taking over the mic.
3D BLU-RAY & DVD TRACK LISTING: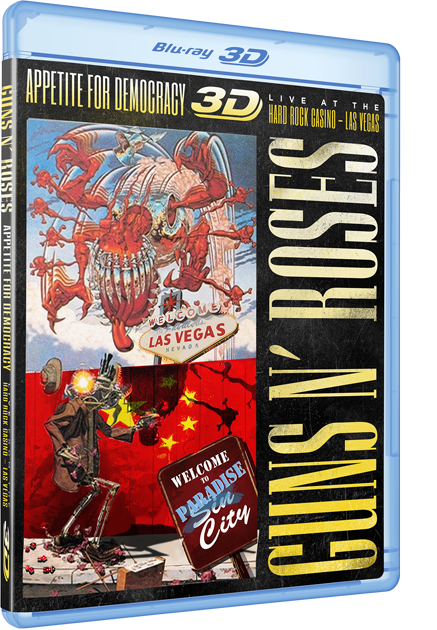 Chinese Democracy
Welcome To The Jungle
It's So Easy
Mr. Brownstone
Estranged
Rocket Queen
Live And Let Die
This I Love
Better
Motivation
Catcher In The Rye
Street Of Dreams
You Could Be Mine
Sweet Child O' Mine
Another Brick In The Wall Part 2
November Rain
Objectify
Don't Cry
Civil War
The Seeker
Knockin' On Heaven's Door
Nightrain
Used To Love Her
Patience
Paradise City
CD ONE TRACK LISTING:
Chinese Democracy
Welcome To The Jungle
It's So Easy
Mr. Brownstone
Estranged
Rocket Queen
Live And Let Die
This I Love
Better
Motivation
Catcher In The Rye
Street Of Dreams
You Could Be Mine
CD TWO TRACK LISTING:
Sweet Child O' Mine
Another Brick In The Wall (Part 2)
November Rain
Objectify
Don't Cry
Civil War
The Seeker
Knockin' On Heaven's Door
Nightrain
Used To Love Her
Patience
Paradise City