Labeled "THE thrash highlight of 2015" (by powermetal.de, 9.5/10) it's time for Comaniac to pummel the UK with some loud music! The name of the band describes them pretty well, Comaniac meaning "Company of Maniacs".
The Swiss quartet today unleash their new track 'Bow Low' on the United Kingdom and beyond. This powerful track is drenched in totalitarian themes as said to be about "the current political situation all over the world – authority represented by the state, by religion or ethical principles".
The track gives your neck a steady work-out from the start, but don't think this is your standard plod along track. It's full of melody, and twists throughout. The horns are thrown high for Comaniac!
'Bow Low' is the lead track for forthcoming album titled Instruction for Destruction, to be released via SAOL on April 7, 2017.
The album is said to sell out quickly, due to popular demand. If you sit in the camp of bands such as Exodus or Kreator (who Comanic have toured with) then you might want to act fast as you will no doubt want to hear this album!
The band are yet to play a show in the UK, but we saw them distinguished themselves at MetalDays 2016, in Slovenia! It's well worth seeing their ferocious live set if Thrash is your thing. Keep an eye on RAMzine for touring announcements.
Thrash continues to be a strong force in contemporary rock music with a host of new acts emerging all the time!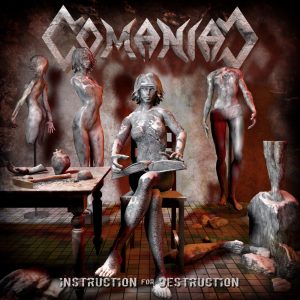 Tracklist
1. Coal
2. Suborned
3. Bow Low
4. Guarding Ruins
5. How To End It All
6. Self Control
7. Shattered
8. Heart Of Stone
9. Forever More
10. Instruction For Destruction