Attending Stone Free Festival for the second year in a row, after the successful lineup of 2016, which saw Alice Cooper closing the night in style while delivering his amazing carnival of rock 'n roll. The venue stays the same, every year this festival takes over the whole O2 complex for the weekend with the bonus of not having to deal with muddy fields or bad weather. Outside in the open space there's a vinyl fair which goes on until 6pm – you can actually find very rare collections, it's great. There's also a cinema which shows the very popular and critically acclaimed comedy Wayne's World but on this occasion we decided to give priority to the live bands!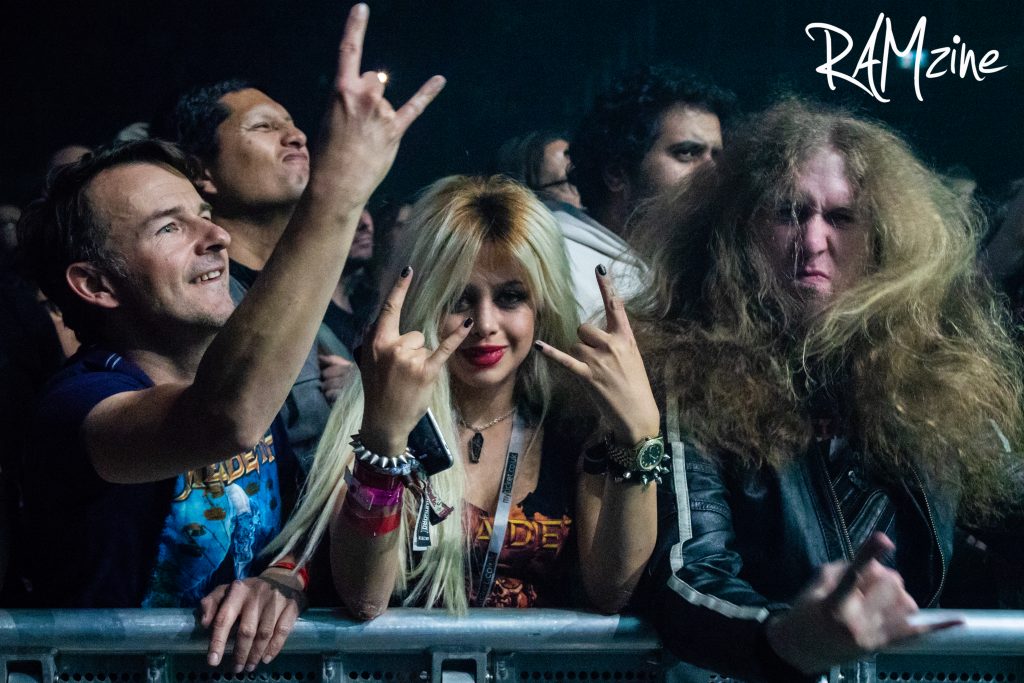 After interviewing Buckcherry (coming soon to RAMzine!) I run to the O2 Indigo to watch the last few songs of the set of Warrior Soul. These edgy sociopolitical thinkers never let the crowd down, their energy is always pumped to the maximum and frontman Kory Clarke represents the engine of this winning formula. Once he is on stage he never stops, his performance is filled with attitude, roars and screams. 'Rocket Engines' is the perfect example of all of the above, in fact this punk and glam rock fusion leaves the audience wanting more. Keeping the high volume and velocity, tunes like 'Generation Graveyard', 'Love Destruction' and 'Punk And Belligerent' conclude the gig in a subversive and provocative style, nothing we wouldn't expect or ask for from such rebels.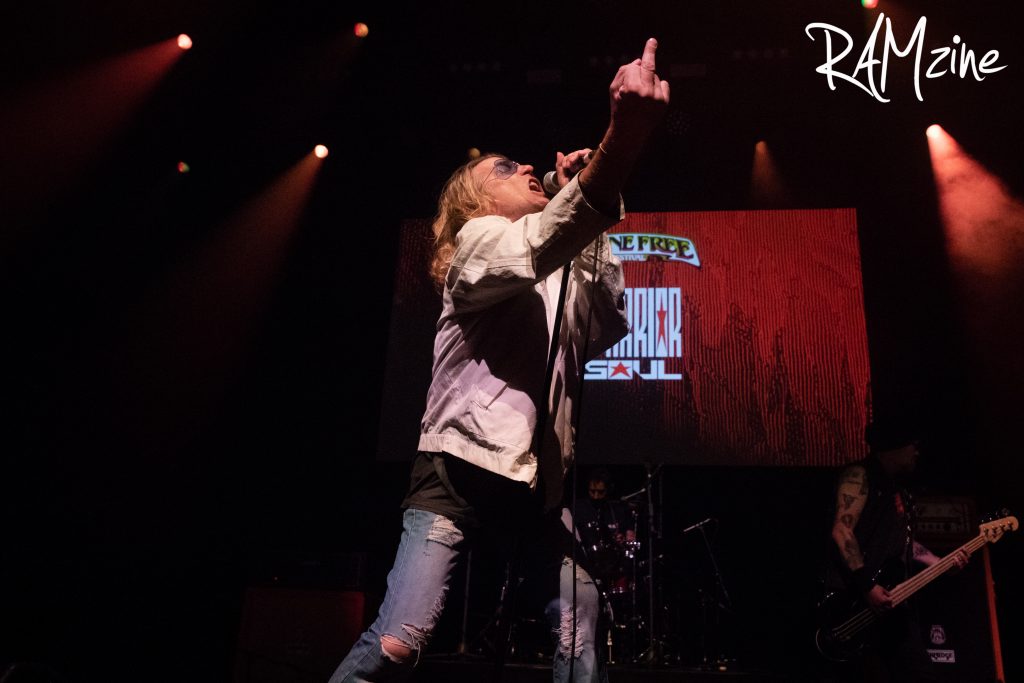 Next up are Stone Broken, a band I had never seen live before. They open their set with 'Heartbeat Away' and straightaway I got caught up as they reminded me of a mix between Shinedown and Nickelback and I found the presence of a female drummer to be a massive bonus. After a great entrance, the singer introduces the band and mentions their hometown, Walsall, in the West Midlands. The next track 'I Believe' is an anthem to determination and self-belief, "Honestly you can be anything you wanna be" sings Moss. Overall these guys seemed to have a good stage presence and a catchy repertoire. They have recently released a new record via Spinefarm and I am confident we'll hear more about them in the near future as they are off to play on a series of festivals and moreover they are also going to support Fozzy in the USA.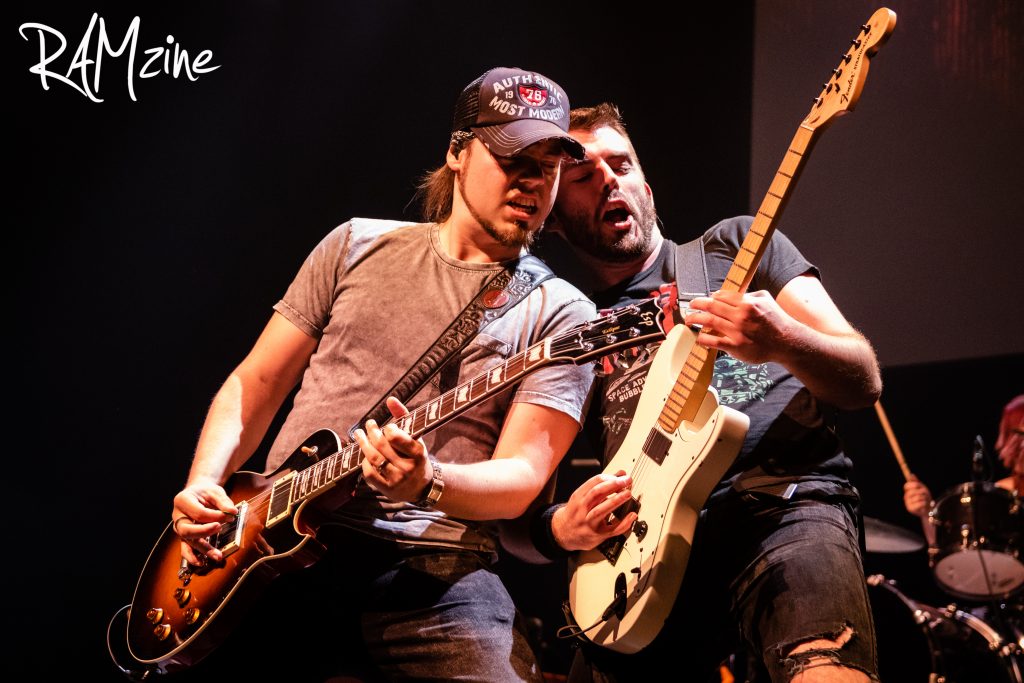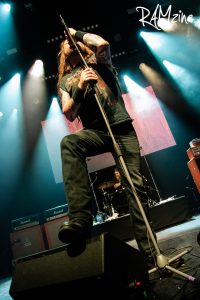 Orange Goblin are the last band to play at the Indigo before we move to the arena. Stoner metal is not my thing but this is one of those bands that are always worth watching live. There's a particular energy and intensity during their gigs and the crowd is 100% supportive from the very first moment they walk on stage.
A packed out pit of impatient metalheads constantly follows Ward's instructions to mosh and go crazy. The band starts with 'Sons Of Salem' from their brand new album and follow the set with 'The Devil's Whip'. Glasses of beer are flying everywhere and in between songs frontman Ben thanks his crowd and makes a funny remark saying that they were doing alright considering it was only tea time on a Saturday afternoon. He then mentions their new record 'The Wolf Bites Back' and proceeds to play the self titled track. 'Stand For Something', 'Renegade', 'Some You Win, Some You Lose, 'The Fog' and 'They Come Back' are all dynamic, fast-paced tunes which don't fail to cause pure mayhem in the audience, all you can see is headbanging and fists in the air – no time to rest or getting bored.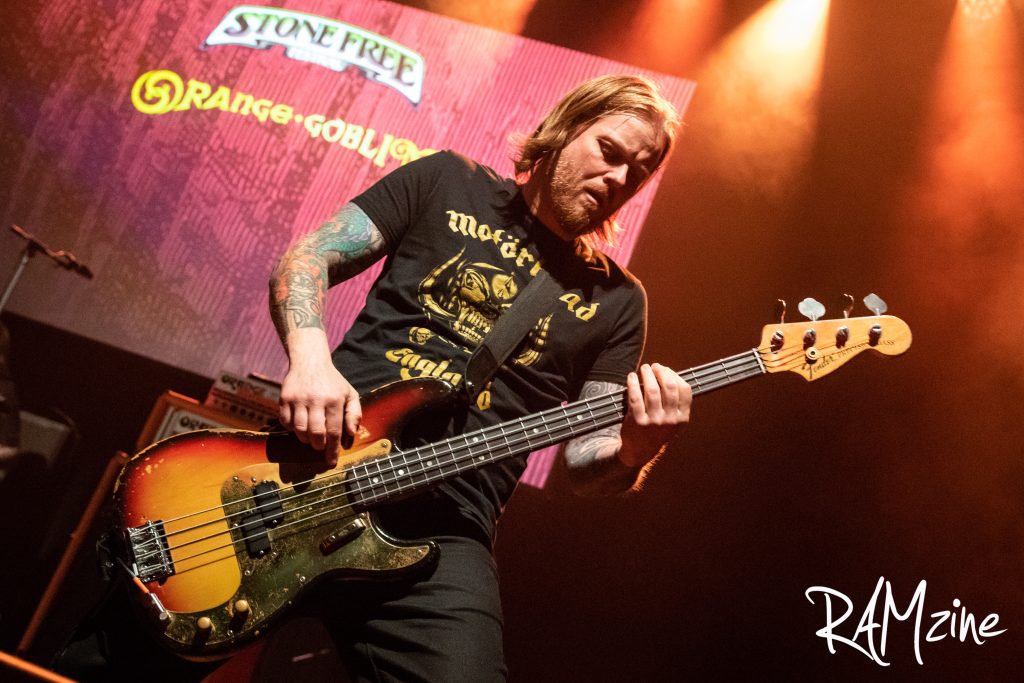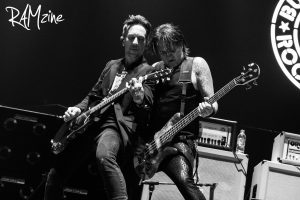 Once their set finishes, we walk into the O2 Arena and at that point I can barely wait for one of my favourite acts of the night, Buckcherry. It was very disappointing to see how the venue was half empty before they got on stage. That was probably due to an early start but why buy a ticket for a whole festival to just go and see one band? Not to mention it's been years since their last gig in London, I would have definitely expected more support. Luckily the people that were there kept up the excitement and the band's performance was phenomenal.
They start with 'Ridin' and after Josh asks his fans "How you doing O2?" they go on and play 'Broken Glass' which is followed the very popular 'Lit Up'. This line-up might be different but these bad boys don't seem to have changed. The band sounds very tight and there's that usual sense of cheekiness in the air as their songs are very much based on all the decadent pleasures. "We are excited to be here!" says Todd and they really know how to show it while playing 'Say Fuck It'. 'Sorry' is also excellently executed but the relaxing mood of this ballad is soon followed by the wildness of 'Gluttony' as Josh introduces it in his renowned rebellious style "You ever struggle with moderation? Moderation is for fucking cowards!". 'Crazy Bitch', as expected, closes this insanely amazing set and I believe we couldn't have asked for a better selection of songs.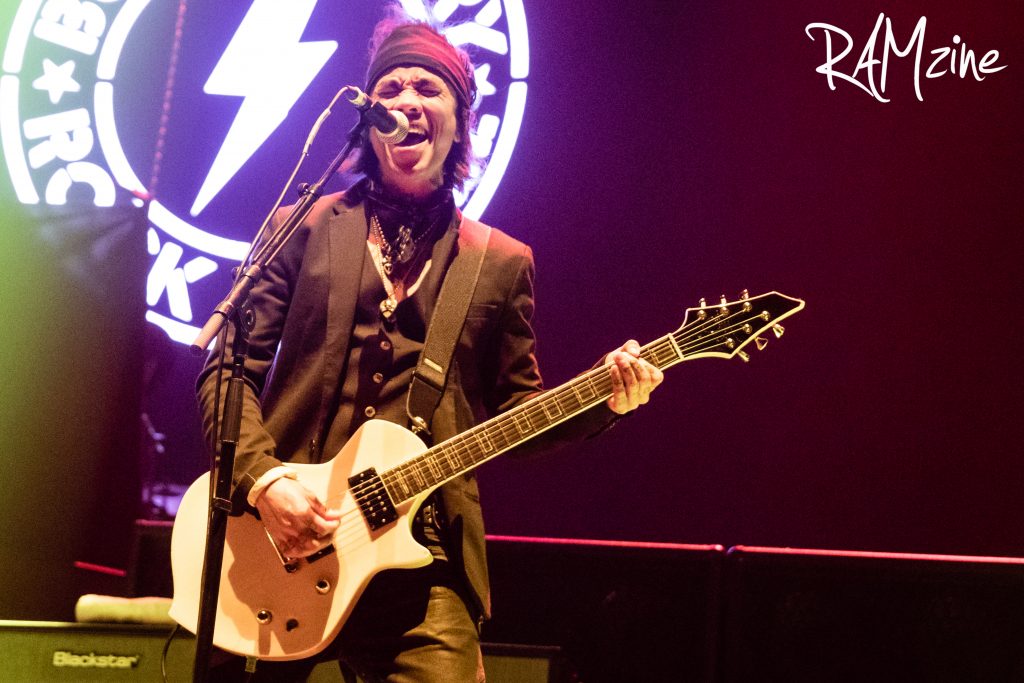 Megadeth open the show with 'Hangar 18' followed by 'The Threat Is Real' and 'Wake Up Dead'. After a long period of time in which their live performance suffered ups and downs, these metal legends are back stronger and more powerful than ever. The screen behind them reflects the lyrics of their songs showing wars, riots, violence and explosions. Dave Mustaine is on top form, with a new found God on his side, he plays without interruptions and delivers every song beautifully. He's probably not known for having a particularly dynamic stage presence but tonight he makes more effort and uses the whole space to interact with his audience. 'Take No Prisoners', 'Tornado Of Souls' and 'Dystopia' are followed by the crowd favourite 'Symphony Of Destruction'. This song is over twenty years old but still sounds very modern and also never fails to make an impact on both old and new fans of the band.
"It's time for me to talk" says Mustaine "I didn't wanna waste any time earlier on, so we could just play. We had a couple of songs in the playlist we hadn't played in years and I hope you also like the next ones, if not, fuck it". After this very frank and upfront message the band goes back to do what they do best – playing.
Dave has never struck as a people person but he has an indisputable talent behind his guitar and microphone. 'Mechanix' and 'Peace Sells' conclude the set before the one song encore 'Holy Wars'. This frontman has been said to have mellowed over the years but his attitude comes back the second a guy from the public tries to test him. We aren't sure of what was going on but once Megadeth finishes playing, Dave thanks all his fans for coming to see them "and even you, you little bitch" directed to the person that dared annoying him. No better and more truthful way to end such a great and genuine trash metal performance.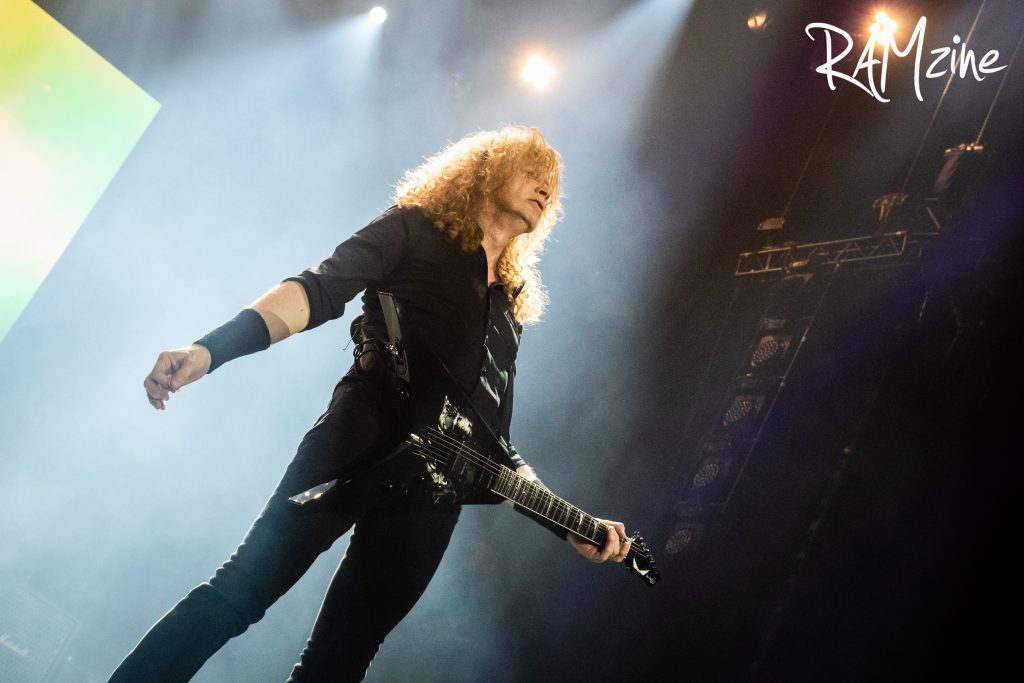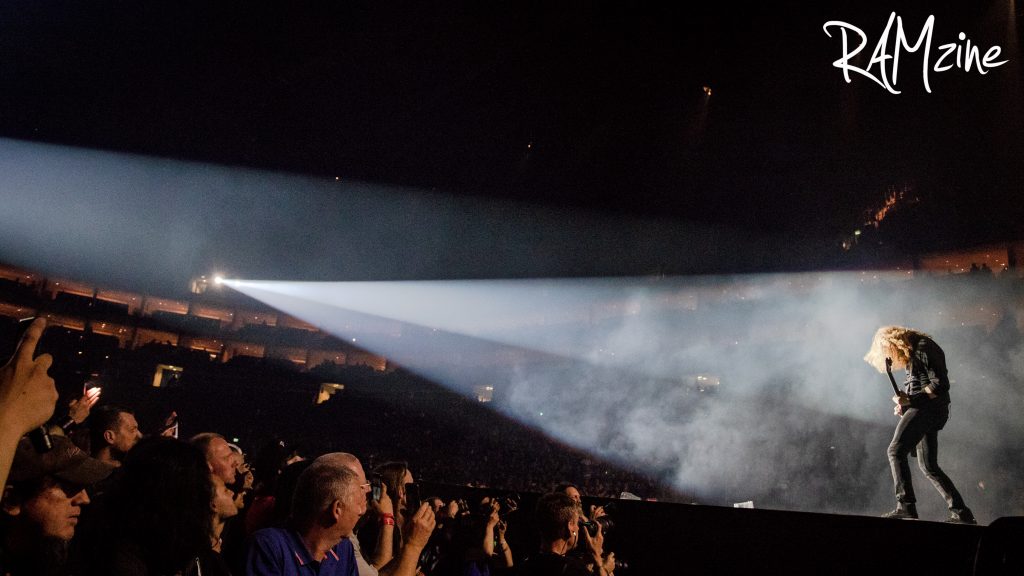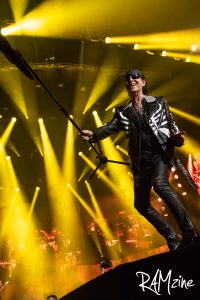 Finally Scorpions make their big entrance, acting as if they were dropped off on stage by the plane on the big screens behind them, which was quite credible as we all know they always come with an amazing stage production. 'Going Out With A Bang' represents the perfect song to open tonight's set, it definitely predicted all the fun we would have had ahead. 'Make It Real' and 'Is There Anybody There?' make space for one of the many mega hits 'The Zoo' during which Klaus throws drum sticks to the public and the track is undoubtedly very well received.
"Let's go back to the 70's when we first came to London to play at the Marquee" says the frontman, and so they treat their fans to a brilliant medley which includes 'Top Of The Bill', 'Steamrock Fever', 'Speedy's Coming' and 'Catch Your Train'. The fairly new 'We Built This House' also gets the audience singing along and it turns out to be no second to the popular hits. After 'Delicate Dance' it's time for another medley which sees the band performing 'Follow Your Heart', 'Eye Of The Storm' and 'Send Me An Angel' in a touching acoustic setting. Once this is over, Meine introduces one of the band's biggest and most remarkable classics 'Wind Of Change' and from the first whistle everyone in the audience is like hypnotised by its magic.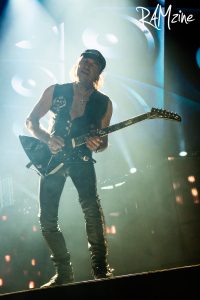 There's so many sing-a-long's tonight, it's so beautiful to see how music can create such a union among different people at this festival. An amazingly well executed cover of  'Overkill' is played in Lemmy's honour and after a powerful drum solo, 'Blackout' and 'Big City Nights' close the set before the encore. 'Still Loving You' never gets old and it doesn't fail to create a pretty emotional mood but because they opened with a bang it was only fair to finish the gig in the same way. And we, as fans, all know there's no better song to do so than 'Rock You Like a Hurricane' who got everyone in the public standing up, dancing and screaming the lyrics. This is a band that only got better with the passing of time and never once lowered the bar.
It's definitely been a fun day, Stonefree once again exhibits a great showcase of rock and metal music which satisfies everyone's tastes and expectations.