It's not scorching here at Southampton Uni today, but the rain is keeping off and the sun is just resting behind the clouds. Optimum festival weather. For regulars to the festival there's a feeling of being reunited with an old friend. For newcomers, there's almost awe at the intimacy this festival holds. Either way, everyone is eager to begin…
(District stage – Main Stage)
InMe
Bands are starting to play albums in full now. It's common enough that it's now gone from a historic, landmark show to a pleasant gag that a band can pull out for an easy tour. But InMe playing Overgrown Eden in full feels different. It's not a smash hit in the sense Metallica's self titled album is, or Linkin Park's debut. But it's easily a great opus of it's own right to the group's fans. There is no denying this album will continue to hold it's own. It was clear to see who was the long time fan within the crowd, and who was passing by. This is one for the fans who have clearly been yanked back a solid decade into their past. A job well done.

Rolo Tomassi
Think of seeing Rolo Tomassi live as a Neapolitan ice cream. The strawberry ice cream as the Mathcore tempos, the vanilla as vocalists Eva and James Spence's gnarly growls and finally the chocolate the 8-bit synth littered all across their tracks. On paper, they sound like they shouldn't work, they sound like they'd be a car crash to watch, but they have the type of sound that invites you in for a drink and the next thing you know, you're married with two kids.
From the very start of their half hour main stage set, the growls and pop soprano highs erupt out of Eva, and even the floor begins to shake from the bass with an energy you can't ignore or not want to dance around to.
To celebrate Rolo Tomassi being together for 10 years, they are releasing an album titled Grievances as a follow up to their 2012 album Astraea, which they treated fans at Takedown a track from. Throughout the set Eva jumped/skipped around the stage, twirled like a ballet dancer and screamed down the mic. There is an atmosphere throughout the set that you can't quite put your finger on.
Admittedly I wasn't much of a fan before I saw Rolo Tomassi, but I think I've moved in and had two kids with them now.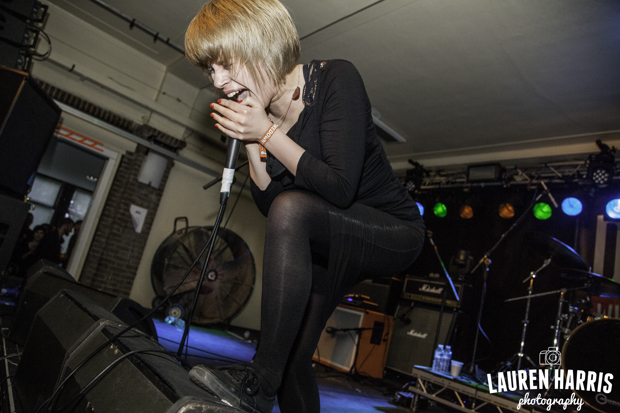 The Blackout
The minute Sean Smith mentions that this will be the band's last ever festival, the prospect that The Blackout are soon to be no more becomes a very real thing for some fans in this hall. There is mixed emotions; some people are crying, some are cheering, some are booing. One thing is for sure, anyone seeing The Blackout for the first (and probably last) time are sharing the disappointment of long term fans, because the boys are slaying it.
Amidst old and new classics they put on an energetic show during which they spout musings to the crowd about Wrestlemania and striking up a bit of beef with Scotland. It's a performance that will be long missed.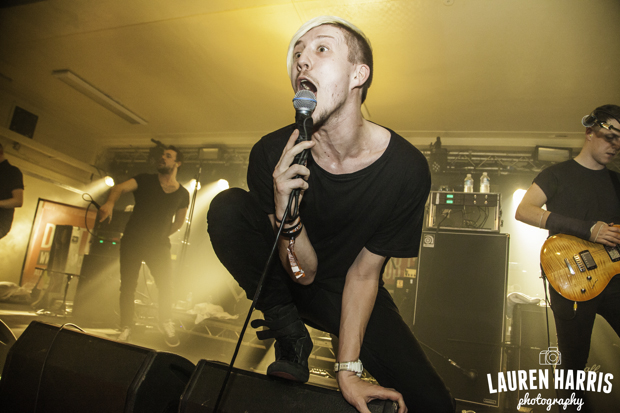 Charlie Simpson
Despite not being able to fill Southampton's University exam type hall, he still performed as if he had a packed room of fans. Opening with title track 'Long Road Home' from his 2014 album, the hall becomes chilled and fans began singing softly with Simpson's trade marked husky voice we've all grown up with in one form or another. When listening to Simpson singing you notice a distinct lack of 'th' and 'uh' sounds when singing, sort of lick a modern day bad Elvis impersonation.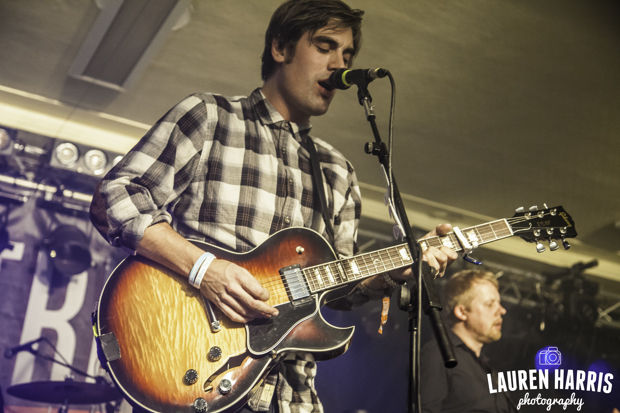 Switching between tracks from both albums, Long Road Home and debut album Young Pilgrim. You could consider his set as a break from running around seeing bands all day, a chance to actually drink your pint, and put your arm around your mate and sing into their ear.
As the set continues on, the drums and guitar kick in at the start of hit track 'Parachute' and the crowd suddenly jumps to life, singing back to Simpson and his band. When the chorus kicks in all you can hear is "I don't need your parachute." It was hard to not get lost in the atmosphere created from the mixture of acoustics, drums and Charlie's smoothly singing over it, swaying just happened, if I had a lighter on me, throughout the set it would've been lit.
What really stood out from the rest of the tracks had to be the build up in his second to last song, 'Riverbanks', where the crescendo of instruments welled up inside of the fall and a well of emotion built up far greater than you would feel listening to the CD. It was loud, beautiful and felt like you were just about to have your emotional heart-wrenching scene in a bad rom-com.
Mallory Knox
For such a young band with an already extensive catalog of one EP and two albums, Mallory Knox had every right to headline this year's Takedown festival. Right from the start of the gig the band swaggers on stage, vocalist Mikey Chapman comes out wearing a union jack flag. Was he prematurely happy about the queen coming to Southampton on the following Tuesday? Did he forget he was British? Did he have an accident and that's all they had instead of a tin foil blanket? Who knows.
The band broke out into their first track and the crowd went wild with everyone screaming. There were enough flashing lights to make you question if you were epileptic.
The 5-piece Cambridge band clearly weren't expecting the reaction from the girls screaming at them at the start of the set, which then created a strange struggle between screaming fans and being louder than them. All you could see was a sea of Takedown's own foam fingers, hoards of screaming girls and groups of mates singing their songs to each other, pint still in hand.
There is no denying that Mallory Knox know how to keep a crowd's energy going. Just by watching the band jump around on stage together it made the crowd replicate the act and every so often telling the crowd they want to "see you fucking reach for the sky." It's not hard to see the band relishing every single second of performing at Takedown, as they comment "it blows my mind every single fucking time" about fans singing the lyrics back at them.
From the floor being a mixture of beer and sweat to a sea of girls on their friend's shoulders, the room was packed from front to back, generating enough heat to cook a microwave meal. Which, Mikey just to makes matters worse adds a comment: I wanna see you fucking sweat."
Just before the band play their track, '1949', from their debut album Signals. Mikey takes centre stage and explains that he wants the crowd to sing the song to the person they really love and dedicated the song to his own Grandmother. This led to the entire room singing together in a sense of unity, the feeling of just everyone enjoying the moment washes over the room.
Watching Mallory Knox live makes you realise the alternative music scene is far from dying out. Within the crowd you had lads singing to each other, 15 year old girls screaming their hearts out and even the few Dads dotted around the crowd arms open wide singing all the songs as well. Mallory Knox, fun for all the family.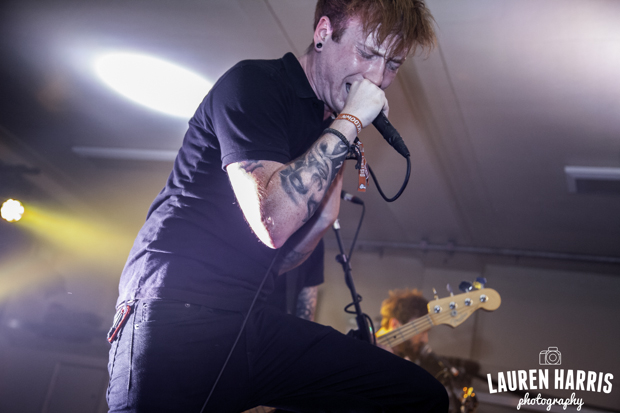 (Big Deal stage – 2nd stage)
Decade
Before setting off on tour with Set It Off later this year, Decade jump up on the Big Deal Stage to flex their musical guns and jump around. Decade know how to keep a crowd happy. Immediately asking if everyone was having a good time before kicking off their set, which included a majority of tracks from their first album, Good Luck.
After Decade opening for so many big name bands over 2014, A Day To Remember, Lower Than Atlantis and The Used – it was great to see them play to a crowd full of fans who could sing along to the pop-punk lads.
Vocalist, Alex Sears, being visibly taken back by the amount of fans they had watching them at Takedown says:  "This is the best show in fucking ages, it's really fucking cool to play a show where people know the words."
It's refreshing to watch a new band, jumping around on the stage clearly enjoying every moment spending on said stage and keeping the crowd just as happy, far too often you watch a band who doesn't interact with the crowd – Decade definitely shake this up.
The 5-piece from Bath, treated fans to a brand new track to end their half our set, despite fans not knowing the track they refused to lose the momentum that had build with the crowd and encouraged the crowd to clap along all the way though. If Decade isn't currently being blasted from kid's bedrooms, they definitely will be doing so soon.
Moose Blood
Moose Blood show Takedown that love sucks and they need a hug. These new-wave emo lads, give one of the most intimate sets from the festival, full of heart wrenching lyrics and melodies.
Just before the set is a sea of Moose Blood band merch gathering, ready to let out all their energy. Despite being in a crowd, Moose Blood have this power to captivate fans to believe they are the only person in the room. You could say that seeing Moose Blood live is like a therapy session, the sense of every single heartbreak from everyone in the room washes over you. Especially when the band begin playing 'I Hope You're Miserable'. The whole room erupts louder than the band themselves.
The half hour set consisting entirely of tracks from their smash hit 2014 album, I'll Keep You In Mind, From Time To Time. But playing 'I Hope You're Miserable' twice in different parts, gave fans double the chance to scream at their shitty ex. These Canterbury lads show that they are definitely a big deal and will continue to be a big deal with a birth of their own version of emo.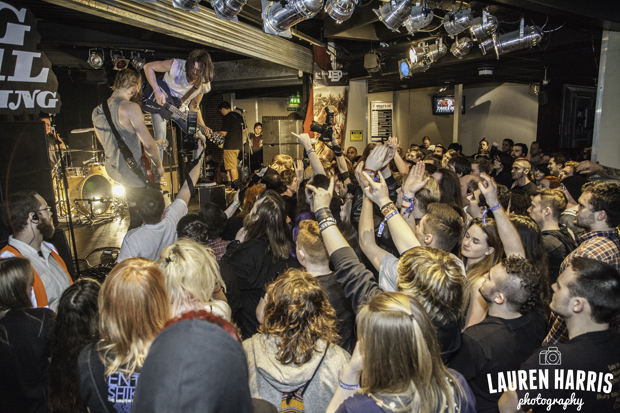 Baby Godzilla
Takedown wasn't ready for Baby Godzilla and neither was the ceiling. They showcase that they are a big deal rather fittingly on Takedown's Big Deal Stage. Despite guitarist Jonny Hall recovering from knee surgery, that didn't stop him from climbing amps and diving into the crowd.
Unless you were at the front of the crowd it was hard to keep track of where every member was at any given time of their 35-minute set, from the ceiling, in the pit and even on a table at the back of Southampton's SU bar. When they weren't squishing the crowd into the carpet they encouraged fans to "sing along 'cause we don't know 'em". Which the crowd proved they did, especially when they started playing their track 'Powerboat Disaster', as the room suddenly broke out screaming "Yo ho, yo ho, a bottle of rum and off we go".
Baby G have taken carnage slapped it about and made it their bitch and don't hold back on unleashing it. You could say that Baby G have made their own genre of infused hardcore and pure hatred.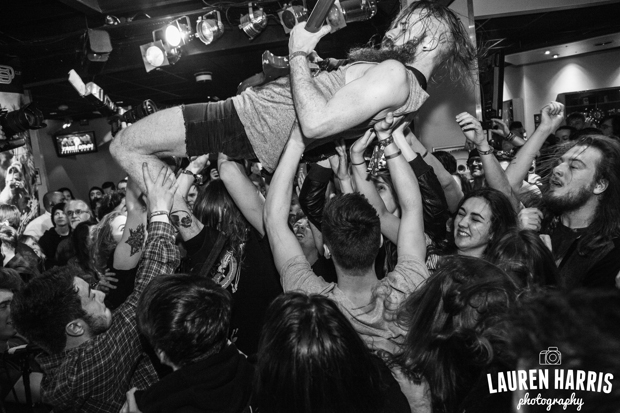 (UPRAWR stage – 3rd stage)
Bleed From Within
It's coming towards the end of the day but the crowd have only gotten more rabid. When Bleed From Within begin a strong and powerful set the security are perched like owls on the barrier. There is madness on stage, there is madness in the pit – with windmills of fists and hair flying in all directions. The band has that perfect balance between a reserved, respectable decorum and the display of unhinged mad-men with instruments.
Heart of a Coward
Heart of a Coward take to the stage with the demeanour of a band who know they can own the stage. It's brilliantly cocky but this is in no way a bad thing because the crowd are eating it up. Only when the show is reaching its peak does the worst thing happen – there's a fight in the pit and the band rightfully refuses to play before those involved leave. As soon as they do it's back to business as normal (if for a stronger presence of security) and they bring the UPRAWR stage to a close in spectacular style.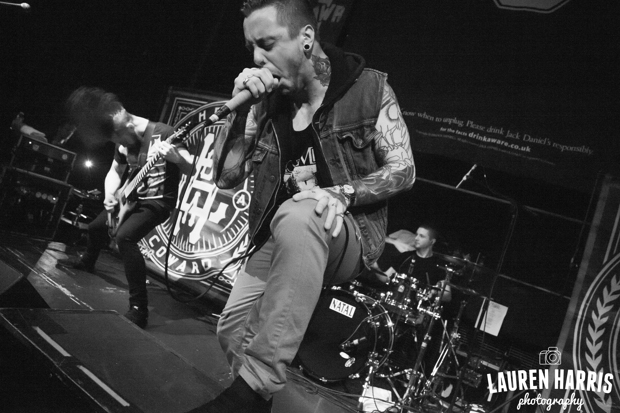 What a day! Takedown gives you that big festival feeling for sure, but it's nice to see it has maintained it's roots, and grown into a leading day festival. Can we expect bigger and better next year? We sure hope so…
Review by Rosie Melville & Sean Rafferty – Photos by Lauren Harris