Ideally, we at RAMZine wanted to give you TWO THOUSAND reasons to visit 2000Trees, because, y'know, it fits with the festival name and we could probably think of that many because it's just that good. However, there are reviews to be written, Netflix shows to be binged and some of us have day jobs. So we've cut it down to Ten.
If you're yet to experience one of the loveliest, most rockin' small festivals on our fair Isle, here's our abridged run-down of why you need to get yourself to Upcote Farm this summer….
It's got one of the nicest festival crowds in the UK
Ask any Trees-goer what their favourite thing about the festival is, and it's pretty likely that the crowd will be a popular response. It feels kinda cliché to say 'likeminded individuals', but the people who head to 2000Trees are all about great music, great company and great times. The vibe is way more chilled than the bigger festivals – but there's still plenty of fun to be had down the front. Festival crowd most likely to not drop you during a crowdsurf? Our bet's on this one.
You'll catch some of the best British talent
If there's one thing Trees does well, it's celebrating some of the amazing acts coming out of the UK right now. If you're a pop punk fan, you won't want to miss Neck Deep make their Trees debut. Also over the weekend, Moose Blood bring powerful old-school emo sensibilities with a modern vibe, and Southampton punks Creeper pay a visit following the success of their recent EP The Stranger. Other bands we recommend you check out? Muncie Girls, ZOAX and HECK (the band formerly known as Baby Godzilla) are all guaranteed to wake you up with a bang.
Plus…those headliners…
Time to get hardcore. If you lost your shit when Refused announced their 2014 reunion, we expect to see you on the barrier for this one. And if you need to work on your Scottish accent, get involved and sing along to the anthemic Twin Atlantic…
There's a stage in the forest
And it's rather beautiful. Perch yourself on a log with your mates and a beer, and enjoy the sun going down amongst the trees with some top-quality acoustic tunes. This year will see sets from Jim Lockey and InMe's Dave McPherson, as well as Forest festival faves Thrill Collins.
Everyone gets dressed up
Fancy dress day has become pretty legendary in Trees history. 2015 saw festivalgoers dress up as literal interpretations of their favourite bands – Queens of the Stone Age, The Movielife and Three Trapped Tigers were some of our faves. This year's theme is "What you wanted to be when you were 10″ – think anything from firefighters and doctors to rockstars and astronauts!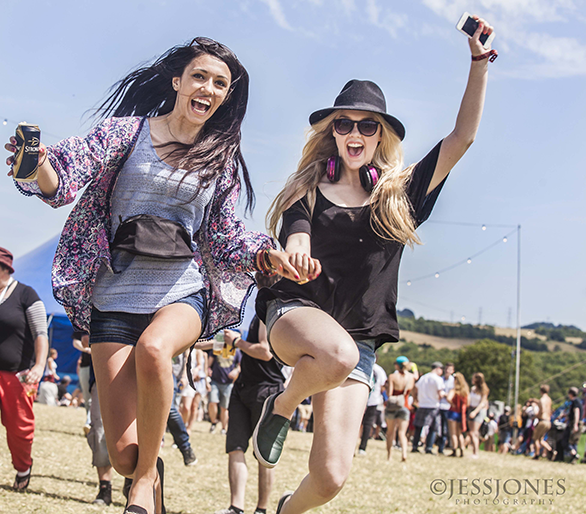 Wanna show off your musical talents? Get to a Busk Stop
In the spirit of showcasing up and coming talent, there are 'Busk Stops' situated around the site where you can hop up and perform some tunes of your own. Plus, keep an eye out for the odd familiar face who've been known to pull out a guitar around the campsites!
You can get your funny bone tickled…
Laugh yourself silly with comedy at The Croft on the Thursday – lineup still to be announced, but we can guarantee it'll be hilarious.
…and dance the night away at the silent disco
The bands might be finished, but the music certainly isn't. Make sure you pick up a pair of headphones and join in with the site-wide silent disco that kicks off and takes you through to the early hours. With multiple channels, big party tunes at the mainstage and alternative anthems at The Cave, there's something for everyone. Just fancy a quiet sit down with a few cans and a bowl of chips? Check out the cult classics showing at the silent cinema!
It's fantastic value
A three day ticket for 2000Trees will set you back £95 (plus booking fees). That's less than half the price of a lot of the big names nowadays, for just as much top quality music time. Hell – the VIP ticket is STILL cheaper than a normal ticket to any of the big festivals. Although food and drink prices are pretty much festival standard (although slightly cheaper), there's a focus on offering quality eats and you won't see identikit burger vans scattered every 50 steps.
The White Russians
Flat pints of lacklustre lager? So mainstream. 2000Trees does it differently. As well as their roster of locally produced tasty beers and ales from independent and smaller breweries, those in the know head to the cocktail bar and get their calcium intake with an extra shot of boozy goodness. Surprisingly good for a hangover too.
Tickets for 2000Trees along with news, lineup and info can be found on their website.