I came to the deaf, dumb and blind kid TOMMY late.
Although it was a hugely successful double album release for the English rock band The Who in 1969, and became a rock opera in 1971, with an orchestral version by Lou Reizner in 1972 and the Ken Russell movie in 1975, I didn't get around to seeing it / hearing it until the fall of 1981, when BBC Radio made a simultaneous broadcast with BBC television to provide the first ever landmark, experimental, stereophonic transmission of the film, Remember, this was long before NICAM stereo transmissions, wide screen televisions and years ahead of digital.
It was, of course, a magical experience, and I instantly fell totally in love with the colours, textures and emotions of the picture: not only by Ann-Margret's incredibly voluptuous screen-presence (the image of her twisting half-naked in baked beans still keeps me awake at night) but also the ridiculously complicated compositions of Pete Townshend that proved as esoteric as they were genuinely entertaining.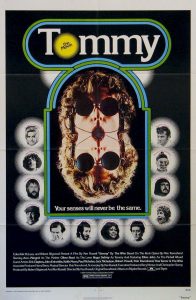 As a result, I became a big fan of the rock opera, going to see it as a stage production a half dozen times and re-watching the movie, habitually, once a year. So I'm pleased to report that RUSSELL'S magnificently imaginative fantasy drama will be opening at BFI Southbank and at cinemas nationwide on 22nd November 2019 — as part of the BFI Musicals "The Greatest Show On Screen" season. RAMzine was invited to the BFI for a private screening before launch day.
Those rock-fans that might be coming to this extravaganza for the first time (and there will be many) will have to remember that it is a rock opera. The emphasis is on opera! Not only was it a highly conceptualized album in the first place, with a central narrative and complex motifs, it was also excessively dramatic and, of course, comes without dialogue… in that sense, it is an introduction to true opera for rock fans. Whether Townsend predicted it, or not, this grandiose idea begot such ahem delights as Superstar by Lloyd-Webber, a Journey to the Center of the Earth by Wakeman, The Wall from Pink Floyd, Miss Saigon from Schönberg, and more recently, Hamilton from Miranda. Should we curse him or bless him? We will leave that for you to decide…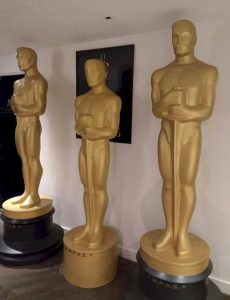 On one level, the impressive vision recreated by film-maker Russell (known to film buffs as the British Fellini) can easily be seen as offering the true flavor of British society in the early 1970s. Coming from a desolate London suburb and growing up in the 1950s and early 60s, I for one, was immediately affected by the heavy blow of nostalgia that punched hard in the early movie scenes. Anyone who was brought-up in post war Britain will feel the same: but what about generation x, y and the millennials? What will they get out of this?
Well, on the one hand, the basic premise, of ​​a millionaire, slightly autistic, arcade-games superstar who becomes a disciple, is not as far-fetched now in 2019 as it was in 1975. It is reported that professional gamers can make anything up to £15,000 a month and the best "Fortnite" players can expect to win millions of dollars in prize money. Second, although it will be difficult to understand the appeal of a chalet-based holiday camp in 2019, we have all been on those all-inclusive vacation packages where it is easy to imagine your mother falling in lust with the buff & over-friendly captain of the animation team. Then there is the quasi-religious cult reference for the spectacular heavy-rock number: "Eyesight to the Blind" where Eric Clapton licks over lyrics written by Sonny Boy Williamson while Arthur Brown howls like a wolf at the moon… This scene is significantly prophetic, as Townsend seems to have predicted both the death and gradual canonization of Diana, Princess of Wales and also the "Candle in the Wind" song written by Elton and presented again for Diana's funeral in 1997. In addition, the idea now seems eminently feasible that a semi-educated person with very little talent can still somehow become an unexpected worldwide cult leader for hundreds of millions of followers: just look at Kim Kardashian why don't you. And the opera also delves, perhaps rather shakily, but at least it tries, into issues related to child exploitation, abuse and neglect; with Keith Moon playing a grotesque abuser in one scene, and Tina Turner playing a prostitute "Acid Queen" in another. It's all unpleasantly prescient of the nastier times we now find ourselves living in.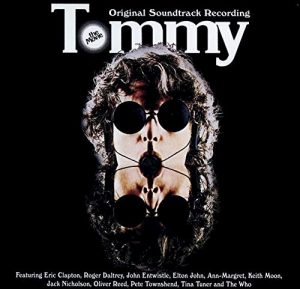 Therefore, the film can be seen with fresh new eyes and should be enjoyed as an immersive experience. New audiences will need to sit with an open mind and be prepared to admire the cinematic wonders on offer. And be ready for more synthesizer and electronic music than you might expect from a band who sold 100 million records by making brutish hard-rock for mod fans. And also get ready for the campest Elton John you might have ever witnessed, performing "Pinball Wizard" (a highlight of the film), and the pretty-beautiful Roger Daltrey who does not really do very much at all during the picture… other than smile a lot and look slightly lost and bewildered.
And new audiences will be dazed & amazed too… because this film is trippy beyond expectations and totally overblown in places. Jack Nicholson's performance is truly abysmal, some of the scenes feel as if they're crank-driven or overlong… on the other hand it's all about the songs… and if you're not singing "I'm Free" as you leave the cinema — there's something wrong with you…
Tommy is re-released as part of the BFI Musicals! Season on 22 November 2019. Coincidentally, THE WHO release their first album in 13 years, in a few weeks time (penciled in for 6th December)  It's simply titled "Who."
TOMMY: Directed by Ken Russell. UK 1975, 108 minutes, Cert 15. A BFI release.
Other British films in the BFI musicals season will include The Rocky Horror Picture Show and Jesus Christ Superstar.