Dutch band Kayak has been in existence forty-nine years, with Ton Scherpenzeel now the original member left of a band that has seen a bewildering number of musicians passing through their ranks. Indeed, probably only Jethro Tull has had more past members, yet the band still retains a noticeable identity, as witnessed by their latest album, Out of this World, which followed on from 2018's Seventeen (so-called because it was Kayak's seventeenth album!), released to critically favourable reviews.
Kayak seemed poised for mainstream success in the 1970s when their music was being well received, especially by prog-rock aficionados. However, a combination of continuous changes of personnel, making no real inroads into the US market due to never playing there, as well as the changes of musical styles and tastes in the late seventies, with Punk and Disco dominating the airwaves, meant the Kayak bandwagon stalled, and the band entered into a lengthy hiatus in 1981.
But, they reformed again in 1999 and, since then, have released some of their strongest music and, alongside other seventies bands like Blue Oyster Cult and Kansas, Kayak are still releasing albums of new music – when other similar long-surviving bands, such as Styx and Boston, are happy to be considered as part of the heritage legacy, and they've evolved down the years, despite the differing line-up's, and are now a different proposition from the seventies/eighties model.
Ton Scherpenzeel agreed to talk to RAMzine, via Zoom from his Dutch base, about all things Kayak and I began by asking him about his current state of health (towards the end of 2019, Ton suffered a heart attack) and, if it were possible to tour, would he be able to do so?
"I'm good, thanks," he stated, " but there's no way we can tour at present so I'm not even considering it. We're hoping to tour early next year, including the UK. We did a couple of gigs there a couple of years ago and it'd be nice to come back."
Kayak has undergone a remarkable surge of creativity in recent years, culminating in their last two albums being very favourably received, and I wondered how satisfied he was with the band's new album, Out of the World?
 "I'm very happy with the reviews so far," he sounded pleased. "I always have a problem with judging my own new album as it's still warm, if you know what I mean. But I'm really proud of it, and the guys who played on it. I think they all did an excellent job. We took a big step with this album with the band as a unit, and the band is tighter and more together. Working together for a couple of years now, you get to know each other's strong points, which has been helpful with this album."
 Kayak has seen many line-up changes over the years, hasn't it ?
"Yes," Ton agreed with a smile, "I've lost count of how many."
 I pointed out, counting the current line-up, total numbers have been twenty four.
"Oh, you've done the counting, thanks," he smiled.
I think only Jethro Tull has had more past members and still going, I suggested.
"Some bands stay together for forty years with the same four people, we never managed this. But, of course, if you make millions, it's easier to stay together than if you don't."
"But, in a band like this," he went on, "everyone has other things as well, and it's sometimes difficult to stay together and work in a band. Life changes, that's the way it is, at least that's how it is for us."
I mentioned to Ton that Kayak has been in existence for forty-eight years, and Out of this World is the band's eighteenth studio album. I suggested to him Kayak were similar to bands like Kansas and Blue Oyster Cult in that both have been together almost fifty years but, last year, both bands released albums of new music to very positive reviews. So, how pleasing was it to still be able to make new music after all this time, and not become a heritage act?
"And we're not going to do this, either," he was adamant, " because my motivation is always in creating new music. This is why I stay in the music business. I'm totally not interested in repeating the old works, the old songs. I'm proud of them, but it's not what motivates me, which is to keep on going. So, as long as I'm inspired, and I can get inspiration from whatever it is, and I have the right people to work with .. and my health doesn't fail me .. I just hope I can keep on making new music. That's what drives me."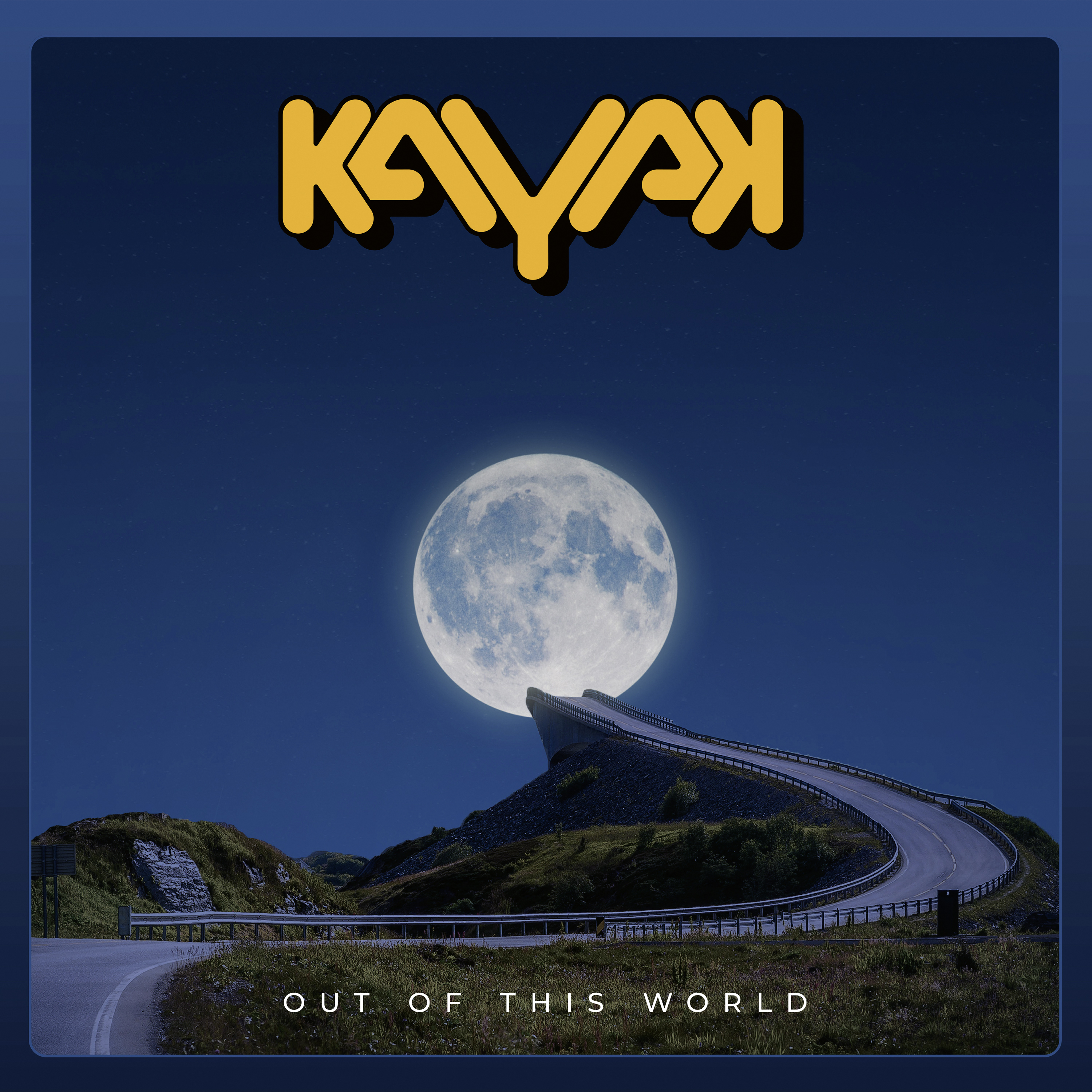 Kayak, rightly or wrongly, are perceived by many fans to be a kind of crossover prog band, often compared with bands like Camel, and on the new album, there are a couple of lengthy tracks. Did this mean Kayak's musical heart is rooted in prog? Is this how they consider themselves?
"No," he came straight back with. "A lot of our music borders on prog, but the new album's not especially prog. It's hard to label us. I like to expand my musical horizons. I've written so much music for other artists, and for theatre projects, probably more than I've written for Kayak, so I'm not thinking about prog. I'm just thinking about collecting the best fifteen songs for a new album. Of course, I think about the band and what they're able to do, and this is how I mould the material, try it out as demos and see what we can do with it. I don't really care if they call it prog or not.
Maybe commercially this isn't very clever because people like to label it, but that's not the way I see music. Music to me has no boundaries, and while you don't expect a hard rock album from us, I like to look at music in a broader way and not limit myself to just being a prog band and exclude other things."
I mentioned the wide variety of songs on the new album as an example of this.
"Yeah, sure," he stated. "I'm never going to be limited just to prog. I like to make music within the limits and possibilities of this band."
Given the amount of music he's written down the years, did Ton think of himself as a composer or as a performer?
"Basically, I think I'm a composer," he stated firmly, "that's the way I see myself because that way I can get to perform my own music, and if I wasn't a composer, I probably wouldn't even be in a band."
We then touched on the subject of band personnel, of which there've been more than a few, and I asked how hard he found it to replace musicians when they leave, because some bands struggle to maintain their identity when members leave, but Kayak have managed to stay fresh despite all the personnel changes.
"Well, first off, it starts with the material, with the songs," he emphasised, "and I'm lucky to have these guys in the band. We have a fantastic drummer who has enormous drive and energy, and this inspires me as to how I write music, so it goes two ways. If I had the feeling of growing tired of what I'm doing, and not being able to transfer my energy to the music, I'd stop. This is part of the freshness, and the line-up changes help because everybody is fresh. Nobody's been in the band as long as me! I still have a fresh way of approaching music and I try to avoid all the traps of repeating myself, within the style I'm using. So, part of it is my own inspiration and part because the band is fresh, and you can hear that.
I'm not saying, if the old line-up hadn't changed, the band would be much different, but the new line-up has made it more fresh."
Is the current line-up the strongest Kayak's ever had?
"I've always said this with every line-up," he grinned, "but the current band are fantastic musicians and are capable of playing anything. If you take our drummer (Hans Eijkennar), he's one of the most in-demand drummers in Holland for any music. Ask him to play anything and he does it. But every band member has their own unique personality, and it all fits together on the new album very well."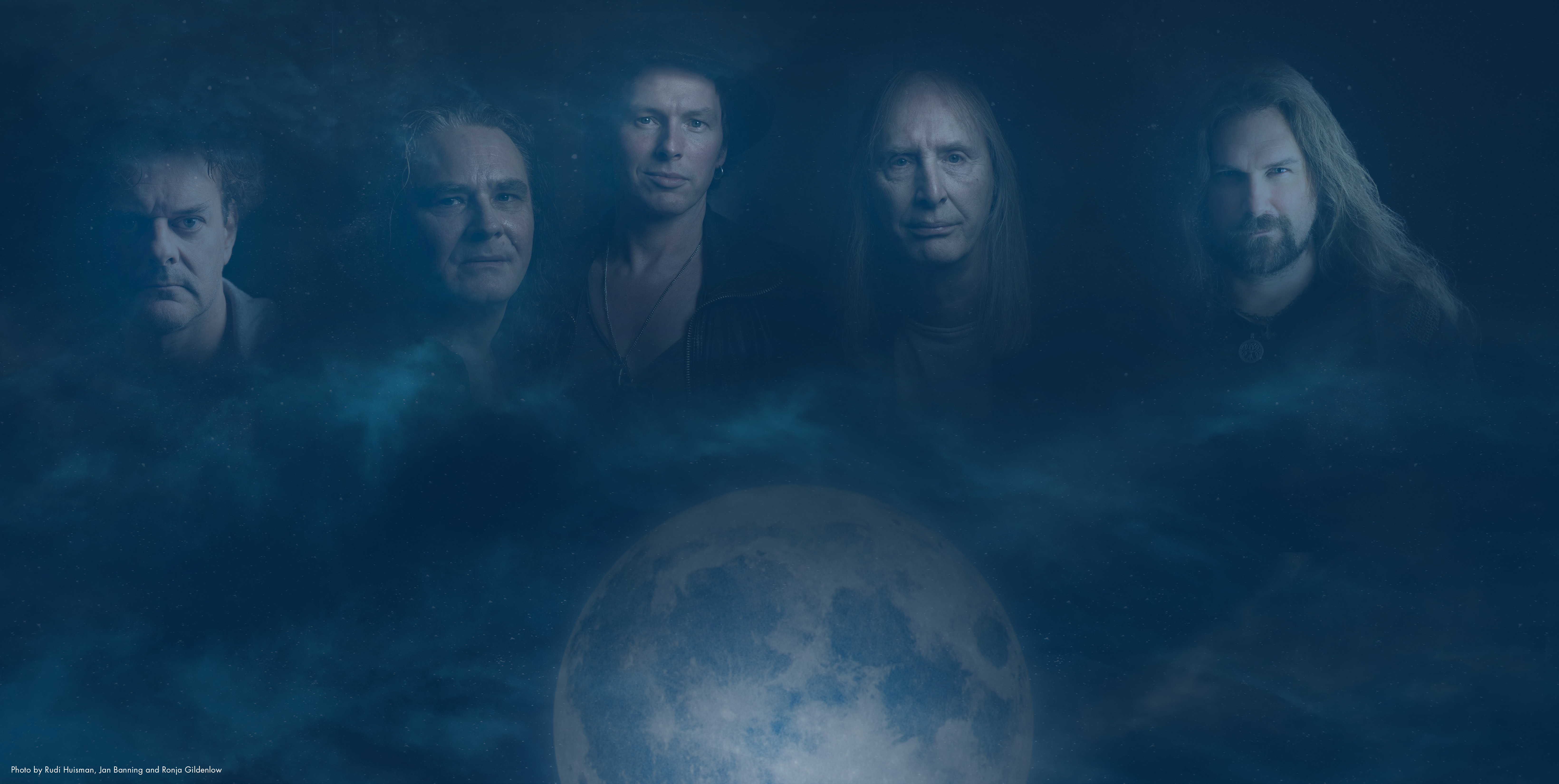 Kayak stopped between 1981-1999. Why such a lengthy gap?
"There was a combination of musical, financial and personal issues," he explained but gave no details. "We'd had a big commercial success in 1979 (with the single 'Ruthless Queen') and then it all went downhill from there, commercially speaking. Basically, as we were going downhill, the problems came up, so we stopped. I didn't even think about the band for several years. I did a lot of studio work and I started writing for the theatre. I also played with an English band, Camel, and with Earth & Fire and other bands.
But, halfway through the nineties, I felt I should do something again, so Pim Koopman and I, we'd originally formed Kayak, we came together again, with a collection of songs, and as soon as the original singer, Max Werner, came onboard, it was impossible not to call it Kayak, so that's how it all started again."
How hard had it been to keep Kayak going after Pim Koopman died in 2009?
"Pim and I'd known each other since 1967 and we'd played in the same bands, him playing guitar and I played bass, but it was hard when he died," he stated, "and it took me a year to decide whether I wanted to continue with Kayak. There was a tribute concert, held at the Paradiso, Amsterdam, and this is what triggered me to continue.
I knew I could still write music, with or without Pim, but it's a mental thing. He was a friend and a rival and the band changed after Pim died. It was hard but we managed."
During Kayak's hiatus in the 1980s, Ton briefly joined Camel and played on one of their mid-1980's albums, Stationary Traveller, writing the song 'After Words'. Camel guitarist Andy Latimer played on Kayak's 2018 album, Seventeen. Given the friendship between Ton and Andy Latimer, I wondered .. had they ever considered doing an album together or even forming a band?
"Well, we have our own bands," he began, " and we tried making an album together, but it never worked for some reason. But I've always enjoyed playing and touring with Camel, because in Kayak, all the responsibility's on my shoulders, whereas in Camel I just have to play. Andy Latimer's a tremendous guitar player and our musical styles really fit, but we never considered forming a band together, though we did consider an album, but we had different work schedules and it never happened.
Nobody can replace Pim and, with Andy, nobody can replace Peter Bardens. That's what happens when you're the last surviving member of the original band."
I mentioned to Ton how I thought a really good band could have arisen from a union between him and Andy Latimer, or at least a really good album.
"Yeah," he agreed, "but the point is, when you have a band, you tend to keep the best material for your own band, and I think that's what happened, which is why the album never materialised. But it could still happen, I don't know. We're still in contact."
Kayak never achieved the recognition it was predicted they'd achieve in the 1970's, and I wondered whether Ton thought Kayak might have made more of a name for themselves had they toured more often?
"We never made it to the States, which was a financial question. The first chance we got, there was a tour planned with Kansas in 1978, and had we toured more internationally, I'm sure we would have had more recognition, but the thing is, coming from Holland, it's hard to come up from there. That's one of the reasons why we never made it big internationally.
Also," he continued, "it takes a lot of money to get there. We toured England and across Europe, and I also have the problem of I don't fly, so it'd take me a week to get to America," he laughed at the thought, "but if the possibility was there, there'd be a solution to it. But it was management and financial problems which meant it never happened. My fear of flying wasn't the reason we never made it to the States. But I really hope to play in England again. I love England, and I'd love to play there."
Next time the band tours, is it likely Kayak will ever do what some older bands are now doing, which is to base their show on playing an album in its entirety, given they've several to choose from?
"Then we'd be finished in seventy minutes. It's possible," he agreed, "but my favourite gigs are the ones where, if you have a new album, you take seven or eight from the album, but also choose from the old songs as well, and," he emphasised, "not always the same old songs as well. There're always three or four older songs we always play, such as 'Starlight Dancer' and 'Ruthless Queen,' and on the last tour we played four songs we'd never played before, and this is what I like. It keeps you awake, it challenges you and you dive into your own past and you think 'this is a good song to play,' which inspires you and gives you energy. This is my favourite way of combining a setlist. I know some bands play one or two albums completely, but we don't."
2022 marks Kayak's 50th anniversary. Do they have plans to mark the occasion?
"We still have to promote Out of this World, and it's such a pity we can't play at the moment, so it feels like it's only half finished, you release the album and then ..nothing. So promoting the new album will be part of what we do next year. But there are no concrete ideas just yet. Our first single was back in 1973 so maybe we could do that, but I haven't heard anything from the record company, and I've not really been thinking about it. I'm not a guy for birthdays and jubilees."
Ton had mentioned management issues and problems with record labels, so I asked how important has it been to Kayak to have a label like Inside Out behind them?
"Very important," he came straight back with. "We did a lot of records independently on small labels, but for the international market, the reason why we're talking is because we have Inside Out. Before our Seventeen album, it was virtually impossible to get interviews anywhere, whereas this week alone I've done interviews with people in Peru, America, Sweden, Italy and now the UK. The exposure we're now getting is because of Inside Out as they have good promotional people."
Considering the longevity of the band, I suggested Kayak are an extremely resilient band, given some of the things they've had to endure down the years, so I wondered whether Kayak epitomised the saying 'what doesn't kill you makes you stronger?'
"It can also make you weaker," he suggested, "but when we chose the name Kayak, we didn't realise how appropriate it would be later on because a Kayak is a boat which turns around and comes up again, it never sinks," he smiled, " and after forty plus years it's actually quite a good name considering what's happened, and after so many years in the business you get to know where to avoid problems and what to focus on. The music business has opportunities but also problems. But experience helps, and you can say what doesn't kill you makes you stronger, but it's also a matter of identifying your problems and focussing right. This is what experience teaches you."
I quoted a critic's comment to Ton, which said 'Kayak have had more cracks than an arctic ice flow but they keep going.'
"Yeah, I've read that too, it's very appropriate."
Ton had touched on this earlier, but I asked him, if someone who didn't know of Kayak asked him to describe the music they play, how would he respond to this?
"You're asking me to label our own music," he sounded amused, "I think it's a combination of rock and pop, some classical influences and folk influences. But basically I'd say we're song orientated with good arrangements, but they're still songs and for us, as a band and for me as an arranger and producer, the song is the master. We're all serving the song, with its possibilities and the technical abilities everyone has. It's very hard to describe your own music. There's something of a lot of styles in it, and it borders on prog, but it's firmly based in the 1960's. I was a huge fan of the Beatles, the Beach Boys and Jimi Hendrix. I listen to what I did in the 1960's and that's still a firm base for my writing."
We were now almost out of time so I concluded my talk by asking Ton, given the sheer amount of music Kayak has released down the years, could he cite one album or song and say, 'this is what Kayak's all about, this is what I'd like to be remembered for?'
"Yeah. Pim Koopman once said, and I thought he was right, if you take a song like 'Starlight Dancer,' that's vintage Kayak. It's a song I wrote when I was in England, touring with Jan Akkerman (ex-Focus guitarist). That would be the one."
He may or may not agree with this, but Ton Scherpenzeel is a survivor and he's weathered some major storms to keep Kayak afloat, and the fact he's still able to write new albums with the quality of Out of this World after all these years is testimony to his resilience as a musician. Kayak has turned around more than once .. and it's still moving forward.