The legendary purveyors of bluesy hard rock known as Whitesnake surely need no introduction as this awe-inspiring collective of musicians have crafted some of the most entertaining, memorable, and hook-laden outputs known to man for decades now. To some, Whitesnake are synonymous with the multimillion-selling 1987 offering and its follow-up entitled Slip of the Tongue whereas others are much more fond of the early, blues-based records from the late 70s and early 80s. Then again, there are those who favor the more recent efforts such as Good to Be Bad, Forevermore, and Flesh and Blood. Regardless of preference and taste, I think we can all agree that the early years of a band's history are often the most exciting and action-packed ones to read about. In Whitesnake's case, I personally think that the first proper incarnation of the ensemble recorded its most overlooked and to some extent exciting LP of them all, namely the debut appropriately entitled Trouble from 1978. As with most of these short and geeky articles of mine, the purpose is not to provide the reader with an in-depth analysis of Whitesnake's humble beginnings, a song-by-song analysis, or anything along those lines really. Rather, I merely wish to draw attention to the fact that Trouble is quite often overlooked or somewhat neglected when it comes to discussing the group's finest records and that it is an inspired and spirited album that crackles with spark and energy.
When it comes to the band's hits, classics, and much-loved songs, there is no denying that many of the tracks from 'Slide It In', '1987', and 'Slip of the Tongue' are probably the first ones that come to mind from the general fan's perspective, but as we all know, a band with a creatively rich and highly productive legacy such as Whitesnake obviously has plenty of tunes and even whole records that appear halfway forgotten for one or more reasons. I would argue that Trouble is an underrated gem that occupies a rather special place in the canon in that it was the first full-length assault by the hugely skilled group and that its vigorous mixture of hard rock and the blues was something special. It boasts a truly special sound and possesses a unique musical identity; nowhere is this more apparent than the fiery and bluesy metal anthem that is 'Take Me With You', the groovy and rock 'n' roll-influenced 'Lie Down', and the fast-paced and fabulous 'Nighthawk (Vampire Blues)'. The latter is a lost classic, which goes for the aggressive, face-melting 'Don't Mess With Me' too. There is an overwhelming sense of passion present on the disc that is so prevalent that one can almost reach out and touch it, and those elements of jazz, fusion, soul, and funk that often sneak into the mix are simply to die for. Simply put, Trouble is full of hummable, colorful, and kick-ass material.
Coverdale sounds magnificent throughout the ten tracks that constitute Trouble and the band as a whole is firing on all cylinders. Bassist Neil Murray is the hero of the hour here thanks to his melodically gorgeous inputs; the dangerously cool guitar duo consisting of Micky Moody and Bernie Marsden is downright explosive; Deep Purple Hammond wizard Jon Lord adds depth and nuances to the whole affair, and drummer Dave Dowle locks into a rock-solid groove with the aforementioned Murray that is capable of blowing your roof off and turning your brain into oatmeal. Pete Solley had actually recorded the keyboards for the LP before Lord joined the band, which resulted in his tracks being erased so that Lord could add his magical touch to the record instead. As Marsden says in his autobiography, "All of Pete Solley's playing was erased and Jon Lord went into the furnace of Central Sound and reheated the whole place . . . Pete Solley had done a good job, sure, but this was something else" (137).
Trouble was recorded in a hot and sweaty studio at 9 Denmark Street in London, which is commonly referred to as the Tin Pan Alley. Few streets in the world are as steeped in rock 'n' roll history as this cozy and atmospheric one in London's bustling and vibrant West End district is. Situated between Tottenham Court Road and Leicester Square, there is no excuse not to walk by what was once Central Recorders the next time you visit the city in that it is no more than a 5-minute walk from either of the aforementioned tube stations (ed. note: the building houses a restaurant nowadays). One can easily imagine that it must have been sweltering when they tracked and recorded Trouble there in the summer of 1978: "July to August of 1978 would find the band working on their first proper album, to be called Trouble, at Central Recorders on Denmark St, in the heart of London's Tin Pan Alley off Charing Cross Road" (Popoff, 35). Those bluesy licks, thunderous grooves, Coverdale's dangerously cool vocals, and the band's passionate performance overall must have caused some serious damage to the studio building. As noted rock music critic and author Martin Popoff states in Sail Away, when Lord played the Hammond in the studio "the room literally shook" and "would shake your haemorrhoids" (36). Sadly-missed producer Martin Birch certainly worked his magic in the studio too as the result is a most satisfying listen in every conceivable way.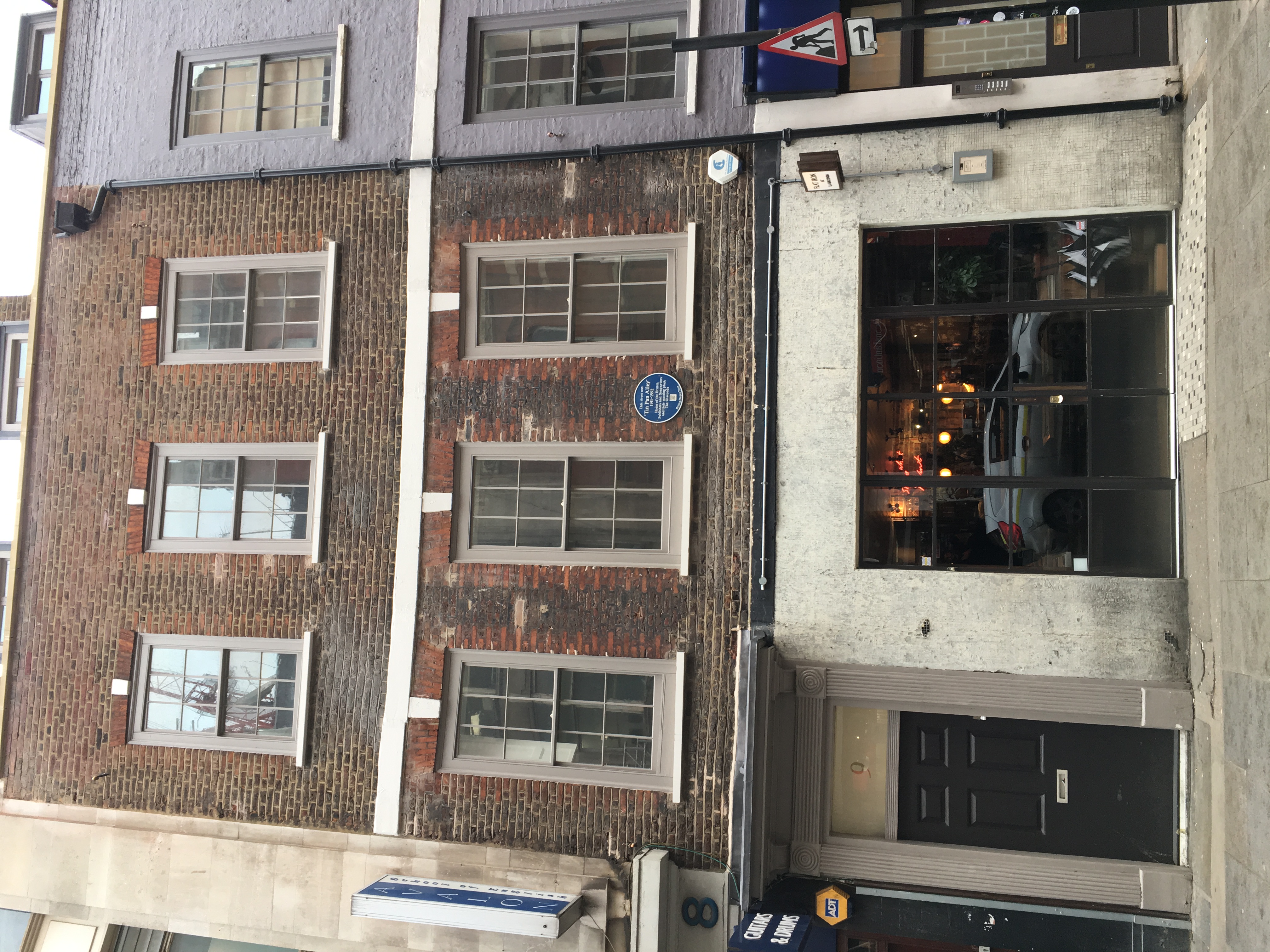 You ought to either dig out your well-worn vinyl copy of Trouble or stream it ASAP as this electrifying LP deserves closer study and inspection (not to mention that listening to it is heaps of fun). On top of that, Trouble is the sound of a handful of hugely talented musicians locking in to create something exciting and it perfectly captures the band's exuberant energy. A classic!
Works cited:
Marsden, Bernie. Where's My Guitar? On the Tour Bus with the Snakeman. Pledge Edition, 2017.
Popoff, Martin. Sail Away – Whitesnake's Fantastic Voyage. Soundcheck Books, 2015