Daxx & Roxane are currently attracting the attention of UK music fans up and down the country with their boisterous yet stylish mix of Rock n Roll as they play a series of dates with Bad Touch. To celebrate we are giving away a limited edition red vinyl version of their 2017 album Ticket To Rock and two tickets to any chosen date on their current tour!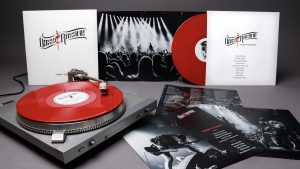 To enter: Comment on this post with the date you would like to attend. A winner will be selected at 6pm this Friday 2nd November. 
The band have been in the studio this month working on new material with Brit Award-winning producer Pedro Ferreira who has previously worked with The Darkness, Stereophonics, and Enter Shakari. Pedro Ferreira said "I haven't had this much fun in the studio for a very long time. Daxx & Roxane are not just fun to work with they are a fantastic bunch of musicians and they totally rock." 
They release their limited special version on Ticket To Rock on vinyl' through Justice Brothers on 31st October 2018.
Watch Daxx & Roxane's video for Ticket To Rock here:
Daxx & Roxane are Luca Senaldi Drums, Cedric Pfister Vocals & Bass, Cal Wymann Lead Guitar, Simon Golaz Rhythm Guitar and Harmonica.
UK Dates
Wed 31stOct – Academy 3, Manchester
Thu 1stNov – Flowerpot, Derby
Fri 2ndNov – The Welly Club, Hull
Sat 3rdNov – Corporation, Sheffield
Mon 5thNov – Wardrobe, Leeds
Tue 6thNov – Arc, Stockton-on-Tees
Thu 8thNov – Eleven, Stoke-on-Trent
Fri 9thNov – Waterfront, Norwich
Sat 10thNov – ULU, London
Thu 15thNov – The 1865, Southampton
Fri 16thNov – Cobblestones, Bridgwater
Sat 17thNov – LiveWire Youth Movement, Saltash
Sun 18th  – The Bullingdon, Oxford
Mon 19th– Robin 2, Wolverhampton
Tour dates with Bad Touch.