Feel like singing the blues at sea? Like the idea of doing it in the company of the legendary Humble Pie and solo artist Peter Frampton, Whitesnake's Bermie Marsden, Grammy award-nominated guitarist Joe Bonamassa or the multiple Blues Award winning King King… And possibly jamming with them too? Then Keeping the Blues Alive at Sea Mediterranean style may well be the holiday you need to book for August next year.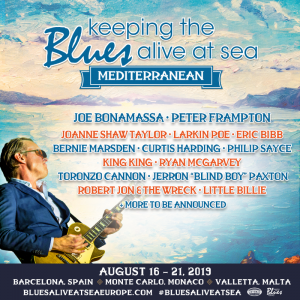 The five night music festival sails from Barcelona, Spain on 16th August 2019 and includes stops through the idyllic ports of Monaco's Monte Carlo and Valletta in Malta. This voyage will feature non-stop music across multiple stages as guests immerse themselves in extraordinary music with one-of-a-kind collaborative sets from many of the talents on board.
A reinvention of those steamboats that sailed down the Mississippi and elsewhere Stateside with music and gambling held as popular forms of entertainment, the modern variation seems to have been steered into action by our Scandinavian cousins as a novel take on the Viking spirit with rock bands playing away as they sailed the fjords  (and this in turn lead to the Sweden Rock Festival on land), and that got transplanted back to the USA where bands as diverse as Kiss and Yes began putting on ocean cruises.
This particular variation on the theme was created as part of Joe Bonamassa's Keeping the Blues Alive Foundation, with Sixthman, in partnership with AEG Presents. There have now been five very successful Caribbean voyages and this 2019 Keeping the Blues Alive at Sea: Mediterranean cruise looks to be a popular rock tourism hot spot and interested parties are encouraged to pre-register now for the best selection of staterooms available.
Joining Joe Bonamassa on the 2019 festival are a robust mix of blues rock powerhouses and amazing emerging talents. Names announced so far include Peter Frampton, Joanne Shaw Taylor, Larkin Poe, Eric Bibb, Bernie Marsden, Curtis Harding, Philip Sayce, King King, Ryan McGarvey, Toronzo Cannon, Jerron 'Blind Boy' Paxton, Robert Jon & The Wreck, Little Billie with more expected soon.
Aside from a plethora of live performances, guests will enjoy a variety of music-centric activities, including one activity each with both Joe Bonamassa and Peter Frampton, plus autograph sessions with select blues stars and opportunities to jam with fellow cruisers. While docked at the exotic ports, guests can experience the unrivaled glitz and glamour of Monte Carlo and explore the ancient island of Malta to round out the perfect adventure while sailing through paradise onboard the Norwegian Pearl.
The Norwegian Pearl offers guests Norwegian Cruise Line's signature freedom and flexibility during their vacation. Fresh off a dry dock refurbishment where she received enhancements to every part of the onboard experience the vessel now features 16 delicious and visually stunning dining options, 15 bars and relaxing lounges, a dazzling casino, tranquil spa and gym, updated design and décor in public spaces and brand new state of the art features on board cabins.
It sounds rather grand. And it's likely to be. Double occupancy state rooms for Keeping The Blues Alive at Sea: Mediterranean begin at £1,180 per person, plus taxes and fees. However, there are low deposit options and flexible payment plans available. More information can be found s online at bluesaliveatseaeurope.com or by calling Sixthman directly at +44 808 164 1488 between the hours of 10am EST and 11pm GMT. Check it out a life on the ocean wave can't be bad!