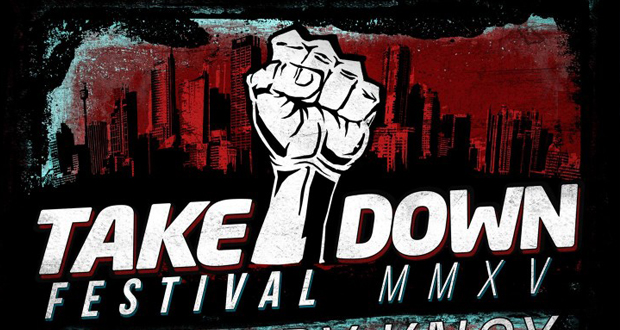 A staplepoint in the calender of alternative music in the South, this year's Takedown Festival has grown to it's biggest yet! Lucky attendees this March, will have the opportunity to watch over 35 fine alternative and metal acts including: Mallory Knox, Charlie Simpson, The Blackout, InMe, and many more!
With the full line now announced its clear this will be one of the more unique events in the festivals history. Firstly, are headliners Mallory Knox making a return to the festival after a one year absence as the main attraction fully graduating from openers as they were when they first played the stage. Following suite of a popular trend at festivals in recent years, Takedown 2015 will also see InMe playing their debut album Overgrown Eden in full, a show which has proven so popular they've reissued the album with tracks from the performance.
This year will also be The Blackout's very last south coast show, making this years festival a truly memorable one!  The Blackout are known for their high-energy, fan participation shows, which means this one is likely to go through the roof! Who knows what will happen!? For your chance to be apart of the magic, make sure you grab a ticket now, before it's too late!
We are giving you the chance to WIN 2 tickets to Takedown Festival!
Enter Here:
Takedown Festival takes place on March 7th in Southampton. Tickets are available from www.takedownfestival.co.uk.