Bloodstock is in sight! We are mere weeks away from the greatest outdoor UK metal festival over at Catton Hall. Rather than the same old hum drum hype, this year we are looking at things a little differently, last year saw us return to the festival after some time off due to Covid, which brought the treat of the extra day, what it also brought for some was a huge wave of anxiety. Nothing for a year or two and then all of a sudden being around some 20,000 plus people can be a bit daunting, for a good number of folks, there was somewhat of an adjustment period, being around so many people just felt different to the new normal we had grown to with lockdowns etc. It seemed that no matter the reassurance or knowledge of all the preventative measures put in place, Covid was still very much a reality and the aftermath of the festival found some people struggle, myself included. So, with it coming around to the festival again, I would be telling myself porkies if I didn't have any apprehension of the anniversary of my crippling run-in with Covid, the aftermath of which still affects my body now through the damage it caused, and the dreaded thought of it happening again and if my body could take it. To distract from that, I pondered how I could control my anxiety in the run-up to the festival, remember what to do, what I would need and so forth. That is when the idea hit, an ABCs of Bloodstock (well, most festivals could fit in this really!) So, if it is your first time at Bloodstock, a return after a long time away from Bloodstock, or just like me, your memory is not as good as it used to be or your anxiety is pinching at you and letting you know it's there. Here is a small guide to help get you through!
A – Arriving!
Bloodstock is always an exciting time, occasionally, things can change, there isn't much to concern yourself with this year if you have been before, but just in case, here is a map with the festival layout. For any other travel issues or queries, you can find information on how to get there via the Bloodstock webpage here: https://www.bloodstock.uk.com/pages/travel-info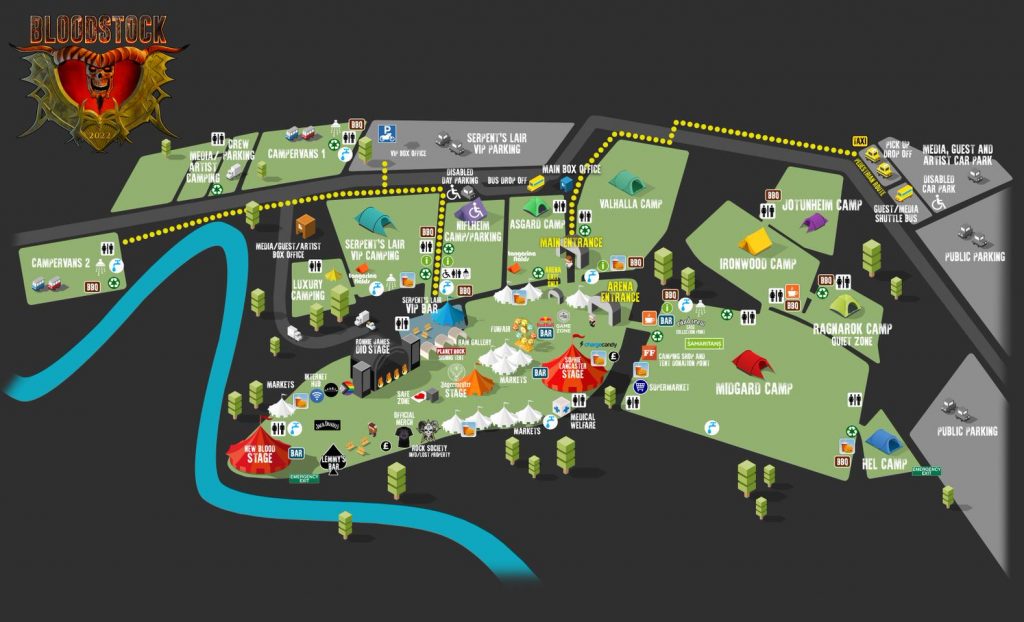 B – Behemoth!
We would be a fool to not just throw in the first full day's main stage headliner, Behemoth are just too good to not get a mention! Unforgiving and unrelenting, they will provide a performance that will rival most bands around the world. This headline slot will be something special, and whilst you will always get some disgruntled naysayer, we cannot suggest checking this slot out highly enough!
C – Comfortable shoes.
Three days of full-on music can be exhausting, especially when open to the elements, bloodstock festival has seen its fair share of almost everything, from the blistering sun to torrential downpours and who could forget that year with the most turbulent winds that closed the main stage?! The festival can do all it can, but one thing that can never be controlled, is the weather. The weather really makes an impact on the ground too, be it dry or wet, the best thing you can do is get durable and comfortable footwear. Look after your feet and they will look after you!

D – Drinking….(responsibly!)
Drinking is fun, Bloodstock has fought hard to keep the prices minimal and quality high. The main arena has its fair share of bars in the tents that will do their best to keep you and your thirst quenched, be it through a pint or a drinking horn. For those wanting to get closer to a pub feel, there is always the brilliant option of finding a seat outside of Lemmy's bar and making new friends to enjoy your time with, for those pushing the boat out for VIP treatment and a bit partial to more options like myself, there is always the fantastic mini beer-festival in the VIP tent, a huge selection of over 100 real ales and ciders to choose from. Kept and maintained, these come with some fantastic service and are most definitely worth their value, the staff manning the bars are usually happy to serve you and if they know a little something, help you decide what to go for next! Always be kind to the staff! Being August, the days are long and nights are longer, so it is worth noting where the closest water points are too. Stay hydrated, keep an eye on one another, do not be that person who drinks so much they pass out and miss all their bands!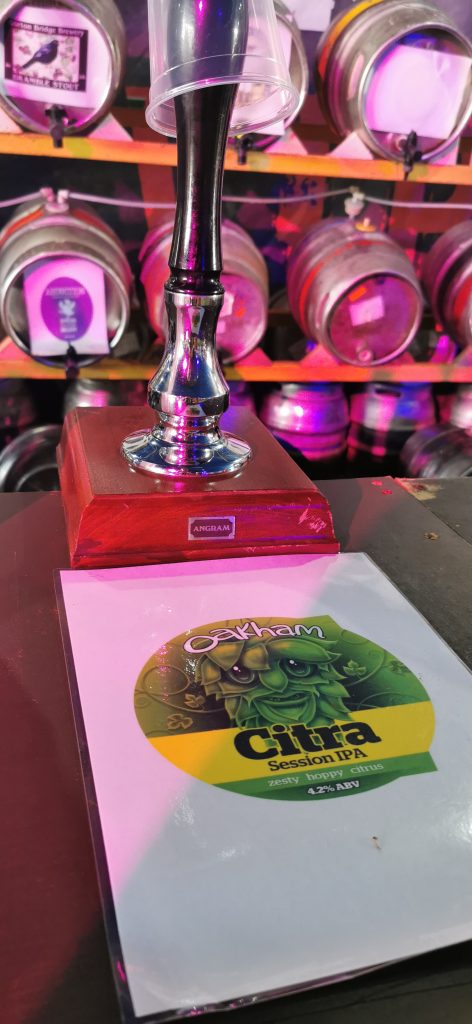 E – Essentials
It might be common sense, be it is so easy to forget those simple things….I recall once travelling to the festival with some almighty loud dickhead behind me all the way, kicking the chair, shouting, outright rude, the type of person you just don't want to be stuck with….If he spent more time putting a bit of effort into thinking about what he needed rather than what to take the piss out of people for, maybe he wouldn't have forgotten his bag on the train with his wallet and ticket in! (Genuinely happened!) The point is though, always be sure you know where your essentials are at; your ticket, your wallet, phone, battery pack, toiletries, money, sun lotion, extra toilet roll and wipes…. your festival experience can soon be hindered by that moment of forgetting one of these simple things!
F – Family
Thinking of that guy being a dickhead that left his bag on the train, I really cannot help but just remember his crassness and vulgarity to people he'd never met. We all like to joke and laugh, it is a festival, but it is also a family festival. If you are the type of person to forget yourself and have a good time, it might be worth containing it slightly or being aware of who is around. We are not saying don't do what you want to do, but maybe doing body shots of tequila from your sweaty mates' belly button at 8 am in front of the 5-year-old a few tents away on the Sunday morning is not something that family would want to wake up to or have their child witness for example! The family vibe goes strong with Bloodstock though, and for those that are bringing young ones for the first time, there is plenty of things for them to get involved in too! You are most welcome! Do however remember to bring hearing protection for the little ones, please!
G – The Gallery.
Bloodstock has always been a bit special, and the RAM gallery is a big part of what makes it special. If you want a place for a bit of peace and quiet, a little break from the mayhem, then the gallery is well worth dipping into. Inside you will find artwork from the festival founder, Paul Gregory. Artwork will include the design of each year's festival logo with signatures all around, artwork for album sleeves and other pieces relevant to the rock and metal universe. Also included will be photography from not one, but two of the fantastic house photography team, Katja Ogrin and Steve Dempsey. The gallery has much more that we could talk about all day, and you might even find a familiar face or two walking around inside to take in everything themselves whilst you are at it! Do not miss any opportunity to pop in and take in everything, you will not be disappointed!

H – Help
The age-old rule of the pit, you see someone go down, you pick them up. It does not stop there though, it's a mantra you can take into any situation, it is well worth taking note of where the aid points are, the welfare tent, and even lost and found too. Keep an eye on each other, if someone doesn't seem like they are doing too well, check in on them, a simple conversation could be all that is needed from someone going into a full panic or anxiety attack. No one knows what anyone else is going through and this always-needed break away from society could also be the thing that finds them breaking down. (I remember many, many moons ago having myself some issues with panic attacks kicking off whilst at the festival, it wasn't good at all, but the people around me thankfully, very much did the world of good!) In the words of Bill and Ted, "Be excellent to each other!"
I – Itinerary!
An itinerary! This can be a monumental lifesaver! When it comes to the line-up, clashfinder can really be your friend (www.clashfinder.com). Usually, you can find yourself on the clashfinder website, find a bloodstock post, and even if there has been a line-up change that morning, someone has updated it. From this, you can colour code bands you want to see, clashes, bands you don't, you name it, it is all your preference! More than this, you can set it to only show the bands you do want to see, be it by stage or day. There is more to itinerate though other than just knowing where to be for whom and when. More importantly than the line-up, it is getting to and from the festival. How you are getting there, when you need to be at places, tickets for travel if you are not driving etc. Look into it, and then look again! Bloodstock helps with this on their page linking in the letter A section of this, other than that, it is worth knowing who else will be where and when you are meeting up too. Phone signal can always be tricky, and you can be certain that is going to disappear the moment you need it to meet up for that group photo as it is the only moment you are all free! So just knowing a place to meet and time can be easy enough, someone about you will always have a way of telling you the time should you be with a dead phone. It is just a small part, but that could be the most important part of your festival!
There you have it! Letters A through I for your first instalment of the 'ABCs of Bloodstock!' Next Monday we will be looking into J through R for your second instalment! Bloodstock is currently just 17 days away with Behemoth, Merciful Fate and Lamb of God headlining a stellar lineup on the main stages. The latest announcement comes with the news of Sylosis replacing thrash heroes Sacred Reich, Heart of a Coward taking the now vacant slot of Hail the Yeti as they can no longer make it, a worthy step up from their slot on the Sophie Lancaster stage.