KISS, Iron Maiden, Biffy Clyro – there, that was easy. See you tomorrow… oh right you mean bands that haven't headlined? sure.
It's hard to believe that today's headline acts like Biffy Clyro started off on the smaller stages merely years before their superstar status. Even KISS started their career supporting Blue Oyster Cult. So there's a good chance a lot of bands making their Download Festival debut, or have not headlined yet – could headline in the next decade or so. Below is a run-down (in no particular order) of future legends who are playing this year's Download Festival. Disagree? Tell us who you would have via social media such as Facebook and Twitter, or comment below.
Spiritbox
It feels that the Canadian metalcore mob Spiritbox have been around forever now, yet they only formed in 2017. 2022 is the Download debut for Courtney LaPlante and co. and they should expect a huge turn-out considering 2021's Eternal Blue was hailed as one of the year's finest. The appeal of Spiritbox spreads beyond the usual acts at the festival, which may score them a spot at the top.
Skindred
We've lost count of how many times Welsh ragga / nu metal icons Skindred have played Download over it's 19 year history, even securing a place on last year's Download Pilot. Yet, Benji and the boys have not headlined the hallowed grounds of Donington. Download veterans may even remember vocalist Benji Webbe standing in for Jonathan Davis of Korn (who was taken to hospital that day). With all this history behind them, as well as a strong following, you would think Skindred would have headlined at least one of the stages at the festival, but sadly not. However, gathering a huge following from their past performances and support slots with huge names – it won't be long before the Newport helicopter closes the festival at some point
Sleep Token
Fairly ironic how a band that looks like leaders of a cult, have garnered an actual cult-like following. Like Ghost and Slipknot, Sleep Token have a very striking image and even a backstory behind them. According to the folklore behind the band is that an ancient deity called 'Sleep' appeared to vocalist 'Vessel' in a dream and subsequently united the band in the form of idol worship. All members are anonymous – but what we do know is: that they are based in London, and they are awesome. After supporting Architects, Issues and playing last year's Download Pilot – there is no reason why the ambient metallers shouldn't climb the line-up very soon. This Place Will Become Your Tomb was seen as one of last year's best metal albums, so big things coming from the men (or women) in masks.
Ice Nine Kills
Having existed since 2000, and having 230K followers on YouTube would usually mean the perfect band to headline a festival in the 2020s, yet INK have yet to achieve this on a bigger stage. As stated earlier this band have been playing for over 20 years, but only achieved legendary status fairly recently due to their affiliation with the horror movie community. This is nothing new with metalheads but INK's elaborate, Hollywood-style videos are what grabbed most people's attention. Fingers crossed they close a night at the fest sometime soon.
Wargasm
This lot has really made an impact in their 4 years of existence. Led by Milkie Way and Sam Matlock, this is the band that could bring back quirky in heavy music. Musically there's a lot of influence from punk rock, nu-metal, indie rock, and pretty much anything amazing. If you caught them supporting Neck Deep on tour, or at last year's Download Pilot – you know why they are here. Everyone else, check them out this year at Download. Tell everyone you 'liked them before they were big'. The lad and ladette from London are supporting Limp Bizkit in North America soon so this may be the best time to catch them.
Skynd
Again, something completely different. So earlier in this list, I mentioned INK's horror movie-themed metal, Skynd are an industrial rock duo who base all their material on true crime stories. Shit got real. As you can imagine, this attracted a lot of attention from the heavy music and true crime fan communities. Made of vocalist Skynd, and multi-instrumentalist Father. If anything, their set will be a spectacle to behold. In same vain as Rammstein and Slipknot, this could be a closing act at Download one year. JD from Korn is a fan, and if he is wrong – I don't want to be right.
Venom Prison
Possibly one of the most talked-about bands of the wider press in 2021, Venom Prison are certainly making waves in the music scene. The Welsh death metallers made the pages of The Guardian for dealing with social and political matters some acts avoid talking about. Our interview with guitarist Ben Thomas last year expanded on this by explaining their music had to mean something. Venom Prison could be the voice of a generation. For that, they need a big enough stage…
Download Festival 2022 takes place June 10 – 12. Tickets are available here.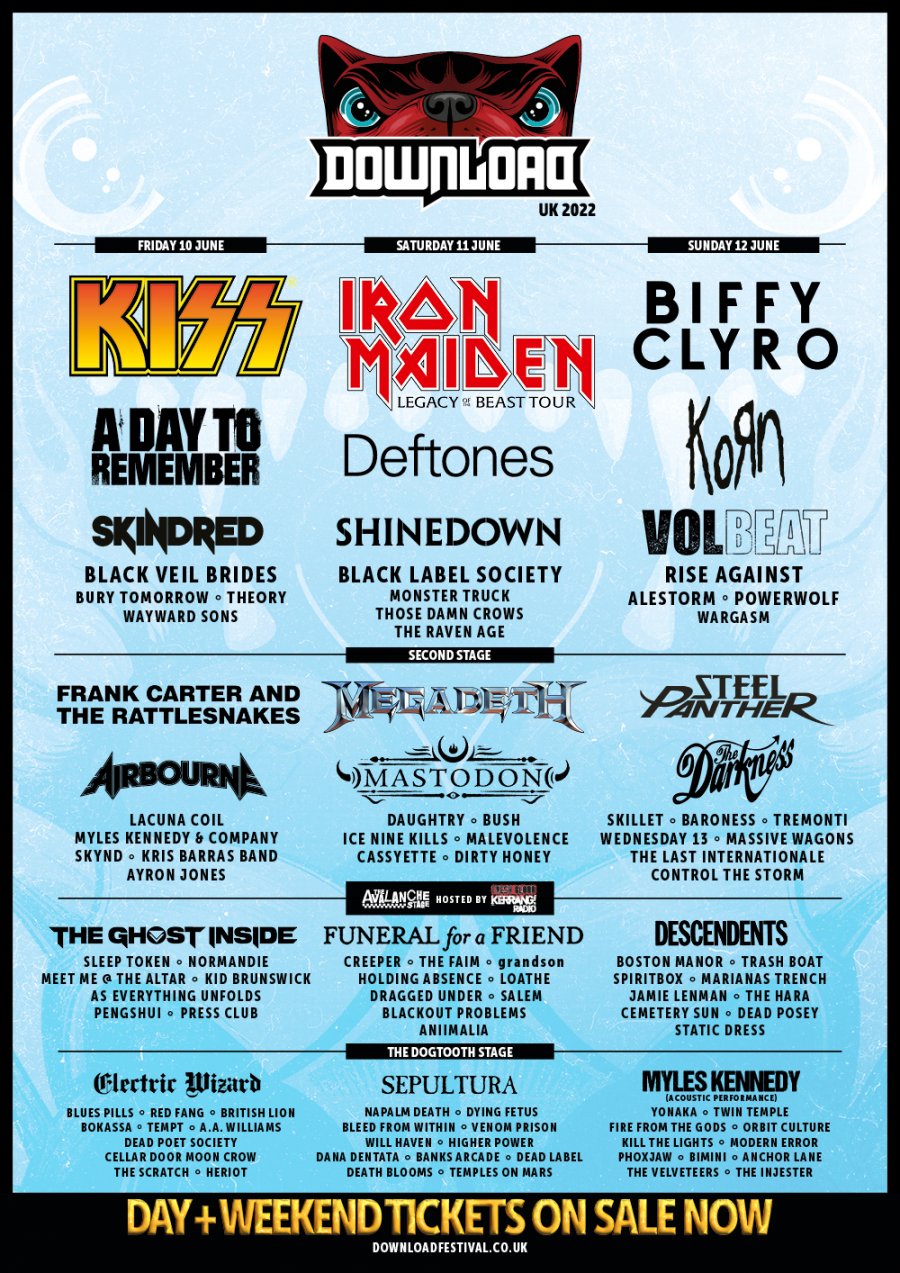 Keep checking back for further news and features on the biggest event on the rock calendar, Download Festival, here on RAMzine.co.uk