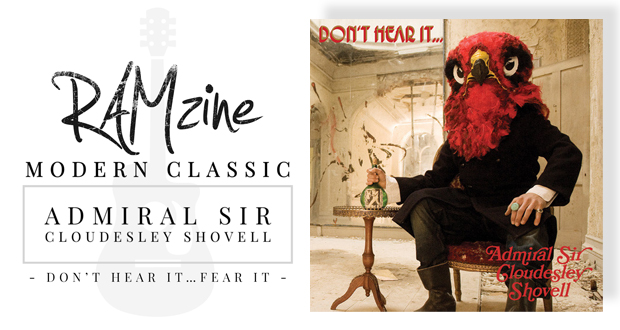 100% original and 100% heavy rock that will leave you breathless
The words underappreciated, undervalued, and underrated are often bandied (pun intended) about when discussing groups that should have a much higher profile; and genuinely deserve a wider audience than the loyal fan base they have earned through gigging and recording.
Well, here is one band that defines that sentiment – they don't have a record label that, shall we say, persuade radio stations to play their music or do high profile promotions in the media – what they do have is an inherent skill in laying down seriously heavy rock that crosses a few sub-genres but alienates none. Picture poor old Wiley E Coyote having the Acme supplied 50-ton weight falling on him instead of that irritating little bird… that is the sort of (non-fatal) weight that Admiral Sir Cloudesley Shovell deliver time and again. They recently released their fourth album called, rather presciently, 'Very Uncertain Times' but it is their 2012 debut, 'Don't Hear It…Fear It' that we will address as it is certainly a 'Modern Classic'. It's full of 60s and 70s references but 100% original and 100% heavy rock that will leave you breathless.
Named after a real person, Shovell was an active naval officer and took part in many a sea battle in the late 1600s including the capture of Gibraltar. No doubt, the fact that he was born in a Norfolk village called Cockthrorpe contributed even if the band is from Hastings! The core line-up of this great band is Johnny Gorilla Redfern on guitar and vocals and Louis Comfort-Wiggett on bass and vocals, backed by Bill Darlington on drums (replaced by Serra Petale for the latest album). They also take a leaf (feather?) out of the Budgie school of cover art as each album has a buzzard's head atop a human body gracing the various settings.
Kicking off with 'Mark of the Beast' this six-minute track has at least four distinct parts with a Who-like frantic acoustic intro, then a Paice-like drum fill before Cream turns into Budgie and the phased vocals take us into a seriously heavy rocking track. It takes a couple of listens to really get into, but you'll be rewarded with some melodies that kick as well as capture; then throw in some quality guitar and you will not believe that this is just three guys, superb! 'Devils Island' doesn't let up as, after an Alice Cooper style bass intro we are into a simple but killer riff that leads to phased and melodic vocals a la Sabbath. Whereas the central section turns into a guitar workout that is chock full of variety and skill with hints of Zep. Next up is the prophetic 'iDeath' that sounds like Angus has finally outgrown his uniform and added 60s psych to his blues leanings and joined Motorhead. An irresistible riff underpins this weighty wig-out and the time changes bring to mind the imperious Budgie too.
After the 49 seconds of the intriguing 'Untitled', we move into 'Red Admiral Black Sunrise' that sounds like Edvard Greig played by Iommi but with added Blue Cheer and a soupcon of Sir Lord Baltimore! As with most of their output, it is difficult to describe but very easy to love. 'Scatchin' and Sniffin'' has a lovely bass intro and a Sabbath-like riff that quickly enters with space for a time change into another great guitar solo, it's most definitely The Shovells in charge with the added bonus of a guest slot from the one and only TS McPhee to show he, at least, recognises their worth. 'The Last Run' is fresh out of the 60s heavy rock of Blue Cheer or Fat Mattress and even has added cowbell which can only be good. 'Killer Kane' is as commercial as these guys get with its almost Sweet structures… assuming Brian Connelly was doing an early Lemmy impersonation.
Last up, there is a "hidden track" called 'Bean Stew' which doesn't show on the back sleeve tracklisting, but is mentioned in the liner notes (not so hidden then) but it's bloody brilliant all the same. Beware though, the first seven minutes is silence before the guitar hits with the slow and heavy riff… that's the only hidden bit! The drunk monks singing in the background only add to the portentous atmosphere before the vocals cut in bringing a touch of punk to the proceedings.
The Shovels are very difficult to write about, they must be experienced. The good news is they keep getting better and all four albums are already Modern Classics. So my advice is simple: do yourself a favour and buy them all and lose yourself in a world of rock that no one else is making as well and not many seem to be aware of.