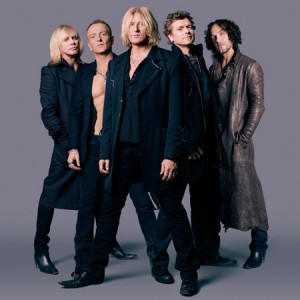 Less is more. This band have proved it time and time again. Def Leppard are the masters of "simple, yet effective". They solidified their reputation as one of the best accessible rock bands out there with their legendary third album: "Pyromania".
This album features the classic line up of vocalist Joe Elliot, guitarists Steve Clark and Phil Collen, bassist Rick Savage and drummer Rick Allen. This album was also the last recording before Rick Allen tragically lost his left arm in a car accident. For more on that story, see RAMzine Classic #4 on their fourth album "Hysteria".
"Pyromania" kicks off with the classic "Rock Rock ('Til You Drop)". This absolute barnstorming rock and roll song sets the tone for the album and really shows what Def Leppard are about; catchy rock and roll songs that get stuck in the head of the listener. The simple riff is just genius, almost the entire song is based around it. Little lead parts go over the top between vocal lines to keep the music fresh. Elliot's vocal range is on full show here, and this is one of the best opening songs on any album. Simply put, a cracking start.
Next is "Photograph", one of the band's best known songs and one of the best on this album. The simple riff again shines out, with the vocal melody wrapping around it perfectly. One of the best things about this song is Rick Savage's use of his bass parts. He drops in and out during the verse, which creates a brilliant spectrum of sound. However, it is this song's iconic chorus which truly steals the show, both the lead vocal and harmony lines are constructed perfectly. Also possessed of a stunning guitar solo, this song is as near enough to perfect as you can get.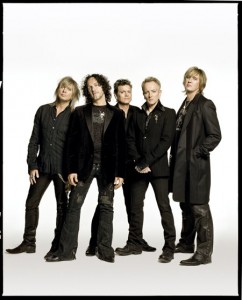 Following on from this is "Stagefright". This song is classic rock through and through. The riffing guitars, high vocals and pounding drums all combine to create a devastatingly catchy effect. Some people really don't value Def Leppard as much as they should; musically they are excellent. They consistency and their sheer bloody mindedness when it comes to writing accessible music is inspiring and admirable.
Next up is "Too Late For Love", the first ballad style song on the album. Elliot's soulful vocals here are simply excellent along with the rest of the band forming a solid base behind him, allowing his melodies to soar above. The song kicks into a heavier vibe, yet still keeps the ballad feel. It is a wonderful effect, and the vocal harmonies in the chorus are something to be studied for any young band wanting to incorporate them into their music.
Next is "Die Hard The Hunter", which is one of the band's less known tracks. The drum effects work so well at the start and the sound is quintessentially 80s. The band always had an open mind to using electronic sounds, and this is a prime example. The song develops into a solid mid tempo rocker, and keeps the album going at a good pace.
Up next is "Foolin", another stunning ballad. The structure of this song is perfect; it follows the classic ballad structure, yet seems to deviate slightly making it a truly original piece of rock music. The harmonised melodies are a signature of Def Leppard's style and the way that they are used on this song is simply amazing. Once again, it is a prime example for young bands to study.
Following this is "Rock of Ages", another of the band's classic tracks. The cowbell intro is especially good, utilising displaced snare drum notes to create an off-beat effect. Allen really is a skilled drummer, and it is testament to his dedication that he can still create these parts with just one arm. The whole song is an anthem; it sticks in the listener's head, and is simply a brilliant track.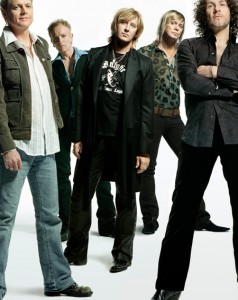 Next is "Comin' Under Fire", a track which leans heavily on the country guitar feel. eventually the classic Def Leppard chords and simple rhyming harmonised vocal lines come to the fore. Their sound is so signature, they can add it to many different musical concepts, yet the feel is completely them. An example of a band who know themselves inside out, and aren't afraid to wear it on their sleeves.
Next up is "Action (Not Words)". This song really swings, and the lead guitar line's simplicity once again shines through. Allen's drums really drive the song along. The double guitar line in the songs mid section is incredible and the guitar solo really wails along at a pace, without doing anything too difficult. The whole band really know how to play for the song.
Closing the album is "Billy's Got A Gun", which is by far the grooviest song on the album. The powerful groove created by the drums and bass is wonderful and it allows the rest of the music to flow over the top of it. Elliot's vocals are much more bluesy here, showing yet again his incredible vocal range. This is a brilliant closing track; it could have easily been a single however putting it as the closing track really allows the album to close on a high.
In closing, this is pretty much is the perfect accessible 80s rock album. Def Leppard are so consistant. This may be the album that helped them explode, however it also genuinely one of their best, and the perfect precursor album to "Hysteria". Listen to it, learn from it, but most importantly, you'll absolutely love it.
FOR FANS OF: Whitesnake, Journey, Steel Panther.