Hailing from the mean (well…) streets of Amsterdam, The Charm The Fury are one of the most exciting new acts in modern metalcore. The Europeans have been showing us how to do metal in the most impressive way for the best part of thirty years, and clearly the Dutch are taking after their Scandinavian cousins, having thrown out this crew of five incredibly gifted and unique individuals. Make no mistake, The Charm The Fury are certainly unique. This is due in part to their songs being a superbly well-crafted mix of brutality and harmony, and also because of the impressive vocal talents of their lead singer, Caroline Westendorp.
Yeah, you heard, all you large hairy men in shorts and Slayer t-shirts (hang on, that's what I'm wearing). A girl can scream like a baboon that's just been told it can't have any more cookies. And has it's hand caught in a food processor.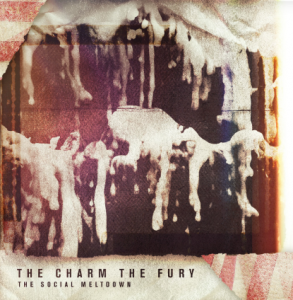 The band is completed by guitarists Rolf Perdok and Mathijs Parent, as well as bassist Lucas Arnoldussen and dummer Mathijs Tieken. Their debut EP The Social Meltdown was released earlier this year, and take our word for it when we say that there isn't anything quite like it on the market right now. Somehow managing to blend the technical heaviness of August Burns Red, the absolute chaos of Hollow Crown-era Architects and the southern-influenced metallic hardcore of Every Time I Die, even a five-track EP was enough to prove to many, like me, that The Charm The Fury are a breath of warm air in the cold cellar that some perceive metalcore to be.
In an exclusive statement to RAMzine, Caroline said:
We've been around since 2010, but have played our first show in March this year. From then on everything went superfast. We played at Groezrock in April and did several support shows for bands such as Of Mice & Men, I Killed The Prom Queen, Textures and Oh, Sleeper. We released our debut EP "The Social Meltdown" in May, and the reviews so far have been very good! We're superstoked on the fact that a lot of people like it a lot. We've done a lot of shows until the summer, and we've started writing for our debut full length. We will go into the studio in February to record it and it should be out somewhere in Spring next year!
Sure, there may still be some of you who think that I'm just waxing lyrical like this because that's what I'm paid to do. Ok, I'm not paid, but the point still stands. If you need further enticing, this band have shared stages with bands like While She Sleeps, Textures and Of Mice & Men, and with an upcoming UK tour with Carcer City in the pipeline (some shows of which are free and all of which have a wicked competition built in, just saying) even the staunchest of sceptics cannot deny that The Charm The Fury have suitably impressed their peers.
Their début music video for Virtue of Leadership was streamed on YouTube exclusively by Metal Hammer TV:
When I asked Caroline what the band were hoping to do in the near future, she replied:
Our plans for the near future are releasing the full length, playing A LOT OF SHOWS!! (there are a couple of EU/UK tours in the works for next year). And hopefully we'll be able to go overseas to the US or Australia…
2012 has been a good year, not just for The Charm The Fury but for metalcore in general, with some top-notch releases being put out, especially over here in the UK. However, 2013 could prove to be the year that sees The Charm The Fury get some genuine notice internationally, and when they do you can bet your bottom dollar that we will be following them every step of the way.
The Charm The Fury are on Facebook here. To find out about the dates with Carcer City, click here