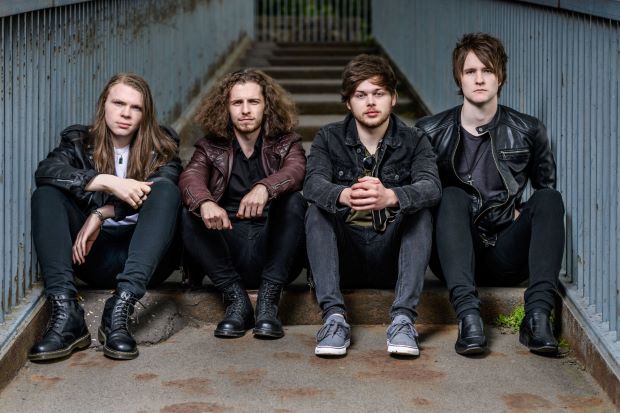 Scottish rock band Anchor Lane took time out ahead of the release of their debut album, Casino, to discuss the rock & roll hopes, dreams, along with some of the concerns they have about modern life; ones that worked their way into some of the songs on the album. Despite which, the overall sound they create if defiantly upbeat.
You've worked hard on your debut album. How are you feeling about it being finally released? 
Scott Hanlon (Drums): It's so exciting! We've been working so long on this album and we can't wait for people to hear it.
What was it like to work with Toby Jepson and Ricky Warwick? What do you take away from working with them?
Both Toby and Ricky are world-class musicians. They're very different in their approaches which benefitted us all the more. Ricky has this rock 'n' roll spiritual connection with the music. He doesn't look for the reason it works, he knows it works because it feels good to play. Toby as producer was able to take a step back, look at the big picture and analyse what each song is trying to achieve and how to get it there. In pre-production Toby really challenged us, and it changed the way we approached the song writing from then on.
The first reviews have already been published, what does it feel like to read them? 
Conor Gaffney (Vocals): The reviews of the album have been overwhelmingly positive which is incredibly encouraging. We have a clear identity as a band but with our debut album we enjoyed pushing the boundaries of what that identity can be. The reviewers seem to have recognised that which is great.
On the album you are covering some difficult themes, such as addiction, toxic relationships and death, how important was it to you not to shy away from these topics? Has writing and recording the album had a therapeutic effect? 
Matthew Quigley (Bass): I think people connect most with lyrics that have something to say and experiences that are real. If you can write a song about a difficult subject and the listener relates to it, there's a real connection there. That's the power of music.
The title of the album, Casino, is a metaphor for the music industry, can you explain more in what ways it reminds of a casino?
Scott Hanlon: Making it in the music industry is a gamble, nowadays more than ever. When we decided to make this album we chose to leave our day jobs and put 100% of our energy into making the best album that we could. We feel like this is our chance and we have to attack it with everything and leave nothing in the tank. Hopefully that ferocity and drive comes across in our music.
Your first single 'Fame Shame' thematises the current fascination with social media and reality TV, what impact has this had on your life?
Conor Gaffney: Social media can be a great tool, we all have online accounts, there's really no avoiding it these days. The flipside is that, as we all know, social media platforms can also be extremely toxic and negative places. I think everyone experiences that to some degree, it's very easy to start comparing your life to others but it's not a healthy attitude. It's important to remember that social media is a highlight reel, not a reality.
The next single 'Dead Run' deals with addiction, to be more precise people you care about that struggle with it. What is the message of the song?
Lawrence O'Brien (Guitar): The message of 'Dead Run' is to always be there to help those you love and to allow help from your loved ones if you need it. In our society addiction is treated like a disease and a dirty secret. We need to show more compassion and understanding to people who struggle with addiction.
As it is the beginning of the year, what are you looking most forward to in 2020?
Matthew Quigley: Releasing our debut album! It's really a dream come true, to hold the CD or the picture disc in our hands and know all the hard work and dedication it's taken to get it to that stage. We're also looking forward to getting back out on the road! The past two years have been really busy for us but we want 2020 to be our busiest year yet!
For more on Anchor Lane at RAMzine click here.