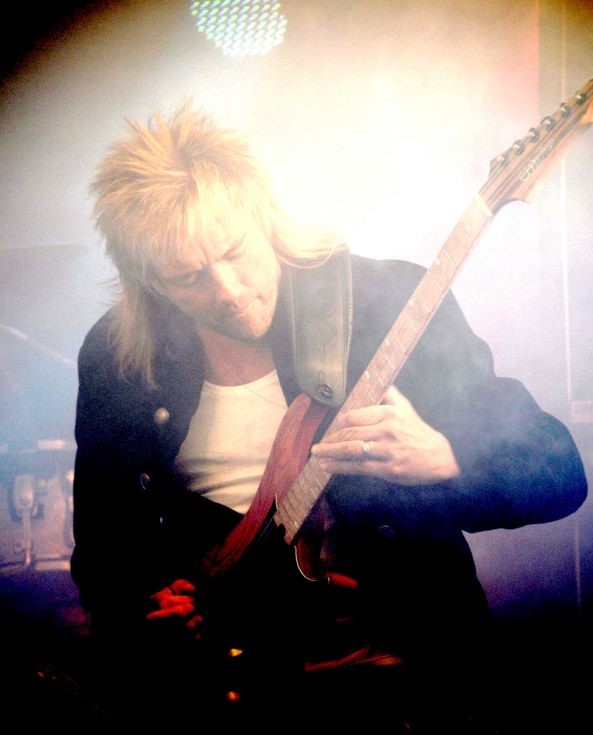 Paul May has played on over 50 albums. His session and live work having seen him encompass a wide spectrum of music in his time, ranging from country to heavy metal. A highly talented guitarist, but more than that too. His name has become more familiar in hard rock circles due to him being one half of the Atkins May Project.
Ensuring familiarity didn't breed contempt, Paul H Birch set out to get the full story. Never accepting defeat even in these pandemic times, he got what he wanted and RAMzine readers get to experience the results; with some quality guitar shredding videos thrown in for good measure.
Paul H Birch: Paul, do you come from a musical background? If not, when did music first draw your attention, and what kind and at what age?
Paul May: Music in one way or another has always been a massive part of my life. It affected my very being, even when I was a child. Probably around the age of seven you'd find me listening to Elvis Presley and a lot of the 60s music like Bill Haley and I'd tape whatever I could from Radio 1 on my trusty mono Phillips cassette!
PHB: You play several types of instruments. Were you self-taught or formally trained?
Paul May: I do play a few thankfully, but the guitar has always been my main weapon. My dad bought me a guitar as a kid and I was taught a few chords. I took what I'd learnt and pretty much stayed in totally during the six weeks school holidays and just played until I had grooves in my fingers and my fingertips turned black off the strings. Sounds like a song!!
PHB: So, when did rock music enter your life and what acts, or musicians appealed to you particularly?
Paul May: Rock music pretty much grabbed me early! With the likes of Hendrix, Clapton, Slade, T.Rex, Boston, Thin Lizzy, Motorhead, Kiss! I mean how could it not!! I think every one of those acts were unique in their sounds and approach, and they always had dynamics, subtleties and melody in one form or another.
PHB: With your own guitar style what do you look to achieve in terms of sound and style? There's a symphonic quality to some of your multi-guitar arrangements that evokes a mixture of your namesake Brian May, of Queen, with the twin guitars of the likes of Judas Priest or Lizzy.
Paul May: It really does depend what kind of music I'm playing at the time. Whatever style or genre it is, you want someone to feel or connect to what you do. And, yes, to be fair Brian May was a big influence later on. I loved the Sheer Heart Attack and A Night at the Opera era! Phenomenal guitar work and precisely executed! I can definitely admit to that influence.
PHB: Presumably you played in local bands. How successful were they; were there things that prevented wider success, and any fun or advisory anecdotes stemming from those times?
Paul May: I was gigging in clubs when I was at school, the only trouble with that is the teachers used to dob me in for drinking beer at the social clubs where I played! I Joined a pro touring country band at the age of 16 and gigged all over Europe for a good few years – There was more rock 'n roll there than I ever experienced in metal believe me! – But, I did learn musical discipline and melody from playing country. There's no mercy and no getting away with it!
You got to be on point and that training really helped. I earned and wasted a lot of money at that time! Qnd the thing that prevented me from wider success was most probably my lack of self-discipline. I'll leave that to your own imagination! Definitely a tale of woe! Hey, I didn't become a Christian until later in my life and When you're on tour as a young lad there were some big stumbling blocks.
PHB: So, this was pretty much a career choice from early on?
Paul May: As I mentioned earlier, I started playing pro from the age of 16, and I have done that ever since, but to be honest I never really wanted to do anything else but music. It was always in my blood and my nature. I really believe that those who do it are destined for it. It's inside of you. We're given a gift.
PHB: What other acts and artists have you played with?
Paul May: Wow, really too many to name! But certainly a few! And some as a session player you're not really allowed to say; apparently some people get really upset if they find out you've actually been drafted in to replace their guitar work!
Some of the acts I have played with though are Janus the reformed 70s psychedelic band, I wrote, played and produced on several of their albums, also there was obviously Al Atkins' solo albums, there was my own bands, A.N.D, and I have another band which is kind of post punk affair called Temple Dogs, of which I actually have a full unreleased album that will see the light of day in the not too distant future.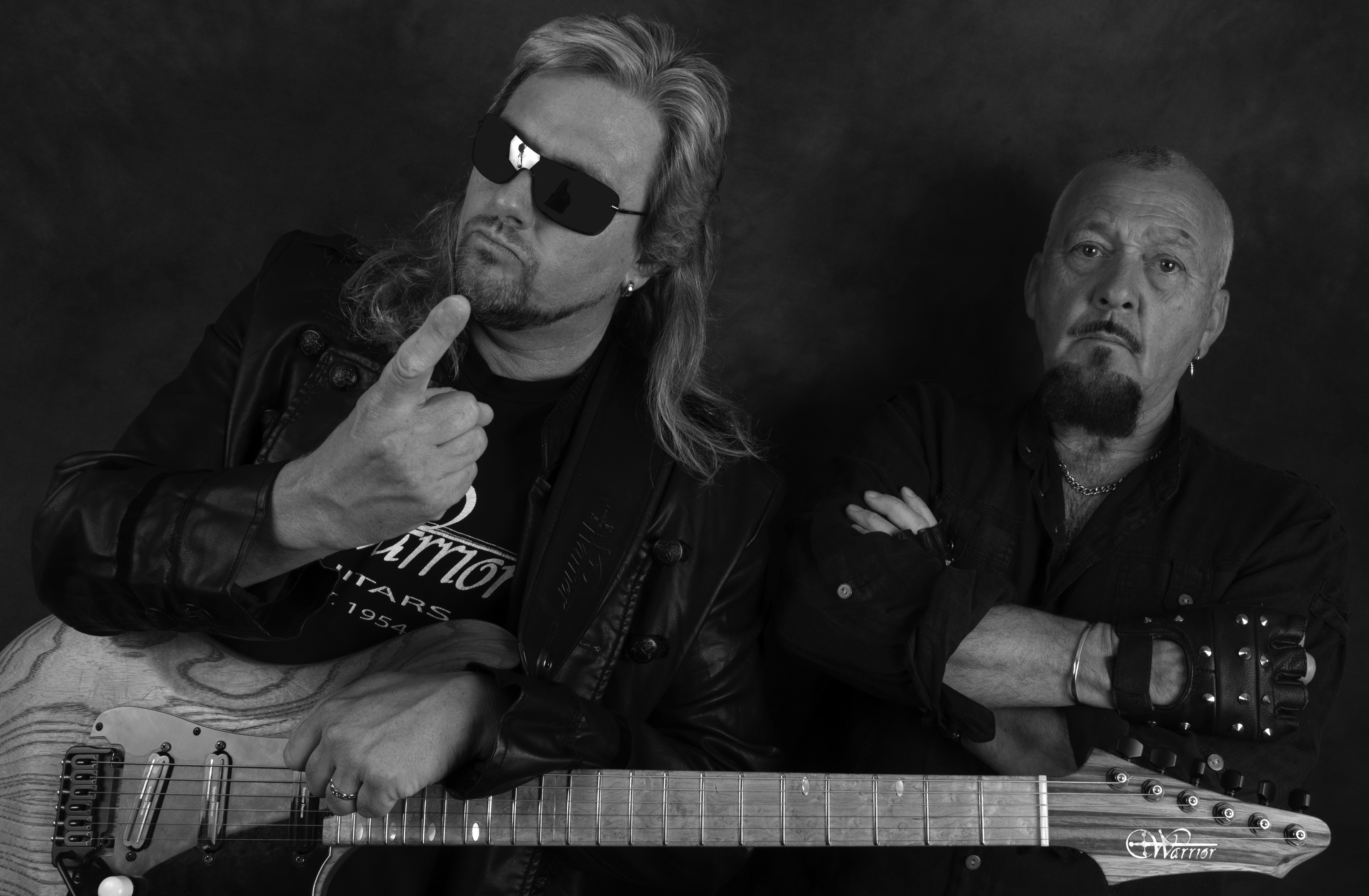 PHB: How did you get into session and production work and that lead to setting up Rock Solid Studios?
Paul May: The session work came through playing all over the place and basically getting a good rep. Originally, the concept of Rock Solid Studios arrived when I became a Christian. At that time, I used to offer Christian bands, free of charge, the opportunity to be able to record their own albums, produced by myself for nothing. This was when I was based at the church where I served at that time. It has since moved with me a couple times but still based in the West Midlands, but only doing albums and commercial productions.
PHB: As you say, you've worked beyond the standard rock spheres and have been involved with artists like Larry Norman and Kate Miner, who are popular in Christian circles. Some readers might be unaware of how big this aspect of the music scene can be, and It's apparent your own faith is important to you – Has this always been there, and how did you diversify into recording with such acts?
Paul May: I've had the privilege working alongside a variety of Christian bands, Sometimes, producing, but also quite a bit of live work, more so when artists would come into the UK, I'd be playing either guitar or bass. I became a Christian back in 1991 and It has been a massive part of my life. I actually served in the ministry for around 20 years among other things, doing missions in USA, former Yugoslavia, France to name a few, but I always continued with the music.
PHB: Initially, one might perceive your involvement with singer Al Atkins, the man who formed the original Judas Priest, as a little curious because of that. You've worked together on and off over the years, how did you first meet and how has your relationship developed over the years?
Paul May: I met Al around 1988 at a local gig I was doing in West Bromwich (in The Black Country) with my band. He asked me to put a couple of guitar tracks down on some demo tracks he had written at that time. Those songs eventually evolved into the tracks that would be used for Al's first solo album. This led to us working together on his subsequent six albums, also myself writing a few of the tracks on several of them. We developed a close musical relationship and have remained great friends ever since.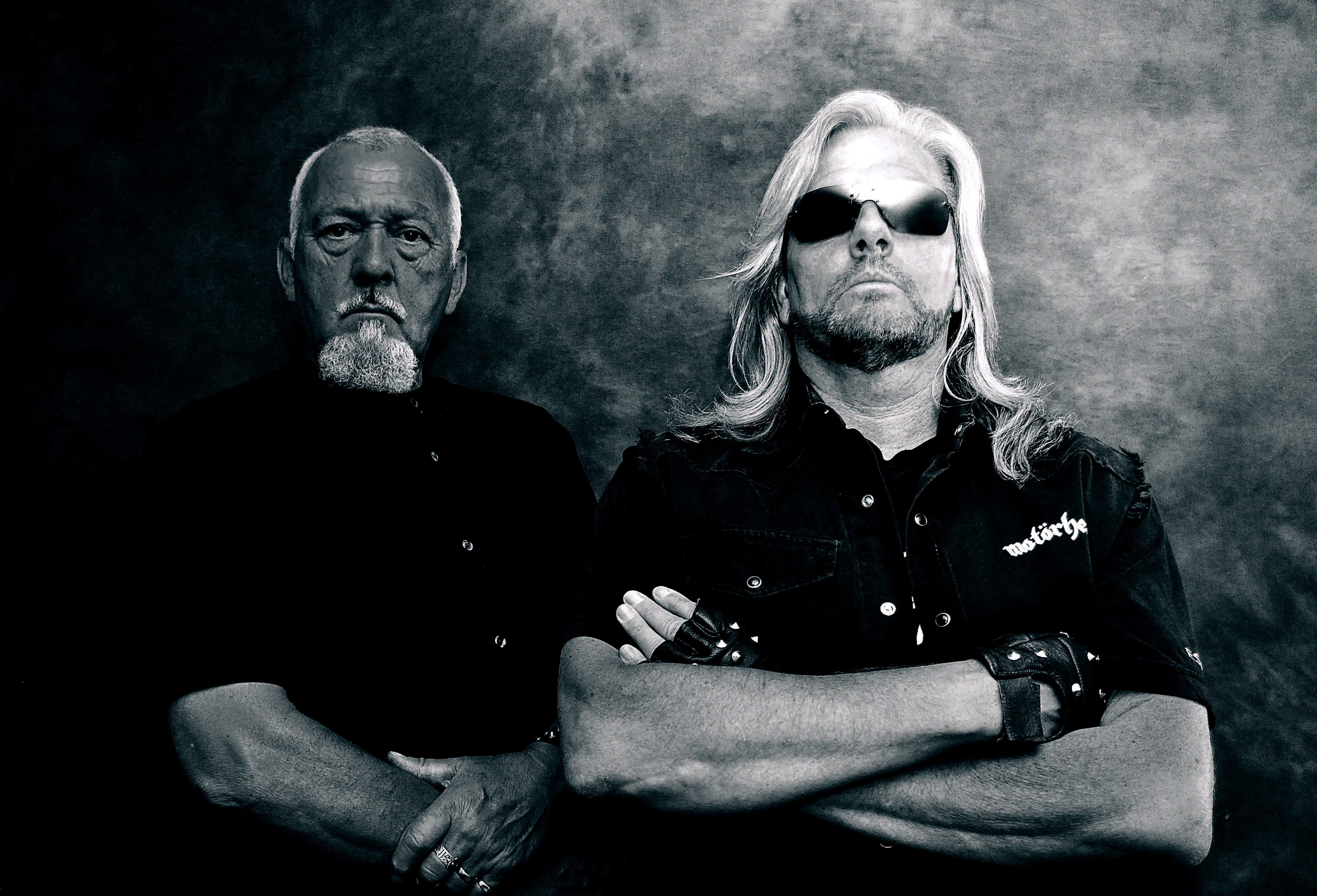 PHB: How did the Atkins May Project come into being?
Paul May: I was actually writing some tracks for a new album I had in mind and I asked Al if he would come and sing on a couple for me. Which basically turned into being the whole album! So, the Atkins May Project was born and we released the first album Serpent's Kiss in 2011. Because we both kind of know how each other ticks and are aware of each other's skills and abilities it was a natural thing. I think Al's voice has actually got stronger and more powerful as the years have gone! I mean blimey; he's in his early 70s man and still kicking ass.
PHB: Four studio albums and a compilation together, would it be fair to say you've steered the musical direction more in recent years? In practical terms how do you and Al work together?
Paul May: Well for the AMP stuff it is fair to say that I write, play and produce all the material. Al takes care of the vocals and I take care of the rest. Unlike Al's solo material I'm at the helm of this one.
The Atkins May Project has been a studio project. Is there any likelihood we might one day experience a live show with a full band, if only at select venues?
Paul May: 'Been talking about this for a while, never say never! Maybe a live album!
PHB: While there's a degree of post-apocalyptical doom in a number of the songs you've recorded together over the years, they've steered themselves towards the elements of fantasy and sci-fi that have proven popular tropes for the heavy metal brigade. What are your intentions in that area – To provoke thought or simply entertain?
Paul May: Definitely to provoke thought; spiritually & morally. But I hope that the music, particularly in the lengthier more epic tracks, creates almost a soundtrack type atmosphere, a musical picture hopefully. I think that all of the AMP CDs could easily have become concept albums, but I did resist that temptation.
PHB: Celebrated fantasy and sci-fi artist Rodney Matthews illustrates the Project's album covers. How did he become involved and do you give him a theme to work to with each album's release?
Paul May: Rodney's a superb fantasy artist and also a good friend. I first met him at a Christian conference that I'd been asked to pastor around 20 years ago now, where he was doing a seminar on his artwork. Some years later, when I was looking to release the first AMP album, I commissioned him to design an album cover based on the theme of betrayal. His interpretation was that amazing serpent in the shape of a pound sign over the financial district of London. The depiction of Mammon! That was the Serpent's Kiss album.
For the second album I had my eye on some artwork that Rod had already done from the famous Lord of the Rings where he depicts Gandalf standing against the huge Balrog demon and says "You shall not pass". It kinda reminded me of that David and Goliath situation. We all have them, that something or a situation that is way bigger than you, but you don't quit and you stand and face it. I just love his artwork. In fact, I had Rodney design my record label logo too! As a point of interest, He himself has just released an album on which he plays drums, a progressive rock affair, check it out!
PHB: Your latest album is titled ominously The Final Cut, but it is actually the first release on your own new record label. What lead to this decision, was it a sudden one and what plans have you in the future for it?
Paul May: I've always intended to start up my own record company, it was just when. I was originally going to do it for the first album but we signed a deal and continued with that company for several albums. The strategy of the record company and their distribution had changed somewhat and it would have meant waiting around again for a release and I didn't want to do that.
It's been a long time coming this album and there's been many hinderances along the way that have delayed the process and I couldn't wait upon any further hold ups, so after having a chat with Al about what I was thinking I decided to launch the Dog Ruff Records label! Now was the right time. I have got a few things in the pipeline and a few artists that I would like to work with so watch this space as they say!
PHB: To some degree the songs on The Final Cut seem to be more down to earth in lyrical themes – As if the last two albums were some revelatory vision of what might be and these set in the here and now, alluding as a warning that we need to change our ways to survive, socially, environmentally and otherwise.
Whether that was your intention or not, it feels quite prophetic given the coronavirus pandemic we're currently facing. Was there an overall goal or intention with this album?
Paul May: You're right, the subject matter covers quite a lot of ground, and yes you hit the nail on the head it does have prophetic edge. The majority of tracks I would definitely put in that category, the here and now can be very prophetic, for such a time as this!
The overall message that the album carries can be summed up with: This is what's to come. This is what's happening; put your house in order, Don't give up, you can find peace, but don't be fooled and believe all that you're fed. Now that sounds like a concept album there! Ha!
PHB: Can you offer a short precis of the tracks' themes?
Paul May: 'Final Cut' – Straight out of Revelation; 'When the Bell Tolls' – Looking back in regret, a call to getting your act together; 'The War In-between' – The constant internal battle of the spirit against the flesh; 'Treading Water' – A message of hope to not give up (tragically inspired after seeing people I've known commit suicide over things we would never consider important).
'Buried Alive'– A warning to change or suffer the consequences; 'Fighting Man'– About feeling the weight and guilt of depression but choosing stand up to it in spite; 'Dead Men's Bones' – The falsehood and hypocrisy of deceitful folk; 'Stranger In A Strange Land' – So many meanings, yet all biblical! 'The Cold Wind Blows' – A prodigal story and 'Masquerade' – World's system, the propaganda agenda, the media manipulation.
PHB: I'm fond of the epic approach of the title track, within which the battle-weary approach of Al's vocal delivery over an upbeat contemporary chord progression draws you in as a listener, while the grinding groove of numbers like 'Treading Water' is an earnest foot-tapper. Which songs do you think best and why?
Paul May: As with the other albums I love the big epic tracks. The full version of 'The Final Cut' track has quite a large production. I love soundtrack type music, as I think you identified, it's like a tapestry you keep weaving, so purely for that reason I like that, it's a grower I think, whereas I like 'Dead Men's Bones' because it's a headbanger in the metal vein a little Motorhead-ish.
I like them all for different reasons, but I think 'When the Bell Tolls' is my personal favourite; it's got a classic old school hard rock riff that runs through it that's catchy and it carries a message to heed, including bit of my own testimony in there too!
PHB: Does The Final Cut mean closure for the Atkins May Project itself or just a set of semi-themed records?
Paul May: Well … hmmm… To be truthful we thought it probably might be, but it has taken so long for one reason or another (ask if you dare), that I've wrote another or so since !! So… Maybe?… Just one more round?!
PHB: What else is on your creative plate right now, and what beckons in the future for Paul May?
Paul May: There's quite a lot to be fair, with the music and the label and the songwriting for others. I think at this moment it would a blessing for all of us to just get through this season safely to be honest! We will beat this beast and maybe when we do, we will all appreciate the relationships we have and each other so much more. Thanks for having me, Paul!
PHB: The pleasure's mine, Paul!
To order The Final Cut by The Atkins May Project visit the band's website by clicking here or the band's Facebook Page.