Every band is on a festival line-up for a reason. The reason being – the organiser reckons they are good enough to play their festival, and vast amount of fans will want to see said band.  At this year's Bloodstock-Open-Air we saw Jettblack play the Sophie stage, to a huge crowd. They aren't the same kind of band you might see playing alongside Cannibal Corpse or Godflesh – but who really cares about that? Jettblack  are a stunning live band with loyal fans. Taking influence from the likes of Led Zepplin and AC/DC, the High Wycombe hard-rockers easily brought their a-game to BOA 2015. We caught up with Jettblack guitarist and vocalist Jon Dow before their set to talk about playing festivals, videos and being labelled 'retro'.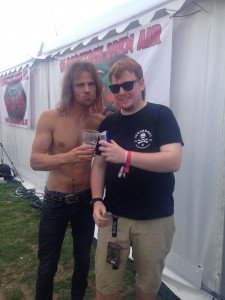 Are you enjoying the Bloodstock so far?
It's a lovely day and I've had few beers. I haven't seen any bands yet, but I am enjoying the beer and the tents.
What can we expect from today's set?
A lot of new stuff. The album is out now so if you don't know it: you're either not one of our fans and if you are and don't know it -it's your own fault! A lot of new stuff and we have a bit of lighting going on, we have lighting guy here. So it's 'bespoke'…is that the word? Should be a good show, it's an hour long set. So it's plenty of time for more material. We have about six new songs in there.
You've been called 'old school' or 'retro' do you agree with this label?
Well… obviously it's an older sound, but does that mean it's old school? Most popular music is an influence from an older generation. There's so much music at the minute that is classed as soul, or folk, and stuff like that which is fucking ancient. It's older than anything we're doing. Because we are playing to another generation, they think it's brand new. It's only when they are educated they are older they realise and think 'fuck! there's a million other bands that sound like this' Who are the originators, and probably better. Don't get me wrong there's some great new artists out there, but there's not that many better than the bands from the '70s and 80s. Or the '60s even.
Do you think with the internet it's easier to find new music, like yourselves?
It's literally like finding a needle in a haystack. There's fucking MILLIONS of different bands, it doesn't matter if there's a good one out there but odds are that you won't because of all the other shit clogging up the internet.
So is there a tour coming soon, or a new album?
Not at the moment. Will's been throwing around a few riffs but we've only just got over the last album. We're still making videos, we made a video a couple of weeks ago and we're making another in September. So there's still stuff to do on this album…
You can listen to the rest of the interiview below via out SoundCloud account:
Keep checking RAMzine.co.uk for more interviews from Bloodstock. You can read the full review of Bloodstock 2015 in issue 5 of RAMzine – coming soon!