Having spent over 20 years in the music industry and a decade as a solo artist, Wednesday 13 has done it all. From fronting Frankenstein Drag Queens from The Planet 13,  Gunfire 76,  super group Murderdolls and being one half of outlaw country duo Bourbon Crow. Wednesday 13 , real name Joseph Poole, has just released his first concept album 'Monsters Of The Universe: Come Out And Plague' and is currently on his UK tour.  We caught up with the man himself to talk about his new album, horror movies, his views on the rock music industry and of course, Murderdolls.
You are currently on tour in the UK, hoe do you feel about the British crowd?
"This is our seventh date [Newcastle] of twelve, but to answer your question- the UK is like a home away from home! This place has been so giving over the years, so consistently, so I feel the UK is my home,"
Do the crowds differ in the UK to the crowds in the US and the rest of the world?
"Absolutely. Every crowd is different, the Australia crowd is different to the UK for example. That is one of the best things about touring –  I get to see different reactions from people."
So your new album Monsters of The Universe has just came out recently,and is different to the previous albums – because it is about conspiracy theories, rather than horror movies. What made you change the theme of your music?
"Well there was a lot of changes. Lyrically and the music we changed everything up as well. And that's something I enjoy about what I do is that I don't have a rule book i need to play by, I don't need to stick to one style because there's so many levels , and elements, to what I do. As I get older, I'm opening up new doors and I feel I'm getting a better grasp on what I do. Luckily the reaction to it hasn't been a bad one. They enjoy it and they haven't been like 'Oh, you're experimenting too much'but it's cool. I've been doing this a long time and this is my sixth solo record, so for me to do something  a little different is a challenge. I feel like we stepped up to the challenge , and we won! The reaction for this record is probably the most positive I can remember."
You usually write about horror movies and B-movies, so what is your favourite movie?
Texas Chainsaw Massacre. I must have wrote about 10 songs about it. So  yeah, it's good to get away from a different subject matter on this record. It's refreshing.
What is your view on the recently announced re-boot of the movie for 2016 about the young Leatherface [main character in Texas Chainsaw Massacre]?
"They're re-booting it again?? (he sniggers) You can only beat a dead horse so many times. I don't get it. Why? I didn't mind the remake before, but I guess they keep doing it with movies. it is what it is. I won't be excited to see it – but if I see it and it's good, then it's good. I won't be jumping out my seat to go and see it though.
I can't speak for all new horror movies because I don't watch a lot of the new stuff at all, to be honest. I still watch the classics, all the stuff I grew up on. There's nothing new that has really jumped out at me. The stuff I've  seen has been boring to me.
Going back to the music, will you be revisiting some of your other projects?
"We have a couple of songs we still play, but we play mainly stuff off the new album as well as my Translyvania 90210 album which turns 10-years-old this year.  So towards the end we do play some of the old 'classics'".(Wednesday actually air-quoted here)
What is your view on people like Gene Simmons (KISS) and Lars Ulrich (from Metallica)saying that 'rock is dead' and it isn't 'doing itself any favours'?
"Well,  their version of what 'rock' is – is dead.  I mean I've been doing this for two decades now, it's no-one where near what I used to read about. Yeah, their version of what 'rock' is, and the spectacle they put on is 'dead'. But I don't think rock 'n' roll will ever die. It won't die with me, it won't die with anybody.
Gene Simmons' doesn't care who he offends, and it doesn't matter to me because I'll always be a KISS fan. I look beyond what the characters of KISS say, and continue to be a fan of what I grew up on. As a kid there was nothing larger than life than seeing KISS on stage. It's the reason why I do what I do so I can't bad-mouth the guys. I still feel that model is dead,  they would get million-dollar deals. Rock bands aren't like that any more. And Metallica did too so that model of 'rock' is, but the spirit isn't."
 Do  you think your kind of crowd is a little more dedicated than the crowd at a KISS concert, for example?
"I don't know, I mean KISS still have a dedicated audience still. My audience is unique in it's own way.  I don't really have one style of music: I've done the punk-rock,  horror-punk  – which I didn't know was a term until they started calling me that, the goth thing because of the imagery of it . But then we have always incorporated heavy metal in to it, so it's just a big melting pot of everything and I think that's why my audience is unique like that. It's not just one style. I haven'r played by a rulebook, so I can play what I like. My audience looks, how my music sounds, which always a good thing. When I come to these towns I'm like this 'support group' for these people. and they're my people, I get to speak to them. It's a welcome thing all the world around".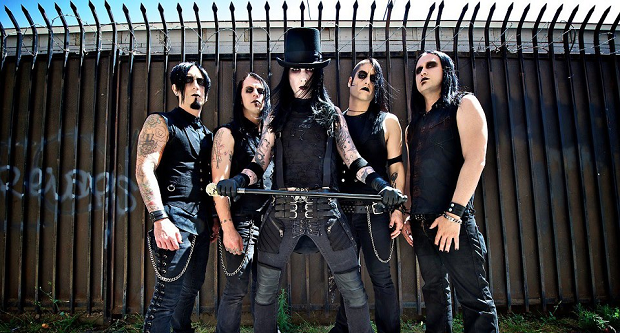 So is there any new bands you are listening to at the minute, or is it just the classics?
"Nothing new, really. For me I'm always listening to the band Killing Joke. One of my favourite band I can't ever get sick of. To be honest I haven't had a chance to check out anything new. Another band I listen to  lot is Gojira.  Our band wears that CD out as well.
So after this tour will you ever be re-visiting any of your former projects such as Murderdolls or Bourbon Crow?
Well, Bourbon Crew could possibly get back together but that isn't really a touring thing. Me and my parter who work on that with [bass player Rayen Belchere] now live in the same town so we could do some local shows. Gunfire 76 – I could see a recording from sometime soon. Murderdolls hasn't really done anything since 2011 (pause), I really haven't heard anything from that camp lately. Frankenstein Drag Queens? We haven't done anything in over a decade but I never say never to anything. That's my past and when it's the right time to do it, and if it makes sense with those people to do it, I'd be up for doing it again. If the situation presented itself I'd definitely do those things again.
Revisiting Frankenstein Drag Queens or Murderdolls? I'd never say never".
Outside of music you have been involved in a lot of projects from a book to a movie- are you going back to any of these projects again?
"Right now it's all about the music. I'm sort of rebuilding the monster I've created.  I can't think of a time I've ever been happier with a band, musically. These guys I've been playing with are my best friends and I've been playing with them for about 5 years now".
So will there be another Wednesday 13 album after this?
"Absolutely. I'm really happy with how this one went and I want to tour as much as possible to promote it. I want as many people as possible to hear it. Hopefully next year I'll try and get our album on a label and maybe do it a different way to what I've been doing.
Monsters of The Universe: Come Out and Plague is out now. Wednesday 13 is on his UK tour now (see below).