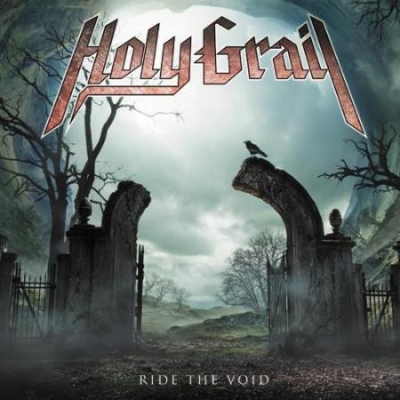 Californian up-and-comers HOLY GRAIL – vaunted for their innovative "NWoBHM meets modern times" mixture of styles – are being openly talked about as L.A.'s most exciting metal band of the past two decades. They have now signed an European deal with Nuclear Blast Records and have just released their astounding new studio album "Ride The Void".
RAMzine spoke to vocalist James-Paul Luna and guitarist Eli Santana about making their new album, about the developing as a band and about touring with Dragonforce, Hellyeah and Saviours.
Holy Grail was formed in 2008: How do you think the band has developed since that time?
 "I think we've really come in to our own a bit. Through writing and touring we've settled into something that's specifically Holy Grail. We've matured a lot as songwriters and as a live band since that time. Every member has also improved in the playing so much and we are just so much tighter as a band now. As much as I think we've developed I still feel like we have the same vision and fire we had in 2008. We've really developed a Hive Mind Mentality for what we feel is lame. The whole band is on the same page for the most part."
Is the sound of Holy Grail 2013 still influenced – to some extent – by British heavy metal?
"We are absolutely still influenced by British Heavy Metal. As much as we might pull influence from Death Metal and Prog we will always return to NWOBHM as the foundation of Holy Grail. The song writing and melodies from that era still get me fired up. And we would've never had Metallica and all the great American Metal and Thrash without NWOBHM."
How does the sound of Holy Grail compare with the (earlier) sound of WHITE WIZZARD?
"I think Holy Grail used the essence of what White Wizzard was as a starting off point. I think Holy Grail now is a much more unique and identifiable sound than earlier White Wizzard. Not to discredit early White Wizzard – because that was a great interpretation of a specific era and style of Metal – but Holy Grail just yearned for something more than being confined to a certain era of Metal. Especially when there is so much amazing Metal in different eras and sub genres."
How are you getting on with Nuclear Blast (Records) ?
"We are getting on Splendidly with Nuclear Blast. They're doing a great job of promoting the album and keeping us busy. And it's nice to be in league with one of the Super Powers of the Metal World. We couldn't be in a better spot this early in our career. Everyone we've dealt with at the label has been great even though we've yet to meet any of them face to face or go out drinking with them."
It seems like a big gap of time between 'Crisis in Utopia' (2010) and your latest (2013) album… did this new record actually take three years to build?
"We were also anxious about the long gap as well. This actually didn't take 3 years to build, I think. We were on the road for the better part of 2 and half years after the release of "Crisis in Utopia" and then it took a little over a year to release 'Ride the Void' from the time we started pre-production. We were actually going to release the album in October of 2012 but we signed with Nuclear Blast who needed time to set up the album. It was kind of torture sitting on a finished album for that long but well worth it. We did pull a lot of influence for this album from all the great bands we toured with so in a way we did take 3 years to build this album."
You are getting some excellent reviews for 'Ride The Void'  – have you been surprised by the audience reaction?  The album seems to be gaining you a whole load of new fans … how will you respond to this?
"We are so incredibly surprised and grateful for the great reviews and audience reaction of the new album. We all knew we had something special with this album and were really proud of it, but that doesn't mean it will translate to critics and fans. It's hard to tell how many new fans we've made until we get back on the road but we will respond to newer fans the way we always have with appreciation and respect. We will always have a special connection with some of the fans that've supported us in the early days. But we're excited to make some new friends on our upcoming tours in support of the new album."
What do you think of Grammy award winning Matt Hyde's production on the new album?
"I think Matt's production on the album was incredible. We couldn't be happier with how things came out. Matt's a totally musical genius. Luna had worked with Matt several times over that past few years on various projects. And Matt helped out with the White Wizzard EP that Luna and Tyler played on. Matt was a total hard taskmaster, which is what we needed honestly. He was a real stickler about pre-production which gave us an extremely clear vision of what the album was going to sound like well before we even got in the studio.

I believe he's a very experimental producer when it calls for it. He had a good sense for when it made sense to just have things that work on the record, which is more important, that just ambition. We had a certain vision develop pretty early on and Matt took that and expanded on it. He really knew how to pull a lot of emotion out of us in performance and writing which we hadn't done too much of in the past."
How was it touring with DragonForce?
"We had a blast with Dragonforce and we are proud to say that we've forged a pretty solid friendship with those dudes. There was a lot of drinking on that tour so I just have had experiences and not memories. I sadly did throw up on their bus but they were cool about it and didn't make fun of me for too long.

I did train Sam on the art of cock blocking for sport. But I created a monster not thinking that he would try and cock block me with my own girlfriend. I do drink a lot more tea now and refer to more woman as birds. Fred and myself had musical nerd off of Yngwie and Eagle Eye Cherry."
We know you toured with Hellyeah last year – and your amigos 'Saviours' – how were those tours for you?
"Those tours were incredible and something I'll always be proud to have done. We had played a couple off dates in Australia with Hellyeah in Australia so we got introduced to the raging capabilities of Hellyeah and their crew. We honestly were scared about being able to keep that pace up for a month. The main thing that sticks out from that tour was how kind and caring Vinny Paul is. He would often pay for our meals without us knowing. And when our van got broken into in Canada he bought Alex a new Macbook Pro to replace his stolen one. And at the end Hellyeah got us a bunch of gifts and did a whole presentation of it. It really felt like were in one of the Vulgar Videos.

Saviours were one of the first bands we ever toured with and along with 3 Inches of Blood basically showed us how to tour. They are now some of our best bros."
What are you doing to get 'geared up' for the Metal Alliance tour?
"We have been watching a lot of American Football while practising all the shreds from the new album. We've been doing a lot of cardio immediately followed by copious amounts of drinking.

We're not really sure how we are going to maintain the stamina of playing and partying. We barely survived just touring with Exodus. Not only is Exodus going to be there but also so is Anthrax, High on Fire and the Party Thrashers themselves, Municipal Waste. I think we might have to go in party shifts where we are all not drinking at the same time. And will have to strictly stick to the buddy system.

I can't wait to play the House of Blues in Vegas because we've never had a good show in Vegas and hopefully this rectifies that. And of course playing in New York is something that we always look forward to. There's a great energy to that town that I just love. Not to mention it's Anthrax's hometown show."
How do you keep your energy levels up when touring?
"I have since become addicted to caffeine. So that is a must on the road. We really try to take every opportunity to sleep that we can. There's no day or night on the road, just awake and asleep. We really try to exercise a lot on the road to keep the juices flowing. When we have to do overnight drives I like to pop a bag of popcorn and eat it really slowly while driving so I can pretend I'm just watching a movie."
How is 'new' guitarist Alex Lee settling into the role? What's all this about his yo-yo's?
"Alex is great. He kind of earned his wings a while back by touring so much with us. And now that he's tracked – and written a bit – on the new record he's no doubt and honorary member of the Grail.

The Yo-Yo thing is something that he uses to escape to his childhood (We're guessing). It's not just a gimmick either, I assure you he does it ALL THE TIME!!!!

It makes it all worth it to see him try to Yo-Yo drunk though. [Laughs]"
Thanks Holy Grail!