Westphalian (German) melodic shredders Neaera formed in 2004 when guitarist Tobias Buck (at that stage with death/grind band Malzan) formed the group as a side-project.
The decision was made to create a sound similar to Tobias's favourite bands working in the Swedish death metal genre of the period. The original line-up, consisting of Buck, Sebastian Heldt, Benny Hilleke, and Benjamin Donath, quickly assembled, and, just before the début show, 'The Ninth Gate' was chosen as the band's name. Soon after this first show, the band was joined by guitarist Stefan Keller, whose death metal influences and heavy-duty riffing further enriched the band's output. In 2010 , the band completed their fifth album 'Forging the Eclipse' which was released on Metal Blade Records.
The next Neaera album 'Ours Is The Storm' will be released in early March 2013. We spoke to guitarist Stefan Keller about working on the new album, and touring all over Europe.
RAMZINE: How will you be celebrating your release of 'Ours Is The Storm' in March?
Neaera: "Well, we will be doing a short headline tour with Bury Tomorrow and the Defiled across Germany. I am really looking forward to that. It has been quite a while since we did a headlining tour."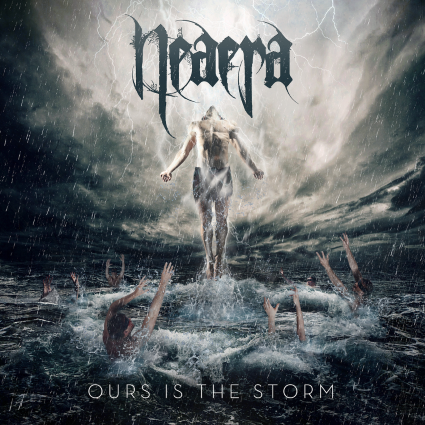 RAMZINE: Tell us about your new album 'Ours Is The Storm' … How do you think it will be received by the public? What professional feedback have you been getting so far?
Neaera: "We are lucky that most magazines agree with us that this is our best, most versatile and focused record. That's great, of course. I think it took us 5 records and a lot of live and studio experience to having been able to write this record. It's nothing unprecedented or revolutionary – not at all. I it's just a very good Neaera record [Smiles]."
RAMZINE: You worked on the album with producer Alexander Dietz [Heaven Shall Burn] at his Chemical Burn studio in Bed Kosen, Germany. Was Alexander a hard task-master? Do you think that he might expect more from you (perhaps musically and physically ) because he is a talented and hard-working guitarist in his own right?
Neaera: "You're right here. Alex can totally get on your nerves. You think: come on, this is our record, no one should take it more seriously than the band itself. But he does! And, yes, we like it that way."

"After we leave, the studio should be renamed in 'Chemical Burn-out Studios', [Laughs] His commitment and degree of identification are tremendous!"
RAMZINE: How did Tue Madsen [Grope] – at the Antfarm Studios – assist with the production? How pleased are you with the final production results?
Neaera: "This time Alex did the recording as well as the final mixing. We thought the time was right for this step. Tue did the mastering. We thank both [of them] for doing a fantastic job. None of them regretted it [Laughs]."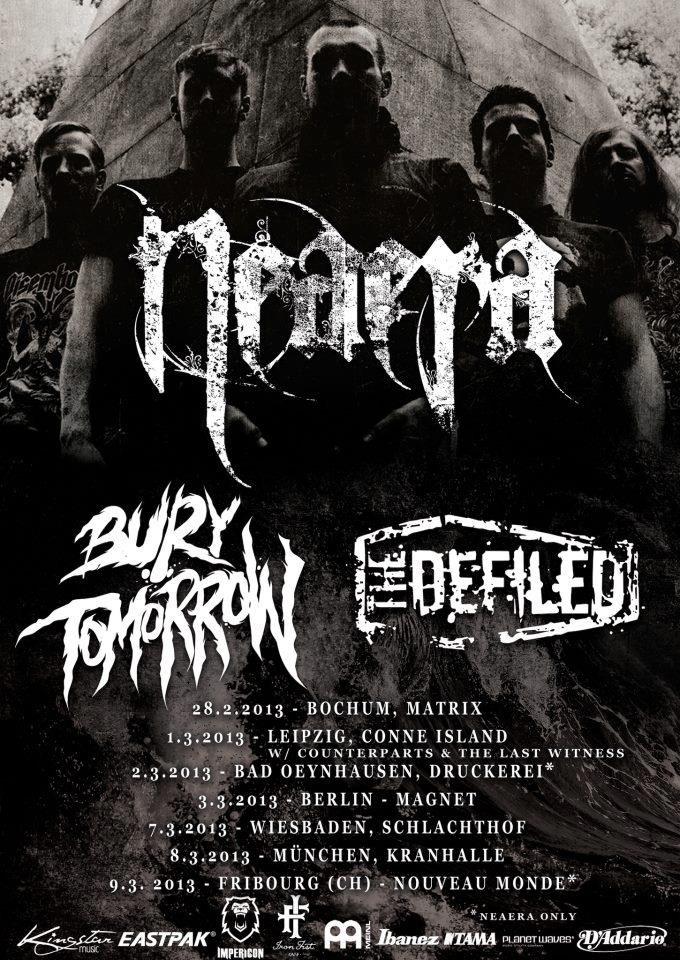 RAMZINE: You are touring Germany and Switzerland soon with BURY TOMORROW + THE DEFILED – on your headline tour – What do you expect from this tour? Which venues are you most looking forward to playing?
Neaera: "Well, we have really played a lot of support tours in the last two years for Caliban, Heaven Shall Burn and Hatebreed. For us and our career that's a great chance. Everyone who is complaining about the short sets will now get a chance. Berlin, Bochum and Fribourg have always been very very nice to us…"
RAMZINE: You gigged with HEAVEN SHALL BURN on your 2012 Progression Tour … what lasting memories have you got from that tour? When will you next be working with (the other guys) from Heaven Shall Burn?
Neaera: "At the moment nothing is planned. But we are quite close, so our ways will soon be crossing again, I'm pretty sure there. As to the tour: I actually don't have any memories. I have finished my High School teacher training and was replaced by our friend Tristan on that great tour. You cannot have everything at once, right?"
RAMZINE: You have now played all over the Continent – including many of the 'New European ' countries- such as Croatia and Slovenia – which countries and/or cities have the most enthusiastic crowds? In which countries do you find that you have your most ardent followers?
Neaera: "We have very committed and crazy fans in Germany and Austria, of course. Yet, the farther you go east, the crazier the audiences are. Six years ago we played a show in Moscow. There was no promotion by our record company …. [and yet] 600 people, sold-out and the most outstanding crowd I can remember. Word spread, and now there's a big scene and lot's of bands playing."
RAMZINE:We know that you worked hard in 2102 – playing about nine festivals – as part of your 'festival offensive' – So how will you match that record in 2013? What festivals have you got lined up for this year?
Neaera: "Festivals are the year's zenith when it comes to meeting friends, having fun and playing before a lot of people. So we rarely miss one! [Laughs] This year we will play Wacken and Summer Breeze – Germany's two biggest and greatest metal festivals. UK and rest of Europe plans are not made, yet, but we receive way more attention from British fans nowadays, so we wanna come over!"
RAMZINE: How important is suitable artwork for your releases . How much time and effort goes into the artwork and packaging?
Neaera: "Ah, don't ask. As our Norwegian friend Terje did the layout for the last three records, we wanted to give our friend Markus Ruf (ex-fear my thoughts) the chance. Our bass player Benjamin came up with the title and the concept. Layouting is always time-consuming and sometimes nerve-wrecking due to many different opinions. We are a band that is always interested in change and trying out something new."
RAMZINE: You have been described as 'down-to-earth dudes making the music they love' – is this an accurate portrayal?
Neaera: "Yeah, I would totally say that. We are neither guitar or drum nerds or whatever – nor would we consider ourselves artists. Yet, of course, by combining lyrics with a voice and musical atmosphere and a cover layout, of course, I am aware that we create art. We are simply five driven guys who want to write and play metal music with meaningful lyrics."
RAMZINE: You have suggested that your name comes from a feeling of being 'proscribed, oppressed and exploited' (like the Neaera character in Greek mythology) – Do you still feel restricted in what you can and can't do?
Neaera: Actually, we chose this name as a metaphor for a global situation. There is a lot of oppression, injustice and restriction in many parts of the world. It would be decadent and arrogant to count ourselves in. I think there is a lot of freedom in most European countries. We cannot complain really, or can we? At least not about lack of freedom. Our lyrics deal mainly with the situation of lives we are not attached to.
Thank you Neaera