If you yearn for the days when rock 'n' roll had a little bit of a kick to it, you need to listen to Pink Cigar. With their swinging, growling riffs, and lyrics that drip with Soho sleaze, this 4-piece has just about everything that a rocker could need.
Don't get it wrong though: they're no mere throwback. They're live show is one of the most energetic in the country, and consequentially they are the toast of London at the moment. We caught up with them to see what all the fuss is about.
Thanks for the interview! How was the Soho gig?
Excellent thank you. The crowd were bang up for it and us likewise. All packed into the tiny Alley Cat we had a lot of fun.
One of the things I noticed when researching Pink Cigar is that whenever you are written about, you're referred to as one of the most exciting live acts in London, or even the UK. What do you think it is about your live show that is provoking this reaction from people?
Well that's very nice to hear. It's hard to know exactly why, but one thing I know for sure is that we're playing rock 'n' roll for 2015 and we're ready to kill in a world with not much of that going on, and when you do that right it's exciting, real and ultimately moves people. I ain't no saint, but I guess we do right.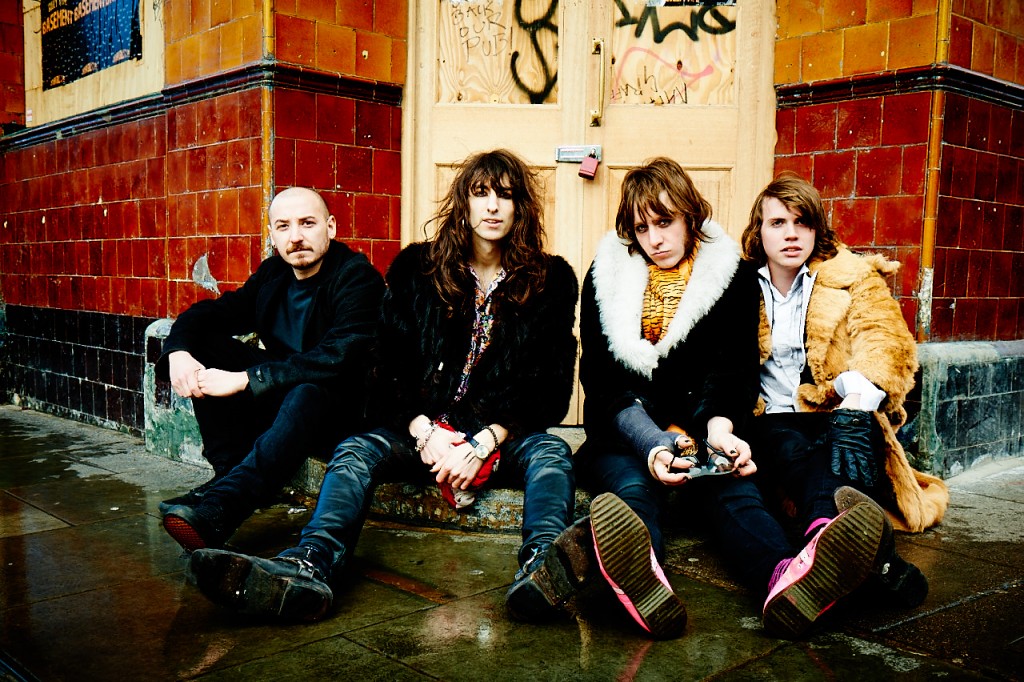 Kanye West recently claimed he was the greatest living rock star. Assuming that you disagree, who do you think really takes this title?
I think people took this too seriously. I mean don't worry everyone just because he desperately shouted it out 10 times headlining the pyramid stage doesn't make it true. I guess it all depends on what you define as a 'Rock Star'.. For me? First of all you have to play Rock 'N Roll music and Kanye doesn't. Why didn't he say, 'Greatest living Rapper'? Probably cos that wouldn't have gone down too well either haha. In my opinion all the greatest living rock stars aren't in their prime anymore and for the ones who are.. I'm not gonna lie I wanna say us, but we'll wait till we play Glastonbury to announce that.
You guys are reviving the old glam rock image. Is this just something you do on stage, or do you take the rock 'n' roll lifestyle backstage too?
We wouldn't say we're reviving the Glam Image. We're just dressing how we like, which has some inspiration from that look. Have you seen our drummer? He sure as hell ain't reviving nothing. No, he's starting something.
The music also seems to be heavily rooted in the old-school of rock, but are there any other bands or artists that are around now that you appreciate?
Yeah quite a few. At the top of my head Slim Customers check them out.
The production style of your music is really gritty, and it's really refreshing to hear. Why did you steer clear of the heavily digitalised and clean sounding production most rock bands use these days?
Thank you. Just a question of taste and that's the way we like it.
The b-side to your latest single ('Generation Next'), is called 'London Town Blues'. All of the people from London that I know seem to have a bit of a love/hate relationship with the city. As Londoners, is this the case for you?
Indeed, but much more love for me, I was born and raised here. Everyone knows the downsides of London and that song is a fun rant about the city, but where else are you gonna live? Yeovil? Didn't think so.

The video for 'Blues to Bed' is in equal parts compelling and hilarious. Are all the reactions of those bystanders real?
Thank you glad you liked it. Yes they're very real.
What was it like to film?
As you can imagine we had to be brave and Whiplash even braver. At the time it was fun and intense, but we knew we were getting something special so we soldiered through it.
What does the rest of 2015 hold in store for Pink Cigar fans?
New songs, videos, recording the new album and even more touring! Looking forward to seeing and meeting all the PC family around the globe.
[divider]
Pink Cigar's latest single, Generation Next, is out now, and we advise you go buy it immediately. They are also playing the following dates, and you should go and see them if you know what's good for you!
7th August – Tropen Festival, Germany
28th August – Stroud Fringe Festival
24th October – Hertford Corn Exchange