RAMzine spoke to Skindred before their headline set at Redfest, Surrey. Arya Goggin (Drums) tells us how they came to play at Redfest. Arya and Mikey Demus (Guitar) also talk us through the birth of the legendary Newport Helicopter, and how that has gone down at Download Festival over the years, playing to over 70,000 people.
We also converse about the bands themed motifs over the years, including how a certain gold theme went wrong one year. We ask about the bands thoughts on trends, as we believe Skindred to be the current trend, to which Arya says "If people are following us then thats cool", Mikey jokingly adds "they are idiots".
People can't mimic Skindred very easily, mostly because of the very unique front-man Benji Webbe, but also because of their unique chemistry as a band. Skindred's Urban sound comes from Benji, he dose his own thing, he doesn't try and be anything he is not. Their sound might change, their style might change, but the idea will always be the same. They are not trying to be anyone they are not.
We talk about the imagery of 'Kill the Power' being very similar to the Tom Robinsons 'Rock Against Racism' imagery in 1976. Which we were were surprised to hear was not a conscious decision by the band. Rock Against Racism is aimed at promoting racial harmony through music, and was one of the first organisations to mix black and white bands at gigs. Under the simple slogan "Love Music Hate Racism". Read more here: www.tomrobinson.com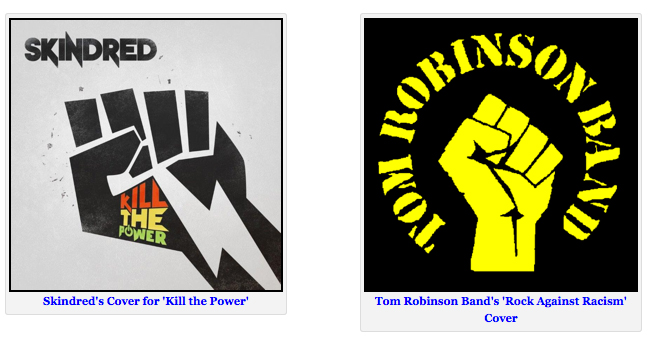 Arya tells us "If we could have an new album out next year, I don't know when, but I would be happy". You can watch Skindred live this year at their Halloween show – there are rumors they may dress as Ghost BC (imagine Benji dressed as Papa Emeritus!).
Watch the full interview here: