London-based groove-metal anarchists THEM BLOODY KIDS create listenable hymns filled with political stance. We recently described their debut full-length album, titled: "Radical Animals" as — "anguish propelled against nervous, bass-heavy, doobs of bladdered guitar […] perfect insubordination for tough times…"
The wildman central figure is Seb (Sebastian) Moederle-Lumb, who provides passionate vocals, growling guitars, and comes up with solid song ideas, while Madz (Darren) Maddox rages on the drums and Vein thrusts great wodges of bass into an audience's mental space.
We chatted to Seb about revolutions and riffs…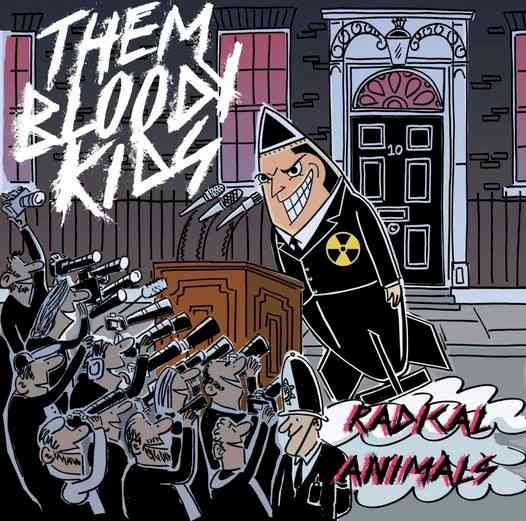 RAMzine: Hi, Seb… would you say Bloody Kids are hardline revolutionaries??
Seb: I don't think you could class us as hardline revolutionaries. I've protested of course! But hardline revolutionaries is a title we haven't earned yet!

Radical can mean a few things, for us in the case of this (new) album it's about the extremes that people go to. They're being radical in the sense of them being crazy.
" I've got riffs coming out of my eyes and ears…
RAMzine: How has the band adapted, adjusted or even re-engaged since "Freedom Of Peace"?

Seb: Well we've adapted to the new post covid world by being much more active on our social media, as that has been our only source of new fans without gigs.
RAMzine: Tell us about how you come up with those glorious riffs…

Seb: A little bit of this, a little bit of that and bam! we're done. All jokes aside, I've got riffs coming out of my eyes and ears. Too many riffs haha! I guess they just come to me while I'm jamming.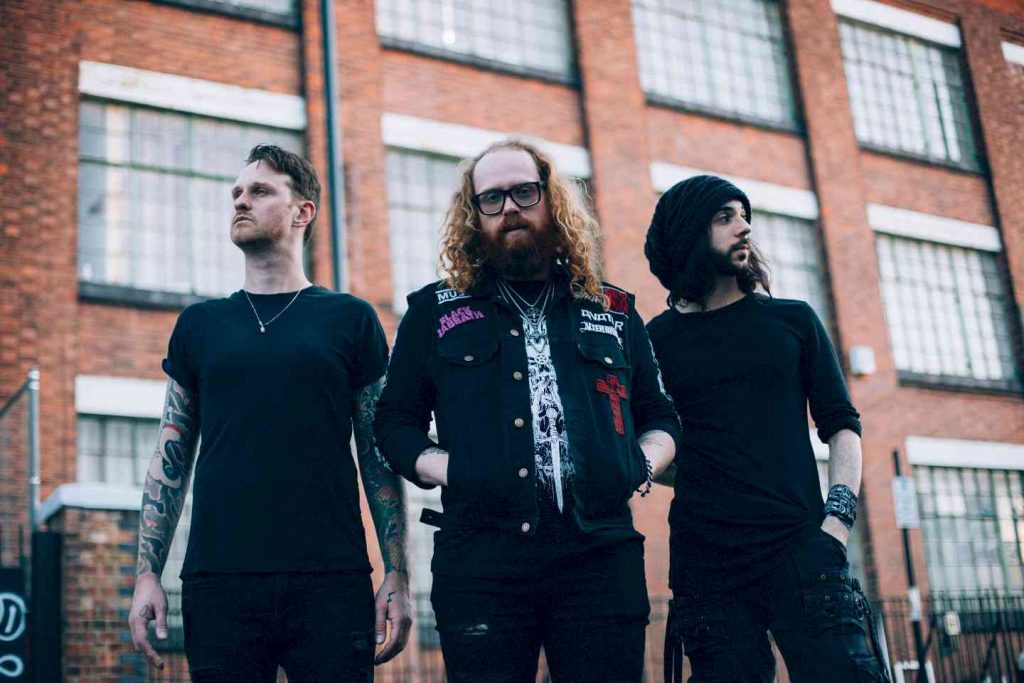 RAMzine: Tell us about working on "The Demon" video

Seb: Well… it was great! Let me tell you a little story: We had built/filmed the set Monday and Tuesday already only having 4 hours sleep for those 2 nights, Wednesday came, up at 5am with 3 hours sleep to get there on time. Another 23 hours awake filming and then at 4am that night I shaved my head, already majorly sleep deprived and stressed from trying to complete the video for Thursday morning. It was probably the most insane experience for me in the band so far in terms of being mentally and physically exhausting. But it is all worth it because this video is gonna be epic!
RAMzine: We see that you're playing "Straight Outta Lockdown" — what other shows, concerts, festivals are you keen to play?

Seb: We are hoping to continue our journey to Bloodstock with Metal to the Masses that we are very excited for. Obviously we would love to play Download 2022 and to be honest, we just want to play anywhere and everywhere right now cause we miss it like hell!

RAMzine: How do you feel being compared to System Of A Down?

To be compared to System of a Down is a huge compliment, I don't know if anyone is comparing us though most of the System stuff is because we talk about them so much!

I love bands like Bullet for my Valentine, Muse, Avatar, Black Sabbath, the list goes on! I've got a hundred bands/artists that have inspired me in one way or another, even Morrissey to some extent!

RAMzine: As music fans & music creators yourselves, how do you recommend others might break free from the darkest moments of the past year?

Seb: When times are hard, listen to some music or play some music and just allow yourself to just go with the music. Shut off anything else in your head and just breathe the music. That helps me, that and smoking a joint (if I can say that 😛 ) 
RAMzine: Many congrats on "Radical Animals" — we're wishing you lots 'n' lots of success with the album… it's a triumph!