LOVEBITES is an all-female Japanese heavy metal band formed in 2016 by former Destrose members: bassist Miho and drummer Haruna.
Destrose, also known as Destroya, was considered a pioneer of the Girls Metal Band Boom (the Japanīzu Metaru) and consequently they sparked a lot of heavy metal imitators that went on to enjoy overseas attention: although Destrose was as never commercially successful as many of the others.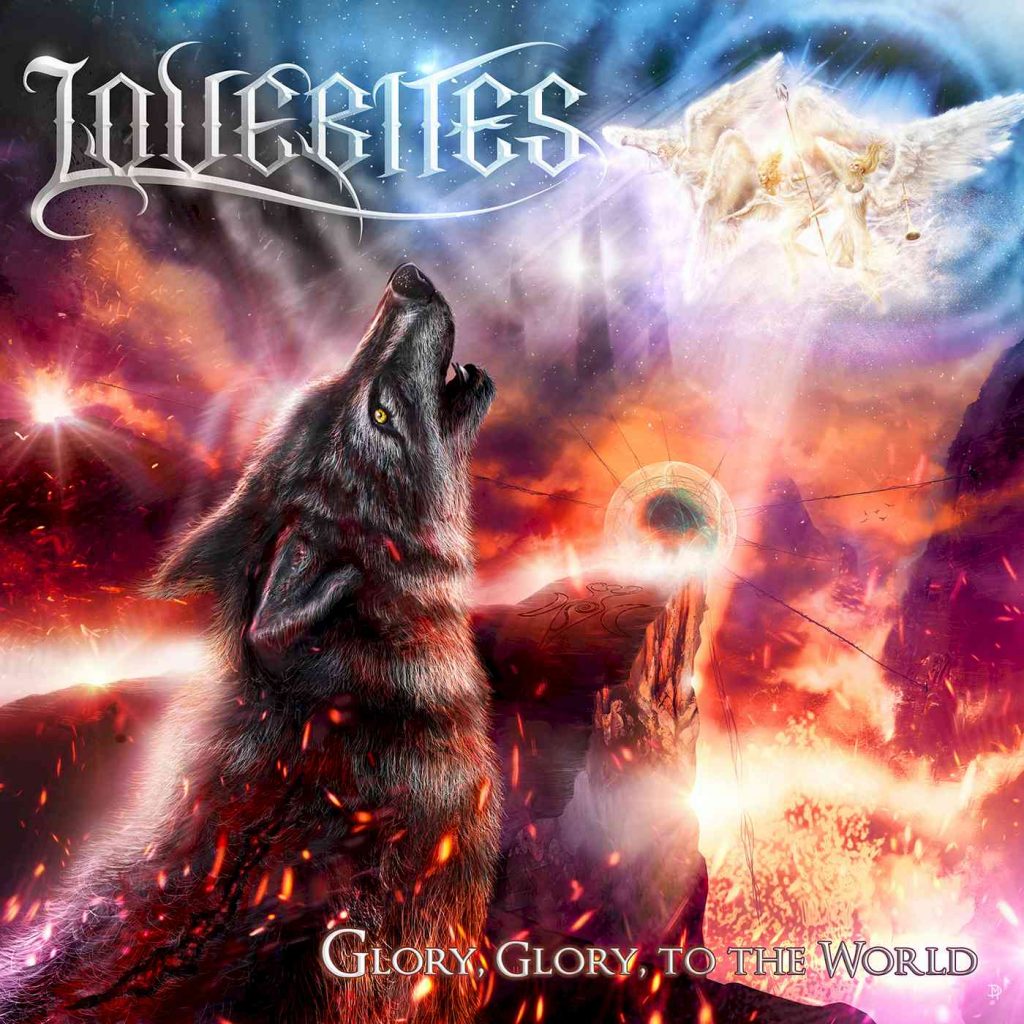 In 2018, Lovebites, which was formed two years earlier with recruited guitarist Midori, keyboardist / guitarist Miyako aka Mi-Ya, and lead vocalist Asami, won the Metal Hammer Golden Gods award for best new band and became the first Japanese heavy metal band composed exclusively of women to perform at the Wacken Open Air, Germany.

The band's third EP "Glory, Glory, to the World" (recorded during the 2020 pandemic) was released in Japan on March 10, 2021, via Victor Entertainment.
"Whip-smart guitarwork, thrilling vocals & huge cannonades of drums…"
Opening track "Glory to the World" is a gospel-inspired theme that was composed by Midori. Like all tracks, it is sung in (baffling) English. The number starts out symphonically with interlocking lines of orchestration, but then just as you relax to enjoy the peace of the fluid movement, the speed of those power-metal ballistics explode in your ears and you are brought back to your immediate senses by striking, whip-smart guitarwork, thrilling vocals and huge cannonades of drums. The voice is not exactly Wagnerian, but it is operatic enough. It is incredibly fantastic and totally expressionist!
The upbeat Miyako penned track "No Time to Hesitate" is a scudding interlace of fast bass notes that support a giant bullmastiff of a riff that's almost bludgeoned out. The voice, meanwhile, rises above the shock wave cataclysms of sound like a heavenly messenger (ten no tsukai.) And when the lead guitar is let loose, it's relentlessly sharp and precipitously deft. 
"Winds Of Transylvania" is suitably gothic to begin with, and even offers a perceptive nod to Ludwig van B, though it also sounds like Danny Elfman in terms of movie-scoring ability. Needless to say, though, you can put all the pleasantries to one side when the thundershower of rhythms and the rush of guitars are unleashed. Beneath the glamor and speed of the performance is a quintessential old school heavy metal riff to this song… and I think it's the motivating lifeblood of this band's complete performance — and that's no bad thing. While on "top deck" the fantabulous flag-commodore — in the shape of mezzo-soprano Asami — twirls, whirls and flourishes. 
Lovebite's sound is power-thrash heavy metal but their fearlessness and theatrical potency is as hot as a frantic firedrake trapped in a catacomb. In other words, this is the most exciting thing that classic rock can be before it spangles into grandiloquence!
File alongside: DragonHeart, Aldious, Versailles