Venomous Maximus seem like they should be downright terrifying people. Hailing from Texas, and playing Sabbath inspired riffing, coupled with singer Gregg Higgins ghoulish vocals, one can imagine that VM spend all their time in the swamps, chanting incantations and sacrificing small animals to Satan. This is made even scarier by the fact that Higgins has quite an imposing presence. A tall, bearded mass of hair, he looks like a man who begs to not be fucked with.
Higgins explains in the interview that the word 'occult' means hidden. Much like the hidden dimensions littered throughout the band's music and imagery, Higgins is not what he appears to be on the surface. Down to earth, intelligent, and witty, he offers his musings on music and the occult in a refreshingly honest way. On this occasion, he had just come back from touring America in a van in the middle of summer. Rather you than me, mate!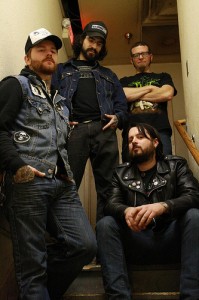 RAMzine: How was your US tour? It must have been unbearable being stuck in a van this time of year.
 "No way! Texas is way hotter than any van with AC!!!! (Air Conditioning) Its illegal to cut off elderly peoples AC in Texas since its so hot. Tour was great!"
The list of bands you've previously played with is pretty impressive. If you had a choice of absolutely any band, who would you want to add to that list?
 "Led Zeppelin and the Doors."
 You opened for Guns 'n' Roses, which is pretty amazing. Were you well received by G 'n' R's audience? Did you catch any noteworthy Axl Rose antics at the show?
 "That kind of crowd is prepared to have a good time. So along as you got some good tunes, the music loud and you don't just stand there they will be entertained. Axl did his thing, nothing really out of the ordinary. Its just that his modern image isn't what we all remember. So its a little weird but they played 'Don't Cry' so its was all good."
 You recently released a video for your song 'Moonchild'. How did you come up with the concept for this video?
"I basically just wanted to show what the lyrics are explaining. The whole thing was done on a low budget, we made all the props and items from my bedroom. So its pretty DIY, see what you can make happen style of art. I have ideas for short films and videos but until things change in the future with larger budgets, we will have a punk rock ethos in making videos."
 'Moonchild' comes from your debut album, 'Beg Upon The Light', which is being released in Europe on Napalm Records. What's the likelihood that you will be embarking on a European tour soon? I'm sure you have some fans over here that are dying to see you.
 "That's always been the plan. In the 60's all the British bands wanted to play America and now most metal rock bands want to go to Europe. We plan to be over there in 2014 spring/summer. America is great and all, but I would like see a building/statue or anything thats older than 500 years."
Perhaps the most distinctive feature of Venomous Maximus is your voice, your vocal style. It has a uniquely eerie quality about it that compliments the lyrics and music incredibly well. Was this something you put thought, or did it come naturally?
 "I never intended to be the singer in this band. I still don't even think of myself as a singer. We just never found someone who had the magic that I was looking for. So I realized it was gonna have to be me. I can't sing like Rob Halford or Dio. So I realized I would have to figure out how to sing like myself. Once I found the sound we kinda re-wrote all of our material and structured everything around it. I think that makes all the difference in rock n roll. It can't just be riffs with singing thrown on top. They need to be created at the same time to complement each other."
 'Beg Upon The Light' has had a pretty great critical reception. Are you the kind of band that takes heed of what critics think, or does it not matter to you?
"Any attention is good attention to me. If a critic really hates your band that means your the actor that plays the bad guy in a movie and everyone really hates him! Even though you hate him he did a great job of controlling your emotions. The only people I am trying to impress or blow-off the stage are my own band mates. Fu*k those guys."
 Some of you have been playing music for over a decade. Is it weird to suddenly gain international recognition at this point in your life?
 "In a way yes. But all of us have always been around. Going to all the shows. Meeting and hanging out with the bands we have been playing with, It just feels like its our turn to get up on stage. I will still go to all these shows and I love it."
 The word 'occult' comes up whenever Venomous Maximus are mentioned, and your music is littered with references to it. What aspects of the occult interest you?
"First of all the word just means hidden. It doesn't mean what everyone thinks. and the point is if something is hidden a greedy son of a b*tch hid it. Nowadays because of the computer, half of the things that used to be occult are not anymore like astrology and dancing and praying or meditating or yoga. The main areas that intrigue me the most are reincarnation, astral projection, ceremonial magic and Atlantis which things are hidden in imagery."
 Finally, is there anything at all you would like to say to all the Venomous Maximus fans out there?
 "You haven't seen anything yet. Watch out!"
So that's it. Venomous Maximus will continue to blow minds. However, there mind-blowing prowess will no longer be limited to the USA alone. With the band hopefully coming to Europe soon, and their latest album, Beg Upon The Light, being made available in European territories, Venomous Maximus may soon take over the world. Join them!