Von Hertzen Brothers aka VHB is a Finnish rock band. Three brothers and two others.
Their 2011 release 'Stars Aligned' helped the band to make major inroads into the UK – where they played a number of headline shows and drew huge crowds to the Prog Stage at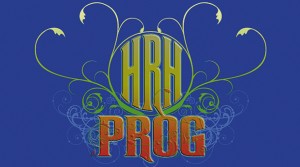 the High Voltage festival in London. They were nominated for the 'Best New Band' Award at Classic Rock Magazine's annual awards show and also the "New Blood" category at the Classic Rock Prog awards 2012.
Their fifth studio album, 'Nine Lives' was released in March 2013. The album was preceded by a new single and an accompanying video – 'Flowers & Rust'.
RAMzine caught up with Mikko von Hertzen (lead vocals and guitar) at this year's HRH Prog Festival at the Magna Centre, Rotherham to chat about the band's new album and about gigging in the UK.
RAMzine: Congratulations on your new album. It's great to see you playing here in the UK. It's so exciting to have you here at HRH Prog.
"Actually, it was quite nice to play Cardiff last night [at the Bogiez Rock Bar & Nightclub] because the London gig was on such a high stage [away from the audience ] and it was like a kind of 'Town Hall' atmosphere there. [The Assembly Rooms, Islington]"

"And then, yesterday, we had to go down into this kind of like, dungeon, you know, at The Rock Bar, in Cardiff…. Which is beautiful – sweaty, soaked and humid."
RAMzine: How do the UK audiences compare with audiences back home?
"Well, it depends. We like to be close to our audience. We like to see the reaction. We have been playing small venues in the past. But now, back in Finland, we are quite, you know, 'well known'. So we are now playing the biggest places. We don't see the reactions so much."
RAMzine: I suppose you'll soon be able to choose which venues to play. A lot of the bigger artists tend to do a small warm-up show before a major gig – with special guests invited.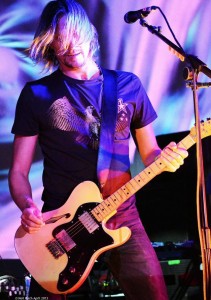 "Exactly. And, of course, it will also mean that, maybe, we can choose whether we want to do like a tour of 20 shows or a tour of 10 shows – depending on the available venues. In Finland we don't have many major city venues, ah, maybe just 15 …"

"… And then if we want to go to visit people who live in a smaller place … we will have the freedom, of course, to go to the smaller venues."

"So far, we've been deciding to play as much as we can – and to go to as many places as possible, 'cos, you know, we're playing the main stages on the festivals and we're having like 10,000 to 20,000 audiences there – but then it's also nice to have our friends see us in really intimate venues, in the round, as well"
RAMzine: Can we talk about Nine Lives? First of all we would like to talk about the artwork, the tigers on the cover…
"Well the story goes like this: We read from a magazine that this one artist [Finnish artist Samuli Heimonen] – when he works … and as he paints … he listens to music. And I read that we were one of the main influences for him. I had spotted him and his work a few years previous to reading that article, and when I saw the article that mentioned us, I spoke to my brother about wanting to do something together with him. So we called Samuli up and asked him if he has any newer stuff going on. He sent over this huge file of his newer works – and that main image (pictured on the album cover) was in there – and we were like, that's perfect, because it looks really good. The amazing thing is that it looks really good even in a very small [postage stamp] size. When you have [an image] on the internet it has to work at that size."

"You have to recognise it immediately, but we could even use it as a backdrop."
RAMzine: What about the tigers? What's the message?
"When we saw the tigers, you know, when it kind of looked like the theme of the album, things started to kind of fall into place for us: We had this piece of work – and we had always had (on three albums, anyway) nine songs on each album. In India, tigers are feared – and nine is a very auspicious number. And so we decided to call [the project] 'Nine Lives' and then we'd have, like, nine totally different songs. Each individual life/song is like a sort of story on the album. It wasn't intentional to start with, it's just how we drifted towards the idea of nine tigers."
RAMzine: Every single tiger's face is different …
"Yeah… Exactly. So every song is different too. And they're all Van Hertzen Brothers' songs …"

"We just like the idea that we are going to push some boundaries a little bit more …
Like each album [we do] has to have something special, hopefully different, that we think is worth doing. Pushing the boundaries like, you know, having a church choir or something, then followed by some really heavy riffs. Yet, still having the mind-balls to somehow make it all flow."
RAMzine: We saw your video 'Flowers and Rust', which we love. But it's fair to say that the song is not really representative of the album is it?
"No. Honestly, we decided that it should be the first single because the people who heard it – even the demo version- were saying: 'This is the song.' So we thought, Yeah, let's start with this."

"And, you know, we're getting a lot of radio play [from it] at home… and that's really good for the band because new people are pouring in."

"The video that you saw is kinda of artistic as well. I mean, they have these kind of light cages … And there's something trapped inside the cage. It's kind of stuck. The video has got a kind of artistic dimension to it, whereas the song is quite simple. We wanted to bring that artistic element into it because the lyrics have got that kind perspective about, er, things not going quite as well as planned."

"For the video we wanted something a little bit more artistic – not so commercial – because the song itself is commercial in it's own right."
RAMzine: The song is going to be huge. I'm surprised that it hasn't gone mainstream in Europe and the U.S. yet. It's gonna be big there isn't it?
"Ah, yes. We just, I just met with the label manager a few weeks back. We had dinner together and we're putting the plan together … for the US and Europe. It has to do with basic finances to be honest, you know, how big and how quickly we can go – and are going. We are going to need a radio partner, we need this now, and we need to hire people …"

"But that's a lot of investment from Universal Music, so we'll see how it goes. But there is, ah, a lot enthusiasm around the album. So first we want to see what happens with the album."
RAMzine: And how has your relationship with your UK touring partners been going?
"Ah yeah, you mean Haken – it rhymes with 'Bacon' they keep telling me. Yeah, yeah so they were saying that maybe – just maybe- they should call themselves Ha[r]ken … it would be a lot easier that way. It sounds more Finnish when it's said like that. [Laughs] They're really nice guys and yesterday we had this other band, Enochian Theory with us."

"They were very technical – both of them are very technical bands, very mathematical and were many moments that I really feel like – as young bands – they've really got it."

"These guys are great guys – and we had a lot of fun with them and they played really well. You know, I think it was amazing."
RAMzine: How does that kind of 'mathematical' sound compare to VHB?
"You know, for me, if [music] doesn't enter into the heart, then I have problems with it. It's just, you know, kind of mind over matter … If our music doesn't bring anything with it – it's interesting – but it doesn't bring up any emotion or any spiritual kind thing, then it has not really done it."

"The most important thing, for our band, is to bring that, er, communion of things together. Like a kind of Eucharist. You can totally forget your mind, and dive into our songs."
RAMzine: So what is the plan for today's show at HRH Prog? Have you got something special?
"Yeah, yeah. We were thinking, you know, whether to make a really good prog show, because we do have all these kind of proggish songs that we can do… but then yesterday (at Cardiff) we had such great fun with our in-your-face rock 'n' roll show that we're thinking, maybe, that we should do that here at Rotherham."

"We want it to be kind of like a party. I think that, you know, there's a lot of prog here and we do have that and, obviously, I appreciate the fact that we are playing a prog festival because I mean, let's face it, we have those influences very strongly within us… we love those guys in the '70s you know – those big prog bands – but then again, you know, we have got something else too …"

"We want to kind of push back the boundaries – and show the audience in the UK what we're really all about, you know. We just love rockin' on stage basically. That's the thing that we want to kind of bring to the people."

"We had a single event in the U.S. (close to Philadelphia) which was called the RoSfest. [Rites of Spring Festival] We played there and it was, like, very beautiful prog for the whole event. We played a rock set, and, you know, it was just what the people needed because – it's like – when you're playing in a Jazz Festival, you know, people have heard all that – but now they want something else …"

"So, I think, that's how we're going to go with it … it will be in-your-face rock music from the Brothers. We'll see what happens!"
RAMzine: We love it! Brilliant, thank you so much, Von Hertzen Brothers