Few bands can boast the incredible talent that The Faceless have. Having released multiple classic albums in the Technical Death Metal genre, the band show absolutely no signs of slowing down, especially under the leadership of virtuoso guitarist, Michael Keene. During the sound check of the Manchester date of their long-awaited UK tour of I caught up with Keene about their latest record, In Becoming a Ghost, and the state of modern Prog.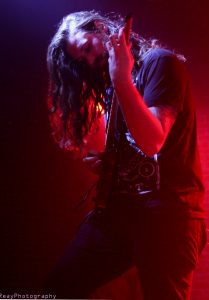 RAMzine: So, it's a few nights into the tour, how's it been going so far?
"It's been good, last night was London! It was a great show. It was awesome and the crowd was really amazing."
RAMzine: It's been some while since you've been in the UK, right?
"Yeah, if I'm not mistaken it's been 6 years. We took out Born of Osiris, Veil of Maya and Gorod." [The tour took place in 2011].
RAMzine: There have been a number of tours since then that have been cancelled, how do you respond to fans that have since given up on you guys?
"Well, if that's how they feel then whatever, I can't change their minds, they're already gone if that's the case. They can go fuck themselves as far as I'm concerned [laughs], I don't really give a shit, you can follow us or not, it's up to you really. As far as the cancellations go, there are reasons things happened, it wasn't that we weren't showing up because we didn't want to."
RAMzine: Since The Autotheist you've had a complete line-up change a few times and brought out a new record, In Becoming a Ghost, which has a lot more progressive elements and strange instrumentation, what was the thought process in making a "weirder" album?
"I'm mostly influenced by non-Metal music, I don't listen to very much metal honestly and I guess my goal was to make a metal record that someone who doesn't listen to Metal might like. I've had a surprising number of people who have told me that, and I think I did it, which is kind of cool."
RAMzine: You can hear the Jethro Tull influence with the flute solos which is a new one for Death Metal.
"[Laughs] Yeah, it's actually the same guy who played the saxophone on our last record."

RAMzine: You've had kind of a Devin Townsend feel to the last two records compared to Planetary Duality and in some ways, they sound like they were recorded by two different bands?
"Yeah, well we're both progressive metal acts [laughs]."
RAMzine: So, what's next after the tour?
"We have some more touring planned, we have some dates in the US and Canada and I think we're planning on coming back here at the end of the year at some point, we'll see."
RAMzine: Do you have any interest in side projects or solo albums?
"I have been working on a side project actually, I'll probably drop some information about it later this year. It's kind of a solo thing right now but it might end up becoming not so much of a solo thing later but I have about 5 songs written so far and I'm trying to decide if I want to make it an EP or if I want to write 5 more songs and make it a full length."
RAMzine: Can you give any insight into what it's going to be like?
"Yeah, I know what it's like because I've heard it [laughs]. It's nothing like The Faceless, I'll tell you that, well, I probably shouldn't say that because there's probably a certain tonality and sound to anything that I'm going to write that transfers over to any genre that I'm playing. I guess you could perceive that as either a good or bad thing, I personally see it as a good thing to have a particular sound that's recognisable."
RAMzine: That's fair enough, in any case, good luck on the tour.
In Becoming a Ghost is available now through Sumerian Records.