Back in 2018 this scribe received an utterly enjoyable and hard-hitting gem simply titled M by a Norwegian metal outfit named Slaamaskin, and I instantly fell in love with the punchy, perfectly unfiltered, and occasionally maniacal sounds emanating from the speakers when I played its six songs loud on the stereo. The thing about these gentlemen is that they dabble in something rather original and musically different to anyone else out there, which is merely another way of stating that they have spawned something wicked that they can rightfully call their own. Their latest offering, Trollveggen, came out just a few months ago and is a face-melting delight that weaves aggressive heavy metal, intense hardcore, and kick-ass punk rock together to great effect. RAMzine caught up with the whole noisy ensemble one night in November to get the low-down on all things Slaamaskin.
Greetings, how are things at your end and what is currently happening in the Slaamaskin camp? Tell me about your recent domestic gigs and shows and how they went down. I was lucky enough to catch you guys live on stage at Stereo and that was a fabulous and highly entertaining evening. Memorable is the keyword here.
S: Hello! Glad you liked it! We just finished the planned gigs for this autumn and all of them were awesome! Great people and great hospitality, we couldn't ask for more! We had a very long drive to Ålesund and Trondheim for the last leg of our mini-tour, but it was all worth it. Especially Fru Lundgreen in Trondheim was incredible, as the stage is minute and placed directly in the entrance, so people had to fight with Rolf to get in (we kicked him off stage :-D).
Just now we're currently trying to book gigs for 2024 and of course, writing new material.
What do you enjoy most about being in Slaamaskin and hanging out with the other guys? Is it partly an escapism of sorts and the perfect vehicle for letting off some steam in between other day-to-day activities and work and so on?
S: Spot on! Once a week, we desperately need to get out of the house and pretend we're 25 again while making a lot of noise! Beer, extremely bad humour and a general appreciation of music are also important ingredients in Slaamaskin!
As much as I love the M EP, your latest offering entitled Trollveggen is an even punchier and more hard-hitting musical affair than its predecessor, but there are also more nuances and dynamics to the song material than previously. What things inspired its creation, be that lyrically and/or musically?
S: Thank you!! Well, first of all, this time we got more songs that probably differ from each other, and Trollveggen wasn't initially thought to be an LP. The plan was to record as many songs as possible, old and new ones, then release the best of them as yet another EP. We then ended up recording enough songs for a whole album, and all of them sounded great, so we decided to go all the way, with vinyl as well.
The combination of older, more heavy songs like 'Du', 'Dommedag' and 'Forfall' and new, slightly more complex tunes like 'Fossekall' and 'Daarekiste', probably adds more nuances and dynamics between the songs. Lyrically, the older songs are more militant and repetitive than the new ones as well.
But the production between M and Trollveggen is significantly different, thanks to Dag-Erik Nygaard, who helmed the whole process. He kind of decided we'd suit a more modern sound than what M had – and he was probably very right on that score! He took Trollveggen under his wings and certainly helped it become as punchy and hard-hitting as possible.
With respect to the song lyrics, I love the fact that they are in your native language and sung in dialect as it adds a wicked charm and a sense of authenticity and weight to the compositions. When coupled with the actual music it sounds absolutely stunning and I love how everything from the words to the riffs and further on to the song titles complement each other so perfectly. That mixture of heavy metal, hardcore music, and punk rock sung in Norwegian is unique to my ears and I am curious as to how you developed and refined that sound and whether Slaamaskin actually sounded like that from day one? Did it all come about through jamming with each other and everyone bringing in different influences and then merging those?
S: Thanks again for those kind words! But no, there's been a development through the years. Slaamaskin started out as "Slow Massive", basically Jan- Helge, Kåre, Jostein and Arvid churning out the heaviest riffs they could come up with. When Rolf joined in, they had settled for Slaamaskin and Jan-Helge was doing the vocals on three songs: 'Slaamaskin', 'Du' and 'Forfall'. 'Slaamaskin' had English lyrics, the rest of them Norwegian, written by Jan-Helge. They had several words typical for his hometown dialect, Ålesund, so it was quickly decided by Rolf to keep the lyrics that way, since he's from Ålesund as well. 'Slaamaskin' was rewritten by Rolf and the band eagerly started to write more material.
'Dommedag' was one of these early songs but was scrapped with the rest of the old songs for the first EP 2016, as we felt the new songs were better. When recording our second EP M, 'Slaamaskin' seemed to fit in, and while working on new material for Trollveggen, we changed bits and pieces on the old songs to make them work.
Making a Slaamaskin track often takes a lot of time, as we "Frankenstein" the riffs and ideas together in the rehearsal room while jamming. Typically, Jan-Helge will come up with a couple of hardcore riffs, we keep one of them and glue it together with a melodic riff Kåre recorded 15 years ago, then add four new heavy metal riffs, add another doomy one from last year, throw in shitloads of drum breaks and tempo shifts until we have something that sounds like a song. Then Rolf gets a hang-up on a specific word he writes ideas around, often twisted nursery rhymes and sayings, that finally ends up with some sort of melodies that hopefully fit the song. Of course, when writing in Norwegian, it's more difficult to hide behind worn-out English phrases, so he's doing his best to put some meaning behind the words. At least something remotely as cool as his big idol, Michael Krohn of Raga Rockers.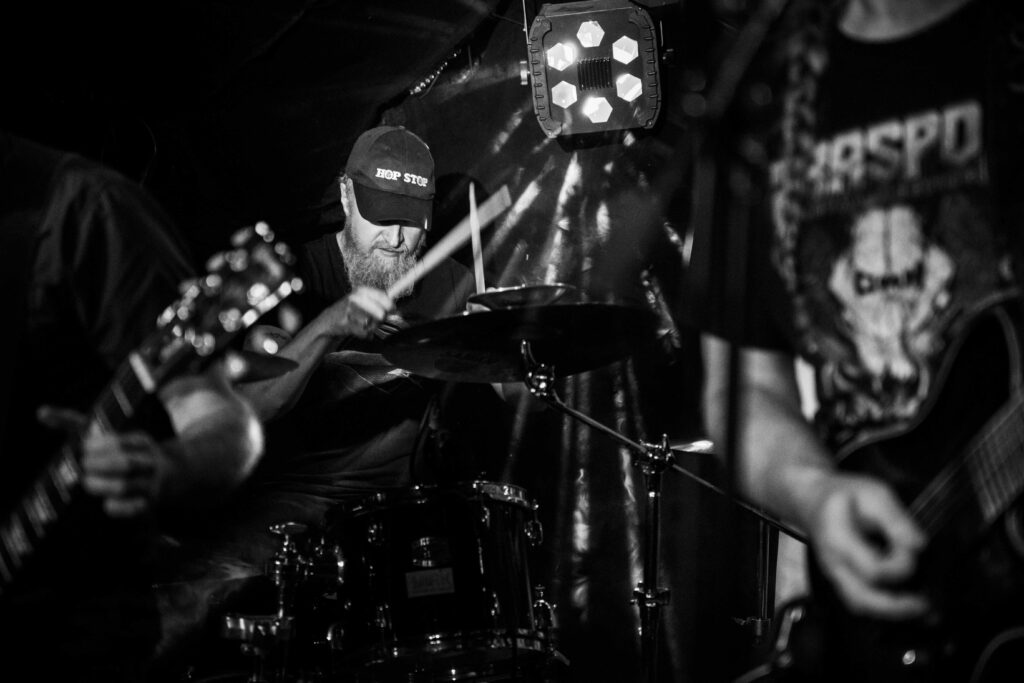 What attracted you to heavy and aggressive music in the first place and where exactly did you meet the other members of Slaamaskin?
S: All the members of Slaamaskin have been in several more or less noisy bands since their late teens.
Actually, Jan-Helge and Rolf shared the same classroom in primary school. They were in and out of each other's social circuits, but never involved in a band together before Slaamaskin.
Much later on Jan-Helge and Kåre met during civil service (the alternative to the mandatory conscription at the time). They played together in several bands over time, most notably Artismight. Kåre and Jostein played together in a prog-oriented band called Ampera during the same time. Arvid then came into the circle as Jan-Helge did some sound engineering for his band, The Greenland Whalefishers
Then the rest of the story is Slaamaskin as described earlier; Jan-Helge and Kåre went doom, Jostein and Arvid popped in, and finally, Rolf was tricked into the mix. At this time, we figured out we could do more than doom and Trollveggen is where we are now.
I would wager that this next question of mine is somewhat difficult to answer but I simply have to know; what is your all-time favorite LP (feel free to list a few if choosing just one seems like an infinitely cruel thing of me to ask)?
S: That is indeed a very cruel thing to ask, but here goes:
Jan-Helge: Judas Priest – Screaming for Vengeance
Rolf: I'll go for 3 and raise a couple of glasses for Norwegian rock on this one:
Thulsa Doom – And Then Take You to a Place Where Jars Are Kept
Raga Rockers – Forbudte Følelser
Soundgarden – Badmotorfinger
Jostein: Rush – Hemispheres
Kåre: Metallica – Master of Puppet
Arvid: Rancid – Out Came the Wolves
What is next for Slaamaskin and what would an ideal 2024 look like for you crazy lot?
S: Playing at a larger domestic festival and having a trip outside the Norwegian borders would be just awesome!
Other than that – writing more music and recording it as we go. And drink beer and have fun!
https://slaamaskin.bandcamp.com/album/trollveggen
https://www.facebook.com/Slaamaskin/