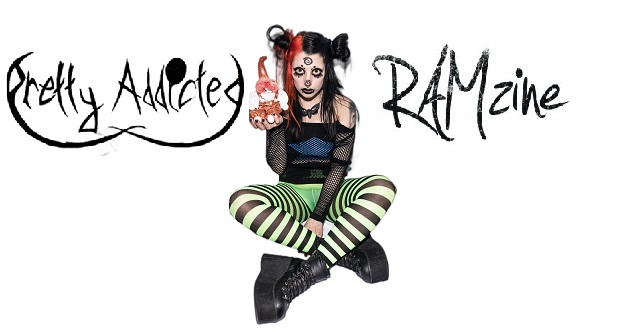 Do you think that rock n roll would be as well loved if no-one took risks, or did something different? Not at all. That's how rock was born. It went against the grain, and through out the ages – the most well loved genre in the world has represented the individual. Where would the world of rock and metal be without the likes of Alice Cooper, Ramones, Nirvana, or Marilyn Manson? A band who take this idea and even cross in to every other genre imaginable are Pretty Addicted. They capture the punk attitude of The Sex Pistols, the ferocious party nature of The Prodigy and even add a dash of Manson's taboo in there too. We caught up with the band's vocalist and mastermind Vicious Precious to talk about gender, the stories behind their videos,  and the future of PA.
RAMzine: In a  few words, how would you describe Pretty Addicted?
We're the irresponsible clown that showed up at your child's birthday party, jumped all over the tables, encouraged all the children to throw cake at their parents and then screamed obscenities down a mic. But we're fucking adorable.  Music wise we describe ourselves as "Dance-Punk". Somewhere between The Prodigy and Marilyn Manson.
RAMzine: From samples in your tracks and social media, we can tell you are big movie fans, do movies influence you as artists as much as music does?
I am a big movie fan, yeah and movies definitely influence me. I'm a very visual person and I like being creative with things I do, from my music to my fashion to the way I live my life.
RAMzine: Similarly your videos have a lot of experimental film making and horror-influenced material. Do you feel the visual side of your band is just as important as your sound?
Absolutely. As I say, I'm a very visual person. I like to cross the line of what's acceptable in society and I like to both spook and arouse people's senses. Better yet when they walk away completely baffled and yet intrigued. I like to provoke people's idea of what should and should not be ok and perhaps make them step outside their own boxes and cross their own lines. If nothing else, I like to entertain.
RAMzine: You recently toured with Michael Graves, were you a fan of his? And what was it like supporting such an icon of the punk genre?
We did a show with him in Sheffield so we didn't tour with him but the show was incredibly fun. Awesome to see Corporation packed out! Harry is a huge punk fan and a big fan of the misfits so playing with Michael was definitely one for the bucket list. He pulled a hell of a crowd and his stage presence was awesome and it was an honor for sure.
RAMzine: You have supported a lot of great bands in your time, anyone you would like to share stage with in the future?
MARILYN MANSON and THE PRODIGY, my biggest influences and inspirations. Can you imagine? I mean, weirder things have happened. I'm definitely one for dreaming big, however crazy or far fetched the dream. No one is going to get anywhere dreaming small. I have a drive for this that is bigger than anything else in my life and I'm fucking going for it so who knows who we could be lucky enough to support in the future! Mindless Self Indulgence would be another amazing support slot. That would be a perfect fit!
RAMzine: Also you are playing the second ever Amplified festival, alongside a good mix of names. If you were organising a Pretty Addicted festival, who would you add to the line-up?
Ooh, good question! The 
aforementioned
 name would definitely headlines; Manson, Prodigy and MSI. I'd also put a really cool mix of genres cos I'm all about MUSIC, no matter what genre it is! But a Pretty Addicted festival would be a massive party so I'd add Die Antwoord to cover the commercial side, DJs like Scott Brown and Paul Van Dyk to cover the Trance, bands like Butcher Babies to cover the metal, Ho99o9 to cover punk crossover, oh and of course I would put shit tons of DIY artists cos I'm a big supporter of my fellow bands trying to make it up the ladder. Shit, this is a question with a lot of answers! Maybe I'll make a pretend festival poster haha.
RAMzine: On that note, do you feel no genre is untouched when creating new Pretty Addicted music?
Absolutely I feel that way. I take influences from all music. I listen to a lot of Trance; it's my favourite. I'm influenced by a lot of dance music from the 90s, nu metal from the early 00s, drum and bass, black metal symphonies, classical music, absolutely all music. I can't imagine feeling restricted like I had to do a certain type of thing, no way.
RAMzine: Although it is 2018, and there are pretty much as many female musicians as male, do you feel women are still misrepresented in alternative music?
I actually don't identify as a woman, rather genderless. That being said, I don't necessarily feel they are underrepresented but they aren't taken as seriously. If I see one more thread on social media about how women can't wear scantily clad clothing if they're in a metal band because it somehow makes it a gimmick or that women are "using their sexuality" to get noticed.. Dude. It's fucking 2018, I don't give a fuck what you're wearing, just be interesting. Is your music of quality? Are you a good performer? Do you have sage presence? Do you put on a wicked show? Do you put your heart and soul into what you do? Do your lyrics thought provoke? Are you different? These are the things we should care about. If your music is shit to someone, then it's shit. But hate it because you think it's shit not because of what the woman is wearing or if it's a woman period. Mate, I can't see this shit anymore. It's retarded. Put energy into the things you love not the things you hate. Life is too short.
RAMzine: Finally, what do Pretty Addicted have in store in the future?
The sky is the fucking limit! While there's still breath in my body, fight in me, I'm going to do as many things as I can with this band. Getting to make songs and perform them for people who care about them is already success, I just want to keep going. I'm lucky enough I can live my dream, some people can't bring themselves to do it and here I am doing it like a crazy person!