Renowned singer Douglas "Doogie" White surely needs no introduction as he fronted Ritchie Blackmore's Rainbow back in the mid-90s and appeared on the marvelous Stranger in Us All LP (1995). In addition to Rainbow and various collaborations with many notable musicians over the years as well as a few solo albums, White has also appeared on several Michael Schenker records (with both Temple of Rock and Michael Schenker Fest). Quite recently it was announced that he had joined forces with the glorious heavy metal act Alcatrazz, and their plans for 2021 are looking pretty damn interesting. RAMzine caught up with Doogie in late December for a quick chat about the past, present, and future.
When and where did your love affair with classic rock and hard rock begin? Who was the first singer and/or musician to truly capture your imagination?
DW: When I started listening to music there were no sub-genres as described in your question. I think Billy Joel said "It's still rock 'n' roll to me". I knew what I did and did not warm to. My first love was Bowie. The voice, the imagery in the lyrics, the melodies. Even now I am astonished at his work. I fell a bit out of love with him when he did Scary Monsters and the Berlin trilogy. I had discovered Purple and AC/DC and no way was I wearing Oxford Bags or listening to "synth music". Recently I have gone back and listened to those late 70's/early 80's albums and I get it now. Still don't wear the Bags though.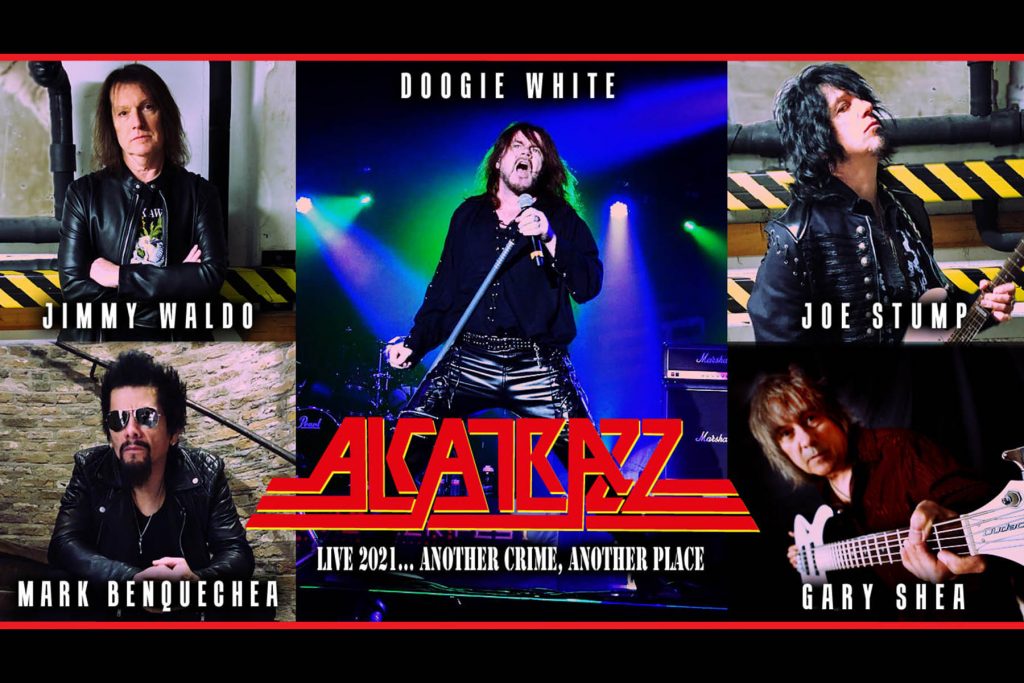 Musically and creatively speaking, what have you been immersing yourself in this year (2020) and can we look forward to some new music of yours next year? What are your current plans?
DW: Well, it has been an extraordinary year for us all in the business. Some will survive, some may not. I have remained positive and hopefully at some point in 2021 I will get back out on the road in some capacity. I signed a 3-album deal in the autumn and will have delivered the first album by New Year's Eve. I also have an album's worth of acoustic rock songs ready to go. I may get some friends together and jam them out and record them, even if it's only for myself.
The magnificent Rainbow classic that is Stranger in Us All celebrated its 25thanniversary earlier on this year. Does that make you feel nostalgic or perhaps even slightly melancholic? Do the memories of that era of the band still make you smile?
DW: Not really. I gave up on nostalgia a while back. SIUA was a long, long time ago and a great many albums and tours have been and gone since then. However, I do only have happy memories of working with Ritchie.
He gave me the most important 3 years of my musical life as it kick-started it all in a huge way that still resonates today. I will be forever in his debt. We did good work together, especially live, and we got on well together, until he decided we did not.
I haven't kept up with what he's been doing these past few years. I did see his last Rainbow outing and I have no doubt it was rewarding for him in some way or other, but I was hugely underwhelmed and disappointed and did not go back even when invited. I wanted it to be great but it really was not.
I am really excited about you teaming up with Alcatrazz and I cannot wait to see and hear you guys perform live together. How did the whole thing come about? Might there be a single or perhaps an EP of all-new material in addition to next year's live shows?
DW: Let me preface this by saying Graham (Bonnet) and I have been mates and colleagues for some 20 years maybe and I have huge respect for him as a singer, writer and performer. When he decided to do another Graham Bonnet Band album, the guys in Alcatrazz needed someone to fulfil their obligations for touring after the success of the last album. I agreed at the start of November to get involved and we have written 4 songs together. I can't say more than that at the moment. I was not interested in an Alcatrazz covers band situation so having new stunning songs with a great line up is crucial going forward.
As to your work with the Michael Schenker Fest, you have made some outstanding records together. What has the whole experience been like and how does it feel to share the stage with other renowned singers? Would you say that it has been creatively fulfilling for your as well and just how involved are you in the songwriting process?
DW: I thought it was a hugely ambitious idea and well done to Michael for the vision and determination to make it the success it was. I was not involved in the MSF live shows initially as we had just done 5 years together with Temple of Rock.
Michael Schenker likes to keep moving musically so he started MSF. When it came to the first album Resurrection, he asked me if I would like to be part of the album, write some songs and go on tour. It was a no-brainer really. I liked the first MSF album a lot. The 3 songs we wrote together were strong, as strong as anything on the Temple of Rock albums. Both he and I were pleased. So that was good. The 2nd one was disappointing for me. The fact that we never got to tour it properly was an even bigger disappointment. We rehearsed our arses off and were sounding great; then 5 days before we were off to start in Japan, all touring was off.
Have Michael and you made any plans for the future with respect writing, recording and/or touring together? A new Temple of Rock LP perhaps?
DW: We have no plans at this time. Michael knows where I am if he needs me. I am always available to work with him, unless I am not. He knows that and kept me in the loop and up to speed with his current plans for 2021/2022 with a new line-up of MSG which I am not part of.
The now-defunct M3 project was a fabulous live band. How do you look back on your time with those guys and how did you enjoy singing Whitesnake tunes?
DW: I only did one short UK tour with them. It was half of the Whitesnake I grew up listening to, so it was nerve wracking. I wish I had enjoyed it more.
What are some of your fondest memories of touring and are there any gigs of the past that are particular favorites of yours?
DW: For such a short question it is a huge question. One of my favourite shows ever was on August 4th 1989 at the Marquee in London with Midnight Blue. We were quite awesome that night and the full house knew it and came with us all the way.