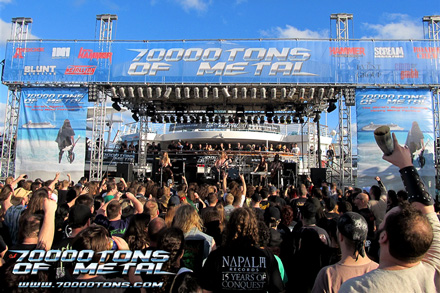 If you haven't heard of 70000TONS OF METAL yet, then you are missing out!! Its a festival …. on a BOAT!
Tickets will be going on sale Monday 8th april at 5 PM EST.
This will be the 4th and last time that 7000TONS OF METAL will be setting sale on 'Majesty of the Seas'. As a treat to those who buy a ticket before 27th July 2013, you will be able to vote where the ship gets sailed!
The first 7 out of 40 Bands on board have already been announced: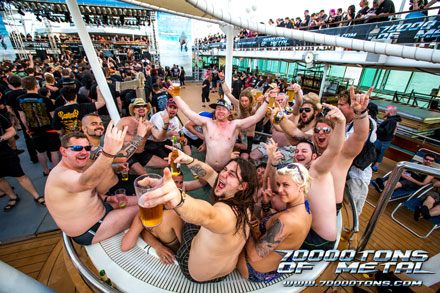 Dark Tranquillity
Death Angel
Finntroll
Overkill
Septicflesh
Soilwork
Symphony X
What are you waiting for? Just imagine starting next year in style: In January 2014, you and 2,000 of the craziest Metal fans from all around the World will go to the Caribbean to make Heavy Metal History: Together with 40 Metal bands you will take over a luxury cruise ship for a 5 day and 4 night trip of a lifetime.
And make no mistake, with 70000TONS OF METAL, it's all or nothing. Do you like seated Heavy Metal shows? No! Because real Metal shows have a moshpit! That's why unlike others we remove the seats in front of the theater stage. This is 70000TONS OF METAL, The World's Biggest Heavy Metal Cruise, featuring the biggest Open Air Stage that ever sailed the Open Seas!
Enjoy unrestricted festival access to all live shows on board
Metal Karaoke until sunrise
JAMMING WITH WATERS IN INTERNATIONAL WATERS: The Official 70000TONS OF METAL All Star Jam hosted by Annihilator's very own Jeff Waters
Clinics and Work-Shops with the artists on board
The infamous Belly Flop Contest
Bars that never close
Two full days at Sea
Book before July 27th, 2013 and you can vote for the Destination!
No Backstage or VIP areas: It's like everyone has a backstage pass!
70000TONS OF METAL, The World's Biggest Heavy Metal Cruise, will sail Monday, January 27, 2014 on the Royal Caribbean "Majesty of the Seas" from Miami, FL and will not return to the real world until Friday, January 31, 2014.