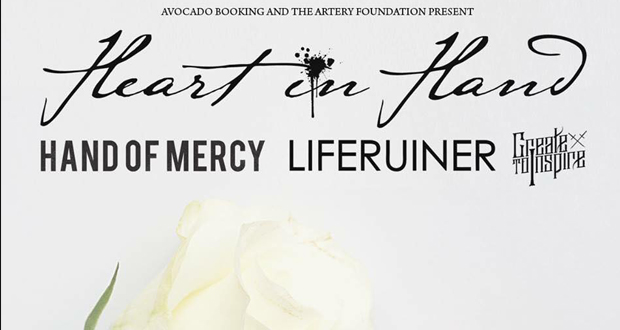 A Beautiful White European Tour 2015
Heart In Hand, Hand of Mercy, LIFERUINER, & Create To Inspire!
March 20th to April 25th 2015
Heart In Hand headline a scorching new UK & European tour with support from Create to Inspire, Hand of Mercy & LIFERUINER, kicking off at London Barfly on March 20th 2015! Eight UK dates are immediately followed by 28 non-stop tour dates across Europe.
Dorset & Hampshire based Heart In Hand's unique take on melodic hardcore has seen them grow from strength to strength since their inception in 2008. Their latest record, 'A Beautiful White', was released in November 2014 and is receiving a lot of love from reviewers and fans alike.
Watch the 'A Beautiful White' video here:
Sydney based hardcore Hand of Mercy join the supporting line up, who also released a new album in November 2014, Resolve. This is the first album to feature new vocalist Nick Bellringer, but their raw tenacity remains.
LIFERUINER hail from Toronto, and finish off the tour line up. Busy recording new material this month, LIFERUINER compliment an already awesome tour line up.
Post hardcore Essex boys Create To Inspire are riding high at the start of 2015 following a blistering year of festivals and gigs, winning the Red Bull Studios: Live At Download competition, and the launch of debut EP Halfway Home. You can get a pre-tour taste of Create To Inspire at Southampton's Takedown Festival on March 7th. Keep an eye on this lot, they're going to do big things this year.
Check out the video for Halfway Home here:

Catch the tour on these dates:
20.03.15 UK London Barfly
21.03.15 UK Stoke On Trent The Underground
22.03.15 UK Sheffield Corporation
23.03.15 UK Glasgow Ivory Blacks
24.03.15 UK Leeds Key Club
25.03.15 UK Swansea The Scene
26.03.15 UK Norwich Epic Studio
27.03.15 UK Birmingham The Asylum
28.03.15 Belgium Ham De Stip
29.03.15 Germany Hamburg Headcrash
30.03.15 Germany Berlin Magnet
31.03.15 Poland Warsaw Hydrogska
01.04.15 Czech Republic Prague Futurum Music Bar
02.04.15 Slovakia Bratislava Randal Club
03.04.15 Austria Gleisdorf Kulturkeller
04.04.15 Italy Romagnano Sesia Rock N Roll Arena
05.04.15 Slovenia Ljubljana Orto Bar
06.04.15 Austria Wien Viper Room
07.04.15 Germany München Backstage
08.04.15 Germany Stuttgart Juha West
09.04.15 Germany Frankfurt Elfer
10.04.15 Germany Lichtenstein JZ Riot
11.04.15 Germany Oberhausen Resonanzwerk
12.04.15 France Eragny Covent Garden
14.04.15 Spain Madrid Sala Caracol
15.04.15 Portugal Porto Hard Club
16.04.15 Portugal Lisbon Républica da Música
17.04.15 Spain Murcia Sala B
18.04.15 Catalunya Barcelona Razzmatazz 3
19.04.15 France Lyon MJC Monplaisir
20.04.15 France Nice Altherax
21.04.15 Switzerland Zürich Dynamo
22.04.15 Germany Saarbrücken Kleiner Club Garage
23.04.15 Germany Schweinfurt Alter Stattbahnhof
24.04.15 Germany Cham LA
25.04.15 Netherlands Arnheim Willemeen