The most Rock and Roll school that we know strikes again! Back in December, The Academy Of Contemporary Music (ACM) welcomed Red Hot Chilli Peppers drummer, Chad Smith, to their London Campus. He took a rare day off from his busy schedule to hold an exclusive masterclass for ACM students and two competition winners.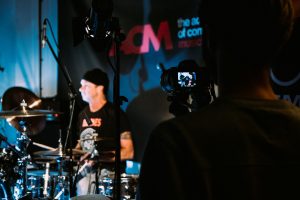 Chad said: "This is my first time at ACM London although I have a room named after me at ACM Guildford – the Chad Smith Room. London to me is such an important musical city and when I was growing up as a kid, the bands that I loved and the drummers that I loved the most were from England and a lot of them were from London; drummers like Keith Moon, Charlie Watts, Mitch Mitchell – so important to drumming history and for what they bring to music and how they influenced me. So it's a real honour to be in the city and to come to a school where kids are learning to play music and drums. Just to be able to come and give back a little bit – I'm just really excited and happy to be here."
Held in partnership with Rhythm magazine, the masterclass was hosted by ACM's Head of Creative Industry Development, Ace (also the guitarist in Skunk Anansie). The class included an intimate performance in the Academy's live performance room, before they headed upstairs to the lecture room for a Q&A session.
Chris Burke, Editor, Rhythm tells us: "As one of the UK's biggest music colleges, with great facilities, top tutors and great courses for drummers, ACM is a perfect partner for Rhythm magazine. Like ACM, we pride ourselves on our comprehensive educational content with video drum lessons from the UK's finest tutors given away every month on the Rhythm Lessons CD."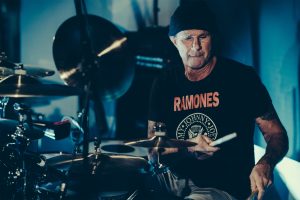 Telling us why ACM find it important to hold these amazing masterclasses Ace (Head of Creative Industry Development at ACM) tells us; "We're thrilled that alongside our long-standing friends at Rhythm magazine, our patron Chad Smith treated us to a masterclass at our brand new London campus. As innovators in music industry education, it's extremely important to us to work with inspirational figures to show our students first-hand how they can make it in the music business."
Throughout the class, Chad told students the story of how he got into music and he shared his advice for them to kick-start their careers in the music industry.
One of Chad's pearls of wisdom was that "you can always be better and there's so much to learn". He also shared that there are no shortcuts to being good – it takes a lot of hard work. Chad advised the students to utilise the facilities and tutors whilst at ACM and to get into bands now. He urged them to try working across all genres and styles of music, as there are great techniques to be learned from a range of different styles.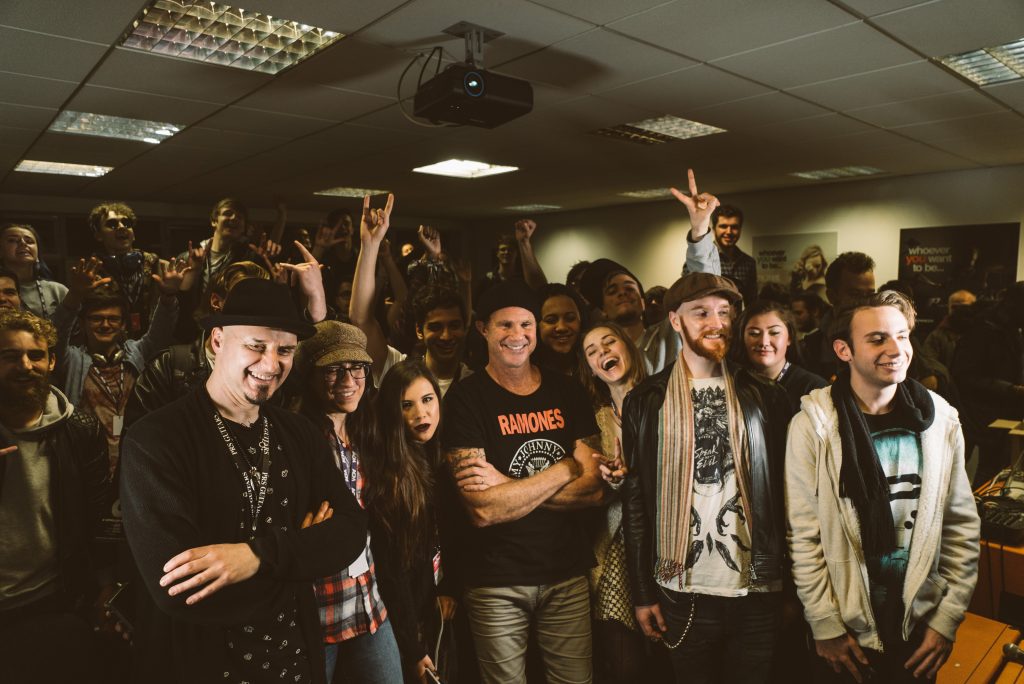 When talking about the drums, Chad told students how playing with power and confidence is really enjoyable for him, and he revealed that he also likes to take risks when performing.
During the performance section of the class, Chad wowed the audience with impeccable renditions of Red Hot Chili Pepper songs 'Readymade' and 'Charlie'. This section drew to a close with a drum-off between Chad and one very lucky student.
The class ended with a huge selfie of Chad and everyone at the masterclass together.
Chad delivered a stand-out session which was high-energy throughout. Students left feeling thoroughly inspired and excited to have met one of their heroes.
Want to learn direct from the industry's best? Apply to ACM before the UCAS deadline of 6pm 15th January here.