Finnish symphonic metallers Amberian Dawn have revealed their brand new album.
The group will be releasing Magic Forest as a follow-up to 2012's acclaimed opus Circus Black and will be the band's first album with new vocalist Päivi "Capri" Virkkunen as well as their debut release with new label Napalm Records. Founding member Tuomas Seppälä commented:
"New album Magic Forest is AD's first studio album with singer Capri. Now with her I've been able to fullfill some of my early dreams with musical styles and this new style is really big, fresh and naturally flowing. New sound is more keyboard driven and the vocal lines have some strong influence of 1980's. But since this is AD, there's of course also some fast songs included and some really serious guitar & keyboard shredding too. Mr. Jens Johansson of Stratovarius once again contributed some really awesome playing in form of one keyboard solo. Thank you Jens, you've been supporting us so many years now.

This is also first time on AD's history when we had an actual production team put together. Thank you Mikko P. Mustonen and Capri for your awesome support and work. We really have an extraordinary good production team here. We had so much fun in doing this album and you can really sense and hear the relaxed atmosphere we had on the process."
Check out the artwork and tracklisting below!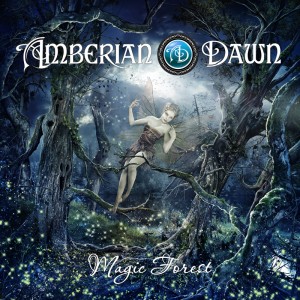 Cherish My Memory

Dance Of Life

Magic Forest

Agonizing Night

Warning

Son Of Rainbow

I'm Still Here

Memorial

Endless Silence

Green-Eyed
Magic Forest is due for release in June 2014 via Napalm Records.