Young USA-born guitarist Arielle's new album release, Analog Girl In A Digital World, will be available as of 7th May, keeps her creative momentum moving forward while also taking a look back at past works, with new of livestreaming sessions due alongside the release of her latest single, 'Inside & Outside'.
"When I was recording the new album Analog Girl In A Digital World, I thought this was the closest song in sound and production that I got to what my goal was in my head," she reflected. "Fleetwood Mac's Rumours meets something new. The song is about finding the balance between the external, dense physical world we live in, as well as countering it with the spiritual and emotional connection of love."
'Inside & Outside' transplants us back the Laurel Canyon of yesteryear with its gentle acoustic picking and electric slide work, evoking the gentler sounds of an early Neil Young there, while the solid togetherness of bass and drums alongside harmonies edge further towards the mainstream sound Fleetwood Mac began to achieve come the mid-seventies.
All this acts as background, however, for while the feelgood summer breeze tune wafts across your speakers a more pronounced young voice calls for attention, not only for its choice use of melody with precision but its more subtle yet telling lyrical refrain.
As noted, Arielle will undertake livestreaming sessions and these will take place on 13th May, 17th July, 22nd July and 19th August.
Each of the sessions will enable fans to experience four completely different concerts with full album run-throughs, in-studio recordings, acoustic storytelling sessions and more besides. Each livestream will be broadcast in North America and the UK at 8pm local time. A portion of the proceeds from the livestreams will go to Arielle's The Tonewood Forest non-profit, a charity that conserves the life and well-being of trees.
For the first two streaming sessions, Arielle will perform her new album Analog Girl In A Digital World and previous album Suspension/Dimension front to back.

"Since touring is out of the question, I wanted to make sure people could experience these albums the way they were intended. Both albums feature succinct stories from beginning to end. During the livestreams, I will be speaking about the meaning of the songs, and some of their deeper history to take people on a journey that has yet to be told about both albums, maybe even beyond what I could do live."
A 21st century classic rock artist who recorded half of the new album in digital, and the other half in tape, to try and capture the impact the music of the 60s and 70s had on her, Arielle wrote, sang, played guitar and produced each song for this new album in one take. Recording the album in studios in Nashville and Austin, Texas, Arielle's main objective was to capture the energy of each city and their musicians.
Tracks featured on Analog Girl in a Digital World are 'Dialup', 'Digital World', 'Peace Of Mind', 'This Is Our Intervention', 'Still A Man', 'Inside & Outside', 'I'd Rather Be In England', 'Living In A Fortress' and 'Reimagine Redefine'.
Some might say Arielle was born in the wrong generation. As a child of the new millennium, she has often faced depression, comparing today's reality with the music boom and creativity that emerged in the sixties and seventies. And on a broader basis, a time even earlier where things were done by hand, with a level of craft that could not be hidden behind technology.
"I project those principles inside my music," Arielle said. "The new album takes you on a journey through the trials, tribulations, and confusion of an old-school artist in a fast-paced world.
Word first reached British music listeners about a talented young American guitarist called Arielle through her association with Queen's Brian May, a matter now officially endorsed by the release of her own signature guitar, The Arielle, manufactured by the Brian May Guitars company.
The album features her new guitar, The BMG Arielle guitar, released by Brian May Guitars. The first batch of guitars sold out on their day of their release within 90 minutes – It should also be noted that Arielle declared that she would plant a tone-wood tree in honour of the first 24 guitars sold. Should you wish to add to that number, simply, click here.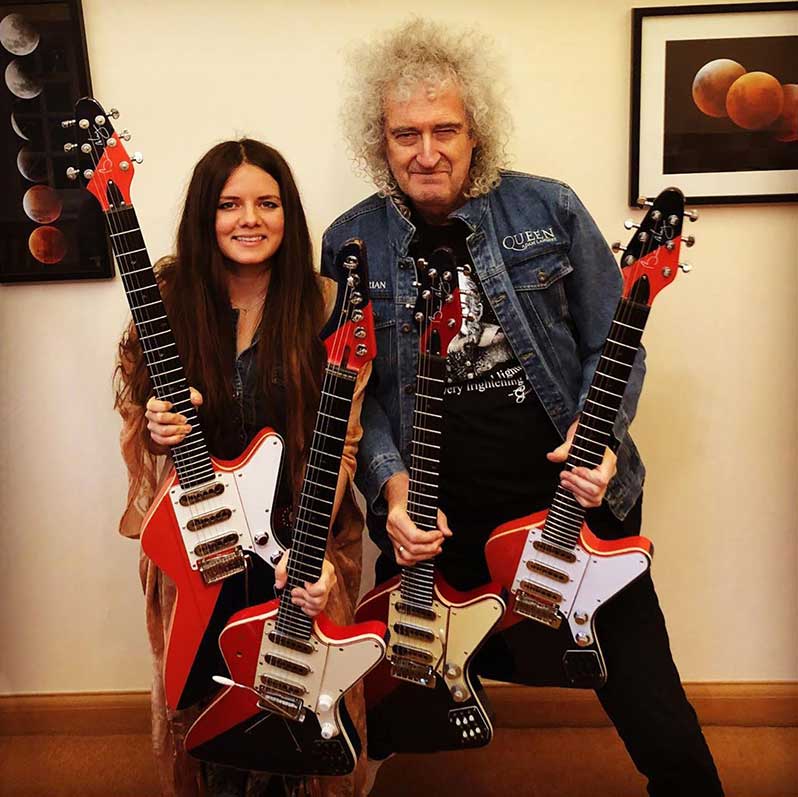 "This is the very first guitar that Brian May Guitars has ever offered that is not based on my original Red Special," said May himself. "Designed by, and named after Arielle, it's a new dimension. To understand why this guitar was irresistible to me, you have to hold her in your hands. The guitar is light, smooth and agile. She sings like a bird."
Going onto express Arielle, the guitarist's talents; May said: "Arielle is an awesome musician. She is a truly phenomenal player, with an ability to produce the most beautiful tones as well technical mastery. Of course, it is in the fingers, but I was keen to discover how she had fashioned her own instrument to achieve her sound. We collaborated in making the Arielle a new mission to guitarists everywhere – to open up a new door to excellence!"
"Arielle's playing reaches places I never knew existed," he continued. "I believe this guitar will do the same.
New single 'Inside & Outside' was preceded by 'Peace Of Mind' back in February – While evoking The Byrds, Paisley dreampop and a more mainstream Suzanne Vega vibe it also comes across as a song sung by a girl of today.
Both singles are available by clicking here, while Analog Girl In A Digital World can be pre-ordered both here and here – The album will be available on CD, vinyl and digitally.
Tickets for the livestream sessions are available by clicking here.