Revelling in the success of their recent tour run supporting Aiden, UK rockers Ashestoangels have been announced as a latest addition to the 2016 edition of Camden Rocks Festival.
The band will be bringing the noise on Saturday 4th June and will join the 200 strong lineup that also includes the likes of Sikth, Young Guns and We Are The Ocean.
Ashes frontman Crilly had this to say:
"We can't wait to return to Camden Rocks this year! Last year was a party. Let's beat it!"
Camden Rocks Festival will take place across 20 different venues on the day with tickets a mere £35. Be sure to check out the website for more information.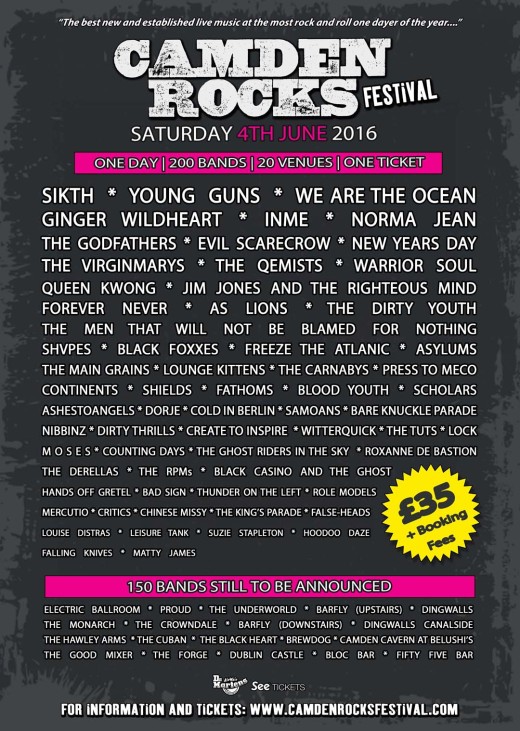 Ashestoangels are set to release their eagerly anticipated album How To Bleed on April 15th of which will include the single Find Hell. Be sure to check out the video for the track below.
The line-up of Camden Rocks (so far) is below:
SikTh
Young Guns
We Are The Ocean
 InMe
 Ginger Wildheart
 Norma Jean
Evil Scarecrow
 New Years Day.
The Godfathers
The Virginmarys
The Qemists
Warrior Soul
Jim Jones And The Righteous Mind
Queen Kwong
Forever Never
As Lions
The Men That Will Not Be Blamed For Nothing
The Dirty Youth
Shvpes
Black Foxxes
Freeze The Atlantic
Asylums
The Main Grains
The Lounge Kittens
The Carnabys
Press To Meco
Continents
Shields
Fathoms
Blood Youth
Scholars
Ashestoangels
Dorje
Cold In Berlin
Samoans
Bare Knuckle Parad
Nibbinz
The Dirty Thrills
Create To Inspire
Witterquick
The Tuts
Lock, Moses
Counting Days
The Ghost Riders In The Sky
Roxanne De Bastion
The Derellas
Black Casino & The Ghost
The RPMs
Hands Off Gretel
Bad Sign
Thunder On The Left
Role Models
Mercutio
Critics
Chinese Missy
False-Heads
The King's Parade
Louise Distras
Leisure Tank
Suzie Stapleton
Hoodoo Daze
Falling Knives
 Matty James