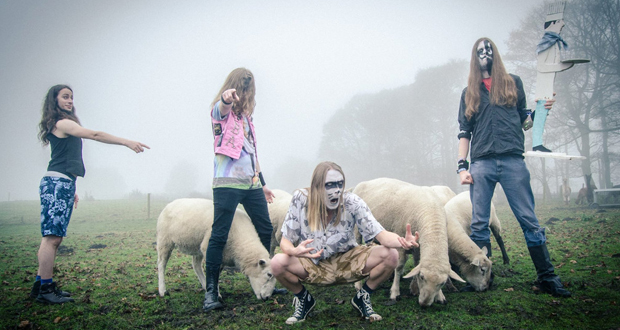 In the year 2012, the World took witness to a new power in metal, with Sheffield-based Bleating Apocalypse bringing 'Black Metal Interior Design' to us all. Since that time, the Gods of interior design have taken notice, and one of the almighty has given his official blessing, none other than Laurence Llewelyn-Bowen.
The original track took the darkest and blackest of metal, and blended it with the colours and styling of the most flamboyant interior design, all polished off with Laurence himself. The video built up 25000 YouTube views after hitting reddit on release, and also gained unofficial approval of their Lord Laurence on Twitter.
'Black Metal Interior Design'.
After three years of decorating all over the UK with gigs, and a fitting support slot with fellow unique act Evil Scarecrow at one of Sheffield's finest venues The Corporation. Bleating Apocalypse now with great pride can share one of the finest things that could happen to the band, an official Christmas blessing from Laurence Llewelyn-Bowen himself.
Laurence Llewelyn-Bowen's Black Metal Interior Design Secrets:
The video originally aired at Bleating Apocalypse launch gig for new album, 'Black Sheep', available from their BandCamp page now.
Bleating Apocalypse: "The boundaries between metal and mainstream TV are coming down; a household name is dipping his toe into the murky waters of the underground; Easy Listening Metal is coming, fully endorsed by the God of Fashion. We are His representatives on Earth."
Bleating Apocalypse are: Tetanus Jabb, Bloody Sunday, Colin Thunderskull, Vigorous Footjob, Wooden Chef.