When this band was first announced it sounded like an odd kind of cash-in, although Frontiers subsequently picking up the recording tab isn't that unusual; after all they do go in for 80s heritage acts. If you shared similar doubts don't rush off, the results are far better than expected.
Debut single 'Devil In Me' opens proceedings, defining a statement of intent before they put their collective foot on the peddle for 'Martytr' featuring a tonally pleasing guitar solo kick-started into action by some welcome old school bass and drums from Jimmy Bain and Vinnie Appice respectively. That sound is carried throughout, courtesy of a top notch production job from Jeff Pilson (Foreigner, Dokken).

For those unaware, Last In Line features ex-members of the original Dio line-up. They reformed to play their back catalogue live and honour the memory of the late Ronnie James. That guitarist Vivian Campbell was among those who hadn't always had a good word to say for the singer was chief among my doubting the long term merits of this project, but maybe his own brushes with cancer have made him reflect; not least because he's declared he's in this for the long haul in between Def Leppard duties. Not that immediate success should be expected from old warhorses regrouping in today's fickle music market, as they acknowledge in part on 'Starmaker' with a restrained touch of Zeppelin on the guitar sound before speeding up for a more 90s state-of-the art solo.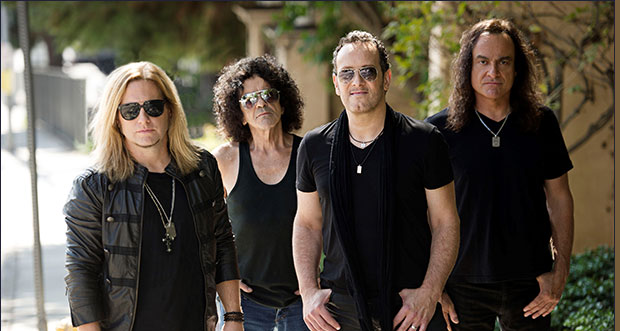 'Burn This House Down' finds us in firm Sabbath blues metal rock territory and has me cursing Martin Birch for allowing Bain to be low in the mix on the otherwise mega-fantastic Rainbow Rising, for my head is in a constant rocking mode during this number and my foot tapping double-time once the solo kicks in. 'I Am Revolution' follows naturally for it is Sabbath's 'Neon Knights' meets Monstrose's ' I Got The Fire' as if Lemmy and Slash were guesting. A much required mention here for vocalist Andrew Freeman who's got big boots to fill: Dispensing for the most part from references to dragons or rainbows lyrically here we have a guy with a good and powerful range but it's more in the mould that made the likes of Sammy Hagar and Lou Gramm; that helps Last In Line to begin to steer beyond their past and become a credible entity in the here and now. Not that times gone by are ever gonna leave them as influences, for example 'Blame It On Me' ain't nothing more than a heavy grumbling regraft of the Muddy Waters' blues classic 'I'm a Man' (using the Jeff Beck riff used on The Yardbirds' version then appropriated by both Mick Ronson for Bowie's 'Jean Genie' and The Sweet's 'Blockbuster', here super-grooved with distortion) with some solid four-to-the-floor moves from Appice. Imagine a Jake E Lee's Badlands number with added 'Stargazer' type middle eight grafted on for good measure.
'Already Dead' is probably the closest to that Rainbow/Dio wallop and attack die-hard fans want, while 'Curse The Day' dances neatly between broken chorded AOR ballad and bludgeoning rock only for them to return to heavy blues metal with 'Orange Glow' as Rory between Gallagher styled riffs affix themselves to a mid-paced carousing sound around vocals that sigh, groan, then reach notes. The overall result likely to cause females hips to shake on the dance floor.
Title track 'Heavy Crown' may take a while to grow on the listener. Part hypnotic San Francisco groove, part transmuted 'Holy Diver' rerun before your ears pick up on the "The king is dead" reference and understand the homage well before it changes to "Long live the king" over a hyper-realised take on a Rainbow riff. 'The Sickness' again applies a syncopated sound but with an epic feel to it – it's that point where 70s rhythm sections were being progressive without being prog rock with the next two decades' guitar hero stylisations echoed over the top and the damned thing works.
Last In Line have roots in the past but deliver in a contemporary manner. This is a good band who make a great sound between them. Heavy Crown is out on February 19th I recommend those gift vouchers you've had for Christmas get put to good use purchasing it.