With Suburban Ghosts, a follow up to their original collaboration Pictures of You, Chris Braide and Geoff Downes have produced a song cycle of sometimes haunting tunes regarding what many consider the birth of modern facile consumerism, ie. the eighties. While the Downes Braide Association has certainly picked up and ran with some of the synth pop sounds of those times to aurally transport us back in time, the themes that play out and the first person recollections, considerations and choices made in the lyrics take us back way further.
The pair were said to have wanted to reflect on their youth, growing up in the north of England, express its rugged beauty as much as its unemployed despair and a need to escape, and in that it correlates more to sources outside music – From Angry Young Men playwrights such as John Osborne to the lighter social comedy of Willy Russell's Educating Rita, to the aspirations of bright young men and women and the opportunities university still gave alongside greater access to wider travel excursions that meant you could discover the world for yourself before we all came to live in the homogenized here and now. And yet, as Dorothy in The Wizard Of Oz reminds us, "There's no place like home". Family, old and dear friends, those we've loved, lost or left behind… So many what ifs and maybes that mull within and from time to time stir potently in our minds. These things are observed, discarded, and returned to with sometimes differing conclusions over the course of these songs, none of which really outstay their welcome. For in keeping with that 80s ethos time is of the essence, the flabby excesses of the 70s are hereby trimmed.

From what I can gather Geoff Downes wrote the greater part of the guideline music while on tour with Yes. A keyboard player who's tended towards a brighter joyous sound even within the epic qualities espoused by that band and when playing with Asia, one might naturally assume the earlier melodies he applied when with The Buggles or even  The Thompson Twins would be pushed to the fore here. But while they're present, there for us to accept the surface psyche in both reminisces and present thinking there are darker moments intimated, often with a sense of movement where everything is on the go: be it seasons or people at work only to shift back slower and in brief moments reflect more coherently. Chris Braide is said to have taken those elements, added and changed, and it appears he kept the lyrical muse who sat beside him while recording the recent progressive trio This Oceanic Feeling's own debut album rather than default to the writing style he applies when composing for the likes of Beyonce and Christina Aguilera.
Between them what the Downes Braide Association has created with Suburban Ghosts are a series of musical sketches and impressions, that I find myself wanting to compare to as a younger sibling of Peter Hammill's And Close As This solo album. "But in what way?" you ask, if you're still with me at this point. Let me explain in running order, for although no reference has been made to this being an old school concept album its themes run chronologically even when a song feels like an aside to the main gist of things.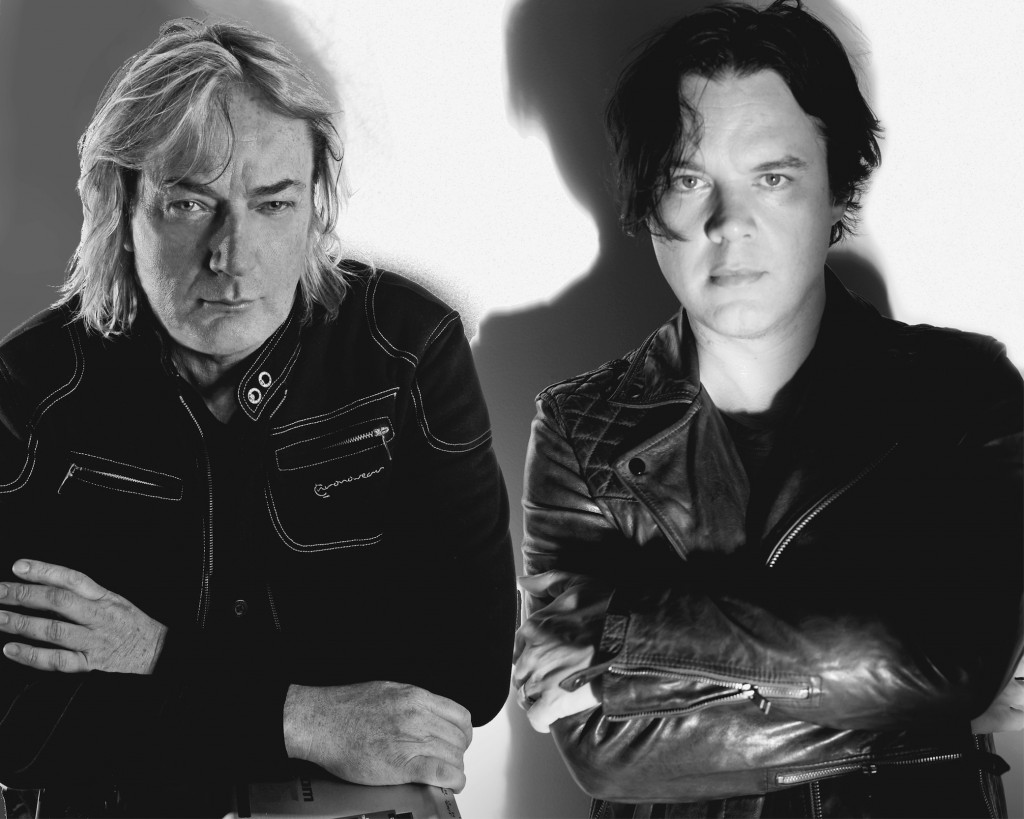 'Machinery Of Fate' thrusts us back in time, the frosted coating synthesisers and bobbing bass drilling us in warm robotic urgency, pulling us towards memories of Ultravox and Kraftwerk as its very electronics orchestrate and steer us towards a destination we appear unable to fight against. It is the smiley-faced sound of Krautrock applied as analogy to Dickens' A Christmas Carol and related by The Pet Shop Boys. 'Suburban Ghosts – Parts 1 and 2' has Genesis' pop nuances grafted to a Prefab Sprout vibe, beginning gently, building in the chorus as the keyboard melody lines embellish and bass synthesizer becomes more pronounced alongside harmony vocals, then crackling away as Downes solos, whereas 'Suburban Ghosts – Part 3' does indeed feel more spooky with treatments applied to Braide's vocal harmonies and the keyboards chanting away like a rhythm guitar before it blends gently into a chilled Ibiza pop sound.
By contrast, 'Vanity' is a much more earthly tune; a broad piano melody ripples onwards as the narrative espouses world weary dissatisfaction and contemplates entropy. The more buoyant 'Number One', echoes the type of 80s TV theme tunes Jan Hammer and Eddie Jobson were busily employed producing back then with lyrics acting in counterpoint evaluating small-minded thinking. 'Interlude' is what it says on the tin, affecting the end of Act 1 and the last grooves of a vinyl Side 1, all by way of a brief rolling piano motif.
If the first batch of songs act as recollection, and a fall into despair, the next move towards overcoming this state of mind and a world of one's own relative remaking. Aside from its strutting rhythms 'North Sea' is self-empowering by virtue of its title – Steeped in history when only rugged Norsemen crossed it and an economic savior the day oil gushed out from its ocean floors. "It's all the same" sings Braide depreciatively, then "Old ghosts wash in with the tide" as he returns the song to personal statement. With an all too brief but lovely piano solo present, its got theme tune played over opening credits to some modern British TV drama series written all over it. A darker mood, with observations of suicidal despair present prevails as piano and synthesizer play out slowly on 'One Of The Few'. 'Time Goes Fast' then returns the music to upbeat mode, as observations on life in the here and now of America for the narrator are sketched out as an epiphany begins to unfold.
The opening piano gives the impression 'Live Twice' will be some epic 80s style torch song, yet it's vocal melody is reminiscent to that heard on 'North Sea' with Braide singing contemplatively with sighs and big "whoa-whoas" heard harmonically in the background as synthesizers effect a broken chorded guitar sound even as the sound of fingers clicking in slow time takes us towards a lullaby affected conclusion.
'Dreaming Of England' begins bleakly but shifts towards the moment of ascension with goals within sight, the familiar and dreary now evoking a totemic hold on Braide's narration, his voice pitched higher but with a bitter sweet self-awareness as he follows singing the song's title with the lines "Where life goes on without you." For, much as we want to return to a memory warm in our heart, it may not always be the case. A guest guitar solo melts the song towards concluding denouement. It's a tune that touches upon folk music and soul pop but is at its heart progressive. The work concludes with 'Finale' an instrumental based on the opening 'Machinery Of Fate' with driving euphoric keyboards presumably from Downes. Its implication that life is one of circles within circles, taking us back to each point and that there's probably some karmic sustenance to be found in it if we accept it all, that or something a little less pretentious.
Tooled with techno-pop and electronica programming Braide and Downes have explored their past satisfactorily but this is really a progressive album; probably more so these days in its expressionist overall nature than those Downes earns his living playing stadiums with. Delivering post-modern existentialist sketches over an impressionistic soundscape, TV producers can cherry pick at least three numbers as theme tunes, but ideally, this is best heard from start to finish, letting its intent slowly sink in, appreciating it for what it is. Good stuff. Unexpectedly so actually.