Bloodstock Open Air festival have announced a bunch of names for this year's Sophie Lancaster stage line-up.
Phil Campbell's Allstar band will headline Thursday night's pre-festival entertainment with Winterfylleth, Zerozonic, Diabolical and Cambion joining the current stage headliners Rotting Christ, Sister Sin and Satan for the remainder of the event. Check out the latest line-up poster below!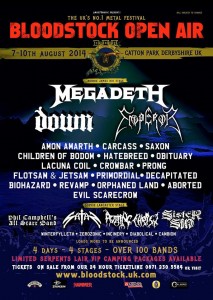 Bloodstock 2014 takes place from the 7th-10th August at Catton Park in Derbyshire. Tickets are available now.