Chicago death metallers, Broken Hope, have revealed the artwork for their upcoming album, Omen of Disease.
The cover was designed by renowned horror artist Wes Benscoter who has previously done covers for Slayer and Cattle Decapitation. Guitarist Jeremy Wagner commented:
"Wes Benscoter is one of my favorite artists, EVER. In my opinion, he's right up there with Frank Frazetta, Michael Whelan, and Todd Schorr. Ever since Benscoter did our Repulsive Conception and Loathing album covers, I've wanted to work with him again. I was beyond thrilled when Benscoter agreed to take on the Omen of Disease project…and he nailed it! He's captured the vile essence, putrid vibe, and apocalyptic, disease-laden horror of Omen of Disease. Thank you for creating another masterpiece, Wes Benscoter."
Check out the new artwork below!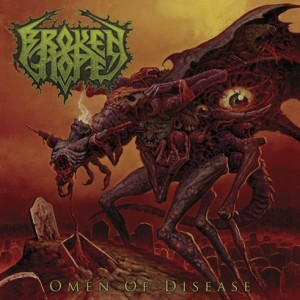 Omen of Disease is set for release this October via Century Media Records.