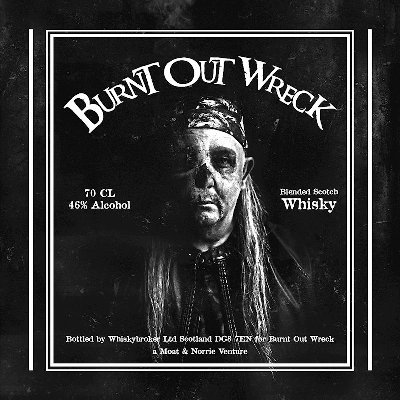 Burnt Out Wreck, the hard rock band formed by ex-Heavy Pettin' drummer turned vocalist Gary Moat joined those bands with their own alcoholic beverages waiting to be supped. They now have their own brand of whisky, and will expand the line with their own wine at the end of September.
Available from WVA Whisky Auctions, Amazon and on the shelves at all good whisky sales outlets. This is a Moat And Norrie venture and they will also be releasing their new Burnt Out Wreck branded wine at the end of September.
Andrew Norrie whose company developed the brand explained his reasons behind this.
"The reason I invested in Burnt Out Wreck was when I was working as a chef a few people that I worked with went on to be members of famous bands. I worked with Stump the drummer from The Almighty at the WM company in Edinburgh and we would talk about how he was thinking of leaving the catering trade to go full time into the music industry. When we needed a kitchen porter while working at the RBS it turned out the guy the agency sent was trying to get Idlewild off the ground and he was trying to get some money together to record a demo .These are just a couple of examples of people who followed their dreams and I wished I had stayed in closer contact with them .
"Friday was the night to listen to the Friday night rock show with Tommy Vance and I was hooked from the first time I heard that magical rock sound. The first real gig I went to was Saxon in 1980 in the playhouse in Edinburgh and I saw many a famous rock band there in the 1980s one memory that sticks in my mind is getting six of the belt at school the day after seeing Iron Maiden on the Killers tour I had been right up against the PA and my ears where still ringing, my teacher thought I was ignoring him in class but the real reason was that I could not hear him due to the ringing in my ears. I saw Gary in his Heavy Pettin' days in the Playhouse supporting Ozzy and Kiss, little did I know some 30 odd years later our paths would cross again.
"Looking back. I kept asking myself what if? So, I decided to bite the bullet and stop wondering what might be and just go ahead and do it. As my interest has been in wine and spirits over the last few years I sounded out my idea of launching a whisky with Claire Moat the wife of Gary Moat and founder of Burnt Out Wreck. We both thought it was a great project to work on and the final product is an idea that was followed through and brought forth the whisky that is now being launched with a exclusive wine also in the pipeline. We decided that we both wanted something different and sourced quality over hype, after all Burnt Out Wreck and their music represents them, with the Burnt Out Wreck name on the bottle you can be confident that you are getting a product that delivers on taste and quality after all its got our name on the bottle."
Reviewed favourably at Tom Cannavan's Wine Pages.com, while a review at Whisky Master Class observed that Burnt Out Wreck whisky is generally described as a  well-structured and balanced blend that shows its quality; pale straw in colour; it has light floral notes, undiluted it has barley sugar, ginger and oak which opens up with a drop of water to show chocolate and vanilla; it has a creamy and buttery texture, well rounded and silky on the palate and tastes of dried fruits and candied peel that develops on the tongue with some peppery spicy notes, and that it has a medium to long finish, which is both sweet and clean.
Gary Moat formed Burnt Out Wreck in the summer of 2016. After penning songs for an album, he ventured into the studio under the watchful eye of Steve Rispin (Asia). Whilst in the studio, people were already talking about the new project and within a week he had signed to TRHRC via Cherry Red and Eddy Levy at Chelsea Music Publishing Company. At Chelsea, he joins a roster that includes Tony Iommi, Art Garfunkel, Jeff Beck etc, and both deals are worldwide.
Moat has a colourful history as the drummer and main songwriter for Heavy Pettin'. The band were signed to Polydor and Warner Chappell in 1983 with help from Def Leppard's manager Peter Mensch. They toured extensively until 1988 with Kiss, Ozzy Osbourne, Whitesnake, Ratt, Motley Crue, Saxon, Accept and Magnum amongst others, as well as headlining their own tours.
They recorded three albums with different producers: Brian May on Lettin' Loose in 1983, Mark Dearnley on Rock Ain't Dead in 1985, and Adrian Lee/Tony Taverner on The Big Bang in 1989 on FM Records. They also played the likes of Reading Festival, Loreley and other major festivals, as well as recording The Friday Rock Show for Tommy Vance & Tony Wilson.
Trading in his drum stool for the microphone Moat has handed the drumming over to Paul Gray. Having worked with Adrian Dunn since 1991 he the obvious choice to be the lead guitarist, Miles Goodman came in as rhythm guitarist and ex-La Paz bass player Alex Carmichael completed the lineup.
Moat's own vocal style developed in Mother's Ruin, a band that rose from the ashes of Heavy Pettin' in 1991. There followed a few years' hiatus until 2011 when Mother's Ruin supported Duff McKagan, also playing HRH Ibiza and the Bulldog Bash, but from 2014 he took a different turn to develop Burnt Out Wreck.
For more on Burnt Out Wreck at Ramzine click here and to order their brand of whisky click here.