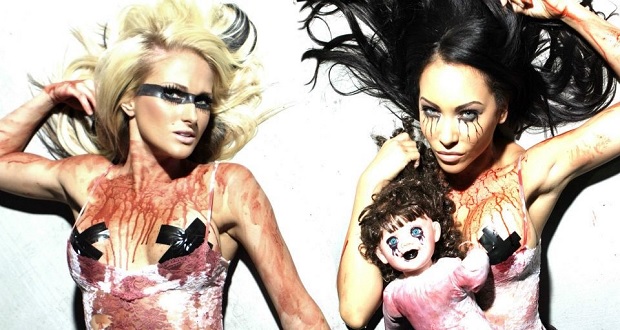 Double-fronted LA metallers Butcher Babies have just revealed a lot of information on their third album 'Lilith' via social media.
The band posted on their Facebook and Instagram:
"After a year of writing and recording we are thrilled with the growth and maturity of this album. We worked with producer, Steve Evetts to bring you the rawest form of Butcher Babies. No auto-tune, 100% real drums, real guitars, real bass and an all out Butcher Babies assault on your senses. As we know in this industry, these standards are quickly replaced by machines and can eliminate what makes a band an actual band. We are so proud of the hard work and dedication of each member of our team to create this masterpiece."
The album artwork was also revealed:
This album cover was designed by Justin Paul of
Co- vocalist Heidi Shepard explained the choice of 'Lilith' as a title and concept for an album:
"Historically, Lilith has become demonized as a representation of promiscuity and disobedience. We, however, see her as a positive figure. A symbol of autonomy, sexual equality and full control over our own destiny. Lilith is the supreme representation of the left-hand path woman, independent, having discarded the patriarchal yoke, and not afraid to use all the tools available to her, including her sexuality, to gain the most out of existence. The eels in the cover art represent sleek symbolism of new beginnings and adventure. With this album we have musically taken a leap through boundaries and landed in new oceans. It is said that a the dream or visions of eels is confirmation that the path we currently lead is the right one. In this new chapter of Butcher Babies, we welcome evolution as we bare ourselves with Lilith."
Co- vocalist Carla Harvey elaborates:
"When we were thinking of titles for our album, we wanted to find something that embodied sensuality, lust, danger and power. We kept going back to Lilith. We researched Lilith and her origins in different cultures and forms and knew that this figure, once feared but now a beautiful, symbolic middle finger to repression, would be a perfect representation of our album.The cover art we created along with our artist perfectly pulls together the last year we've spent working on Lilith. I've always loved water themes. There is something terrifying yet calming about the deep sea; submersing yourself in it could be the death of you, yet at the same time it's cleansing and renewing. With this album we dove in fully and drowned ourselves in emotion, sexuality and even turmoil, and let the two headed beast we created emerge even stronger."
The record will be released via Century Media Records. Single and release date to be 'unleashed' soon.