Butserfest 2013 have revealed the first cluster bands set to appear on the main stage at this year's festival.
The first six bands added to main stage have been named as Mallory Knox, Natives, Fearless Vampire Killers, Attention Thieves, Max Raptor and Subsource.
They will be joining the likes of second stage headliners Bleed From Within as well as many other acts over the course of the festival. Check out the line-up poster with all the announced bands so far!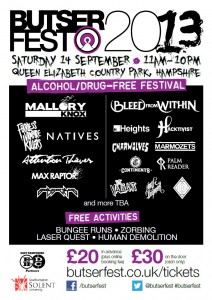 Butserfest 2013 will take place on September 14th at Queen Elizabeth Country Park in Hampshire. Tickets are available now from the official festival website.