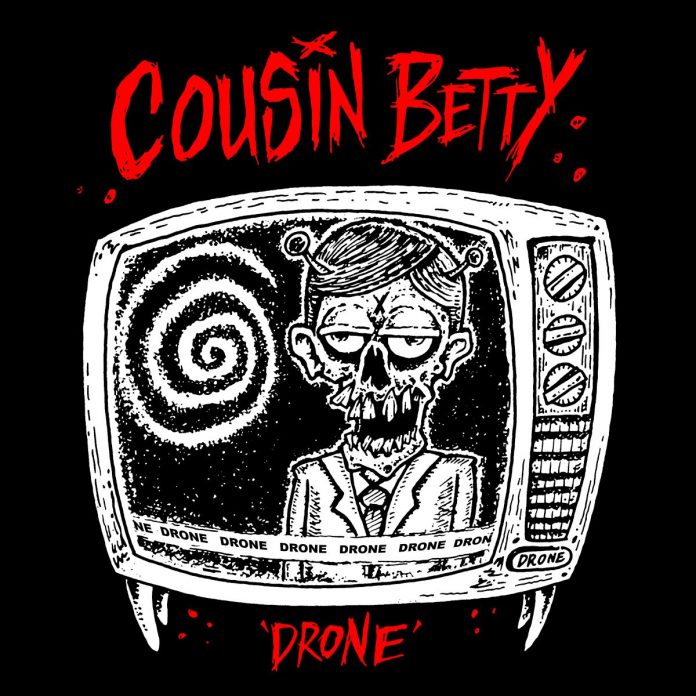 Cousin Betty is the brainchild of Damien Stofka a guitarist/songwriter, who has created riffs and written songs for Molten Universe, Death Mattel, Litter and various other projects over the last 15 years.
There's an EP called Left coming out under that moniker down the road, but before then, having recently signed to Golden Robot Records, they're releasing the track 'Drone' from it as single on 8th October.
It hass been described as "a meaty slab of distorted, psychedelic, influenced indie desert rock"
This stems from Stofka being less interested in a standard line-up and the logistics required to be in a functioning band and also being inspired by the  Desert Sessions. To this end, he spent his downtime compiling albums worth of material with contributing artists and performers he liked.

From these sessions micro-bands would form to present these songs live; touring with such bands as The Psychotic Turnbuckles, Doc Neeson and The Lime Spiders – Having also used their rhythm section to record with. While the recordings have featured several musicians, the core live line-up has comprised frontman Matt Downey (Death Mattel) and rhythm sections comprised of Pat Walker (Ohms, Methusela), Tony Bambach (Lime Spiders, Aberration), Ged & Tom Corben (Lime Spiders) and Chris Drane (Cash Savage, Cherrywood). The line ups and shows have varied for each tour to include a DJ, visuals and themed stage sets
Talking about working with Stokfka, vocalist Matt Downey commented:
"Damien played me a riff he'd been working on; it was immediately infectious, but I wasn't in the mood. I was upset about some Facebook friend just regurgitating some stuff – Obvious garbage they'd heard on in the media and seemingly verbatim. As I scrolled down their page, I realised that their politics, faux ideals and very life's philosophy seemed the be simply illustrated through bad memes; some in direct contradiction to the one prior.

"While I'm an advocate of independent thought and am pleased that we don't all think the same, this hollow person represented to me that type of fool with no fixed opinion about anything, opposition for the sake of opposition and a seemingly wilful ignorance. Not a problem in itself per se, but this dim prole was also a Dad…A mentor to a developing mind, ensuring further generations of the same. The lyrics spilled out and the entire song, complete with multiple takes and backing vocals was finished in about 40 minutes. On relistens I think I was pretty harsh but it's just what I was feeling at the time. This was our first real collaborative effort too. I loved it the second he showed me the opening riff."
You can order 'Drone' here and check out the official video right here at RAMzine.