"It's difficult not to get caught up in Damn Vandals' punked-up stoner rock … a forceful identity that's held together by adrenaline and determination."

-Classic Rock Magazine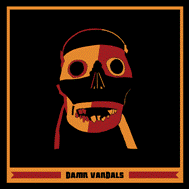 Damn Vandals are back and they have a killer new double single for you! If you like your punk, you will like 'Cities of A Plastic World'. You can also hear 'Too Lazy To Die Too Stoned To Live' which is taken from their highly acclaimed recent album 'Rocket out of London'. 'Cities Of A Plastic World' observes the uncanny similarities between the porn and music industries – neither of which the band has worked in professionally. 'Too Lazy To Die Too Stoned To Live' was born out of a post-rehearsal musing from the band's bass supremo and philosopher in chief, Adam Kilemore Gardens. Out 22nd Sept 2014 on CD and downloadable through all the usual places. Watch both tracks below.
See the band live on Saturday 20th September, 9.30pm, at The Sebright Arms, 31-35 Coate Street, London E2 9AG. £5 in advance from www.wegottickets.com/event/284859
Please check www.damnvandals.co.uk for more up to date live dates