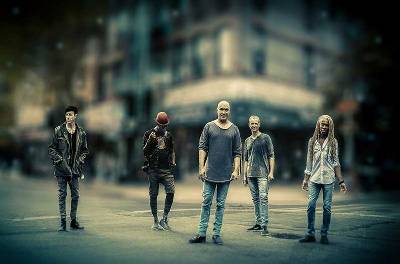 Dan Reed Network have released their new single 'Fade To Light' a taste of what's to come when their brand new studio album Origins gets released on Friday 23rd November through Dan Reed's own Zero One Entertainment label..
"The video for Fade To Light is taken from the inaugural live studio recording session at Blueprint Studios in Manchester and is the perfect microcosm for this entire process," said Reed.
The single proves to be a rising harmonious aural chiming groove.
Or, as Reed himself noted: "What I think really translates throughout is how having an audience in the room fed the band with a unique energy that pushed us to expand our creative horizons. We're thrilled with the results."
While recording the album DRN opened the studio doors to the public and invited them to be a part of an exclusive series of recording sessions that spanned the globe with tracks that would eventually become Origins recorded at Blueprint Studio's in Manchester, The Power Station in NYC, Nia Studios in Portland Oregon and finally Studio 4 in Stockholm.
This meant fans of the band could witness in intimate surroundings the whole process of recording a brand new song from scratch with the band individually tracking drums, bass, guitar, keyboards and vocals before inviting the audience to participate and provide backing vocals for the song.
The audiences also got to see Dan Reed Network classics being reimagined right before their eyes, as in the case of new single 'Fade To Light' as can be seen by the video here at Ramzine.
Origins follows DRN's hugely successful 2016 comeback album Fight Another Day . Physical pre-orders for Origins  are available directly at the Dan Reed Network website and those ordering will receive a free digital download of 'Fade To Light'. The new album will be released while the band are touring the UK, details of which can be found at Ramzine by clicking here.